I scoured the web looking for a low histamine salad dressing with no vinegar or citrus, and unable to find one, I decided to make it. This dressing relies upon the sour and slightly bitter flavors of both pomegranate & sumac, plus the antihistamine powers of ginger and the healing powers of local honey. The flavor profile can be very strong without a creamy component, however, so it would benefit from the addition of goat cheese and/or any tolerated nuts. Some great greens to enjoy it on include: red lettuce, baby bok choy, flat-leaf kale, arugula, or even just a plain spinach-free spring mix.
This juice-based low histamine salad dressing is an unusual but bright & flavorful addition to any greens, whatever your preference.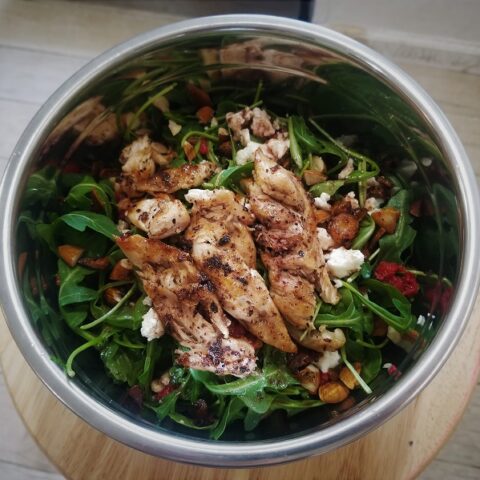 Low Histamine Salad Dressing (Pomegranate-Sumac)
A sour and slightly bitter low histamine salad dressing with no vinegar or citrus, and a bright kick of pomegranate flavor.
Ingredients
1/4 cup 100% pomegranate juice (NOT from concentrate)
1 Tablespoon pomegranate powder
2 tablespoons organic avocado oil (or other neutral oil)
1/2 teaspoon local honey (optional)
1/2 teaspoon freshly grated ginger (or 1/2 teaspoon ginger powder for less bite)
1/2 teaspoon sumac powder
1/8 teaspoon camu camu powder
1/4 teaspoon kosher salt
Instructions
Measure out your pomegranate juice and pomegranate powder into the glass measuring cup, then microwave them for 30-45 seconds on high, mixing with a fork until the powder has begun to dissolve.
Once the powder has mostly dissolved, add the oil and mix everything together with the frother until very well combined. It may steam for a bit, but that's fine; it'll be thicker that way.
After thirty seconds or so, add in the ginger, sumac, camu camu, honey (if using), and salt, and mix for one more minute. Voila! Your dressing is done.
Notes
Oils: You can use any oil for this dressing, but I'd discourage using olive oil if possible, as it adds a bitter undertone to the dressing.
Sourcing Ingredients: If you're having trouble finding sumac or a good-quality pomegranate juice (preferably from Azerbaijan, according to my mom), check out your local Middle Eastern market or possibly Whole Foods, though you can find some fancier options for both on Amazon.
Making a Salad: This stuff goes great on everything in my opinion, but I especially like adding almonds or chia seeds for crunch, and some sort of berry or pear for a fresh punch of flavor. If you can tolerate it, this tastes amazing with goat cheese or any other fresh soft cheese. I like pulled-apart chicken breasts for protein, or even pieces of grilled lamb or bison.