Holy basil tea, also known as tulsi tea, is an aromatic and strongly antihistamine drink that's worth adding as part of your morning ritual. It's a great way to help clear a histamine reaction, and use up extra fresh tulsi from the garden. The antihistamine powers of holy basil tea are also compounded here by the optional addition of another summer herb: mint leaves!
About this recipe
Super simple. It couldn't be easier to make or customize the flavor of tulsi tea, which inherently has a mild, almost citrusy flavor that blends well with a variety of other herbs.
Potent natural antihistamine. You can make a huge variety of low histamine teas, but the best ones for you will be those which make use of large amounts of fresh herbs. I even eat the tulsi and mint leaves once I've finished off my tea!
Easy to freeze. I grow holy basil in the garden every year, and making tea out of it is a great way to use up some of the bumper crop. If you halve the amount of water in the recipe, you can even turn it into ice cubes and enjoy it year-round!
Ingredients
What is this recipe centered around? Is it a particular meat or vegetable? Is it prepared a specific way? You'll often see the prepped but uncooked ingredients in the image here
Tulsi (Holy Basil): this type of basil more resembles mint leaves than the Italian Sweet Basil we're used to using in pestos and other sauces, but it also has much more antihistamine power than other varieties. I find that it tastes like a lightly grassy, citrusy version of mint, veering a bit peppery when it's eaten uncooked. If you can't manage to find any fresh tulsi for tea, you can also find it in the form of tea bags or tulsi powder, both of which are great alternatives, and arguably more potent because of their low moisture contents.
Mint (optional): mint is another antihistamine herb you should incorporate into your diet, and luckily, it pairs beautifully with holy basil. If you don't like mint, alternatives include ginger, chamomile, sage, wild lavender, and galangal.
Manuka Honey (optional): there are a multitude of low histamine sweeteners you can use in tea, but by far my favorite is manuka honey. Not only is it great for the digestive system, but manuka honey has been proven to lessen allergy symptoms, like those of histamine intolerance.
How to make tulsi tea: step-by-step instructions
Step 1. Set 1 ½ cups of water to boil on high, then wash your basil and mint leaves (if using fresh).
Step 2. Once the water is boiling, turn off the heat but leave the pot on the hot burner. Then chop or tear each leaf in half and add them to the pot, stirring them in to make sure they all get wet. Then put the lid on and let the mixture steep for 7-10 minutes.
Step 3. Pour the hot mixture into a mug, straining it through a sieve unless you like to eat the leaves afterwards (for more nutrients; they don't taste like much, and they're sweet from the honey you're about to add!). Then stir in ½ to 2 teaspoons of manuka honey, and enjoy.
Recipe notes & tips
What does tulsi tea taste like?
Tulsi tea tastes mild, with a lightly grassy, peppery mint flavor that, veering a bit peppery when it's eaten raw.
How long does tulsi tea last?
You can make this tea ahead of time and keep it covered on the stove for an afternoon, but any longer and I'd turn it into ice cubes to reheat when I'd like more tea.
Can I skip the mint, or use a different herb?
Yes! You can make this holy basil tea recipe with just the tulsi leaves, or you can add any type of complementary herb or sweetener to the brew. I recommend either ginger, chamomile, or another member of the Lamiaceae family, particularly rosemary or lavender.
What to do with extra holy basil
throw it into a veggie stir-fry with garlic & ginger
use it as a base for a quick sauce
turn it into a pesto
sub it for regular basil in recipes like this nice cream, which benefit from lighter flavors
... but whatever you do, don't chew them fresh! Try to pulverize or lightly heat them before consuming to avoid affecting your enamel.
Homemade Holy Basil Tea Recipe Card
As always, if you like the recipe, I always appreciate a review or comment!
📖 Recipe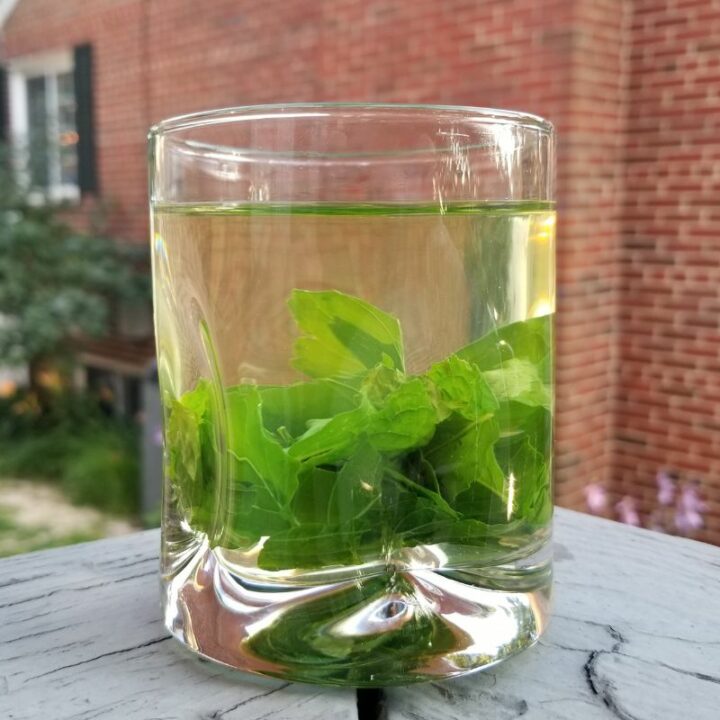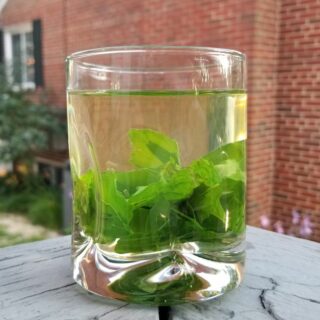 Tulsi Tea w/ Mint (Holy Basil Tea Recipe)
A customizable recipe for making holy basil tea at home, with either fresh tulsi leaves or dried.
Ingredients
10-15

large leaves tulsi/holy basil

alt: 2 tulsi tea bags or ½ teaspoon tulsi powder

1 ½

cups

water

3-4

mint leaves

optional

1

teaspoon

manuka honey

optional
Instructions
Measure out your water into a pot and set it to boil.

Once boiling, turn off the heat but keep the pot on top of the once-hot burner. Then tear each of your basil and/or mint leaves in half, and add them to the water. Let steep for 7-10 minutes.

After your tea has steeped, pour it into a mug and stir in the honey (or your sweetener of choice). You can remove the leaves to eat or toss them, or leave them in for color and then enjoy yourself some tranquil tea time!
Notes
MINT: you can use any other herb or spice for flavoring, but the only other one I've tried is a thin slice of fresh ginger in place of the mint leaves.
HONEY: you can use any other sweetener you'd like, but I'd recommend a more neutral flavor so as to not impact the delicate taste of the tulsi.
Nutrition
Serving:
1
g
Calories:
50.07
kcal
Carbohydrates:
9.09
g
Protein:
3.86
g
Fat:
0.79
g
Sodium:
12.65
mg
Fiber:
3
g
Sugar:
5.96
g
Save this post for later!