What do I do with the artichoke in my fridge?
I've been asking myself this for over a week, and I've decided that it's just time to dive in. After all, histamines build up more & more the longer a food sits around, even in the fridge. So I just spent twenty minutes just trying to figure out the anatomy of an artichoke, because not only have I never cooked one, but I'm not even sure I've ever eaten one outside of a spinach artichoke dipping sauce.
But I saw the organic artichoke at my local market, and on a whim I told myself that I'd figure it out, put it in my cart, and then left it in my fridge to fester my anxiety. This is what I learned from that research, though: artichokes are a lot like asparagus and brussels sprouts. So to save you the half hour it took me to find a low histamine artichoke recipe (or at least one I could make LH!), here's mine. AND it's actively antihistamine! Bon appétit.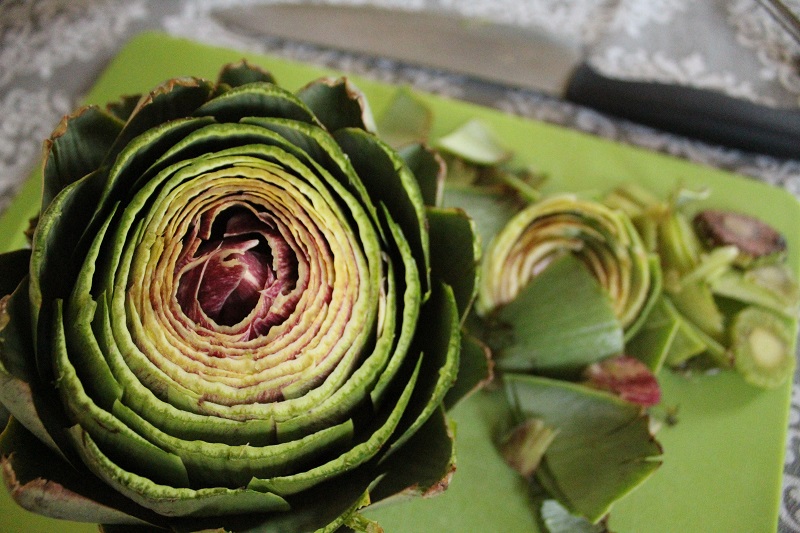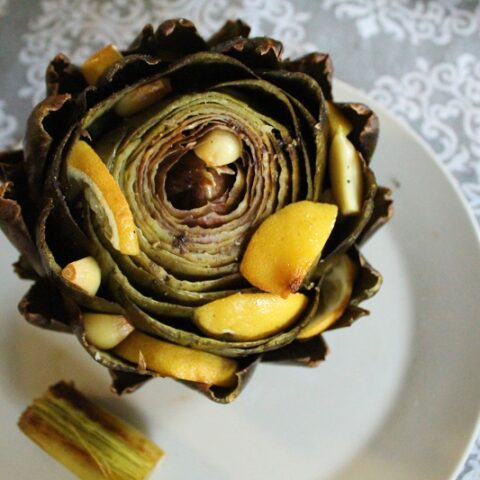 Low Histamine Garlic Artichoke
Total Time:
1 hour
15 minutes
A creamy, buttery, dairy-free artichoke recipe with lots of garlic, for the low histamine diet!
Ingredients
1 Organic Artichoke
2 tbsp Organic Olive Oil
1 tbsp Lemon Juice (or 1/2 Lemon), [use a fresh organic lemon for the lowest histamines, and add a bit of zest if you're a lemon lover like moi!]
4-6 Cloves Organic Garlic, [chopped or minced]
Salt
Pepper
Instructions
Preheat your oven to 425°F (220°C).
Carefully wash your artichoke in warm water, then pat dry with a towel.
Chop your garlic cloves, chop up or juice/zest your lemon, and measure your olive oil. This is the easy part; it is now over.
Cut the stem off of your artichoke, and then about 1" (2cm) off of the top to open up the leaves. (see attached image)
Now pull off a piece of aluminum foil and place it on the baking sheet, then place your artichoke on top of the foil. The lemon, olive oil, garlic, and salt & pepper are the base flavors from which you'll build your own adventure: tuck the garlic into every crevice you find, and then do the same with the pieces of lemon or pour the lemon juice/zest & olive oil aaaaaall over that sucker. Feel free to salt & pepper to taste now, but you can also do it after baking.
Now pull the foil over the top of the artichoke and sort of wrap it like a baseball, then put the baseball on the tray into your preheated oven and bake for 1 hour. Bake for an additional 15 minutes if your artichoke is massive.
Okay. So here's the hard part. This is how to eat an artichoke: peel off the aluminum foil very carefully, and drain the lemon-olive oil liquid into a little dipping cup. Part of the leaves of an artichoke can be edible (in addition to the more common artichoke heart), so after baking, peel off each of the individual leaves and make a massive pile for dipping into the sauce. Once you reach the thin leaves with no real heft to them, just pull those off and put them in the compost; they're inedible.
Now you should have a large pile of artichoke leaves and a surprisingly small artichoke heart in front of you. Grab one of the leaves and dip the meatier side into your lemon-olive oil sauce, adding more salt and pepper if needed.
Either scoop the artichoke heart onto a plate for later consumption or start dipping your meaty leaves into your garlicky sauce, pulling off the edible part with your teeth. Discard the leaf once you eat off the meat— I know they're beautiful, but I do NOT recommend trying to eat them. But however you bake your artichoke, enjoy the experience!
Notes
Eat Time = ∞
Note that you can either chop/mince your garlic, or just cut each clove in half to make quicker work of it. Same for the lemon: you can either juice & zest it, or just cut it into strips to place between leaves.
Honestly, this was one of the most difficult to sort out recipes that I've ever tried. In the future I'll only be making this as a communal dish, because it was such an involved & active food to eat that it would be fun to eat with friends or family, but can be pretty frustrating to eat alone (if you don't know how little food comes out of it all!). I'm glad I made it, but next time I'll be chopping up some salted pili nuts for imitation cheese on top of the artichoke heart (pictured below).