I grew up eating a ton of Asian food, mainly Thai and Indian, both homemade and store-bought. When I realized that most of the flavors (if not the sauces) that I grew up cooking with are anti histamine herbs & spices, it really got me excited.
I decided to try and recreate some of my favorite dishes with the limited substitutions I needed. This particular low histamine dinner idea came about when I was craving a dish called pad ka prow, which is a spicy chicken dish topped with a fried egg & served with white rice.
Ka prow is usually a little greasy and incredibly flavorful, using several strong Southeast Asian flavors to keep your palate thoroughly entertained. But while this is overall a low histamine dish, it's not a recipe I'd recommend for people just starting their low histamine journey.
Even the very small amount of fish sauce— about 10 drops per serving— could set off someone who's still very sensitive to histamine triggers. Additionally, some people don't do well with citrus or with ground meat. Be sure to check the recipe notes for more in-depth tips on substituting any of the ingredients and which types of lettuce to use.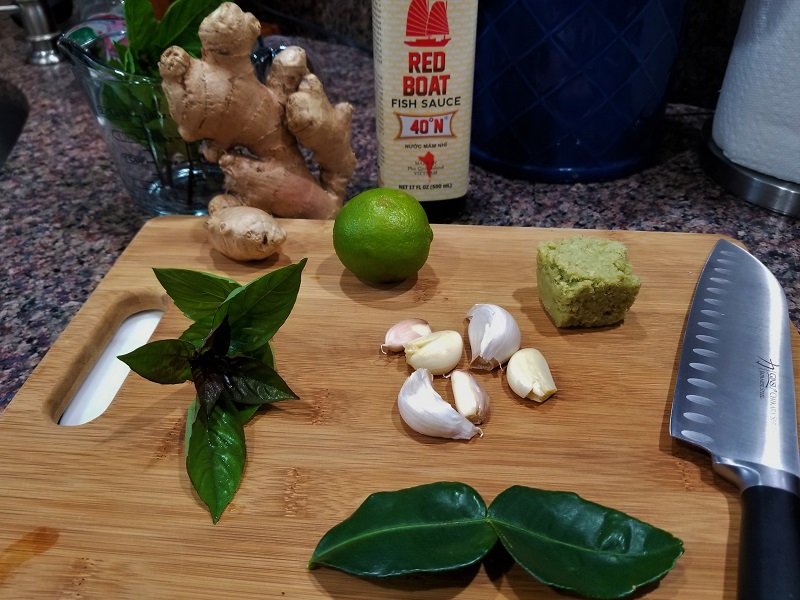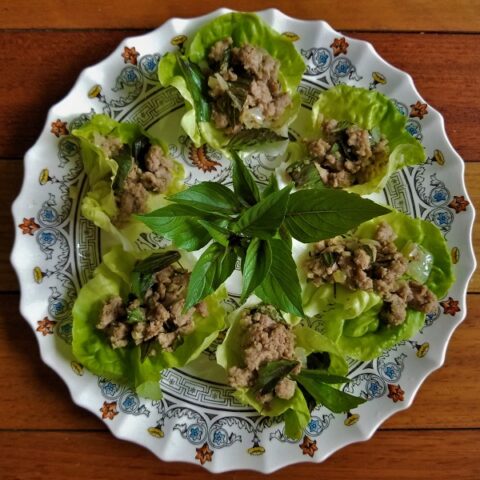 Soy-Free Lettuce Wraps With Garlic & Ginger (Low Histamine)
A bright & flavorful Southeast Asian-inspired dish that's versatile enough to eat with a fried egg, over rice, or under a big pile of noodles. These soy-free lettuce wraps are the perfect low histamine lunch!
Ingredients
16oz. ground pork, turkey, or chicken
1 Tablespoon + 2-4 teaspoons avocado or olive oil
1/2 medium onion, chopped
1 teaspoon freshly-pureed or -hydroplaned ginger
6-8 cloves of garlic, minced
2 Tablespoons chopped lemongrass (white parts only, if using from fresh)
2 big fresh or frozen Kaffir lime leaves, chopped finely (~1/2t of chopped leaf, but can sub for 1/2 teaspoon lime zest in a pinch)
1/4 teaspoon sea salt (start with 1/8 teaspoon if salt sensitive)
1/4 teaspoon black pepper (optional; ~15 grinds in a pepper mill)
1/2 teaspoon fish sauce (alt. 1/4 teaspoon salt)
1 teaspoon lime juice (alt is 1.5 teaspoon pomegranate juice)
1/4 cup Thai basil, roughly chopped (can sub with regular basil)
~2 dozen large lettuce leaves (preferably red or green leaf)
Instructions
First mince your garlic and chop your onion, and then set them aside.
Place a cast iron pan (or the pan of most convenience) on the stove over medium heat, letting it warm up while you get the ground meat from the fridge (or freezer; if frozen place it in a bowl of lukewarm water for 3-5 minutes).
While the meat lightly thaws (if needed) and the pan heats, roughly chop your Thai basil and lime leaves, and puree your ginger.
Once that's done, add one tablespoon of oil and wait ten seconds, then add the meat to your hot pan. Let it sit for about 30 seconds, cooking the bottom until it starts to come apart.
Break the meat up as much as you can, moving it around until it's covering as much of the bottom of the pan as possible. If there doesn't seem to be enough fat, add 2-4 teaspoons more oil to the mix. Stir for 3-5 minutes, until no longer pink and no longer sticking to the bottom of the pan.
Add the onion and turn the heat up to to medium-high, cooking the mixture and stirring occasionally for another 2-3 minutes. Meanwhile, gather the rest of your ingredients and finish any prep you haven't yet done. This is a good time to wash your lettuce leaves and divide them onto plates for serving.
Once the meat has all changed color and even started to brown, add the ginger, lemongrass, garlic, and chopped lime leaves. Cook the mixture for about 5 more minutes, until just lightly browned, stirring often.
Once the meat is done, turn off the heat but keep the pan on the hot burner. Immediately stir in the chopped basil leaves, fish sauce, lime juice, and salt & pepper. If you didn't do it earlier, wash your lettuce leaves and stack them on each plate alongside the meat. Plate the mixture inside the lettuce leaves as you go, and enjoy!
Notes
Fish Sauce: while you could omit the fish sauce and sub 1/2 teaspoon umeboshi paste, I wouldn't recommend this and I have not tested it that way because it's just so good with the fish sauce. Fish sauce is an incredibly flavorful fermented sauce that adds a depth to this dish that you just can't get from any other ingredient; when we tried it with only salt, all the ingredients tasted markedly less potent.
Meat: while the dish this is adapted from is traditionally made with ground chicken, you can use any ground white meat, and in fact, I prefer it with pork. But it's very important that you make it with fresh or fresh-frozen ground meat, even if you need to grind it yourself, as the shape of the pieces of meat will actually affect the dish's overall flavor.
Pair With: serve these with a side a salad or roasted vegetable, like turmeric cauliflower or garlic asparagus.
Reheating: while this is good in lettuce cups, it could also be easily frozen (sans lettuce) and served with purple or black rice, or over mashed potatoes (sweet or regular), or even with a fried egg on top (in homage to pad ka prow, the Thai dish which inspired it). Otherwise, just freeze it and reheat on low on the stovetop the next time you have lettuce around.
Nutrition Information:
Yield:

3
Serving Size:

1
Amount Per Serving:
Calories:

439.2kcal
Total Fat:

34.34gg
Saturated Fat:

15g
Trans Fat:

0g
Unsaturated Fat:

26g
Cholesterol:

210mg
Sodium:

344.92mgmg
Carbohydrates:

6.1gg
Fiber:

7g
Sugar:

0.84gg
Protein:

26.49gg
Nutrition data is primarily accumulated from online calculators for convenience and courtesy only, and can vary depending on factors such as measurements, brands, and so on. We encourage you to double-check and make your own calculations.
Save this post for later!