Normally I'm not a big fan of blackberries, but there's something about the combination of blackberries and roses that makes them brighten right up in my eyes. Along with my sweet cherry jam and vanilla blueberry jam, this low histamine jam recipe is a great way to preserve some of that fresh summer fruit, or even use it up from frozen later on in the year. My own favorite use for low histamine jams is in between layers of fuffy pancakes, but it's also good with samosas or bread & butter.
Of all the jams in my freezer right now, this one is definitely my most nostalgic flavor blend. It always reminds me of picking fresh mulberries off the bush with my mom, sweet memories I think of every summer. In that way it's much like our annual end-of-summer pesto sauce, which we make a few pounds of each year and keep in the freezer to slowly use up. I hope this recipe brings you as much joy as it does me.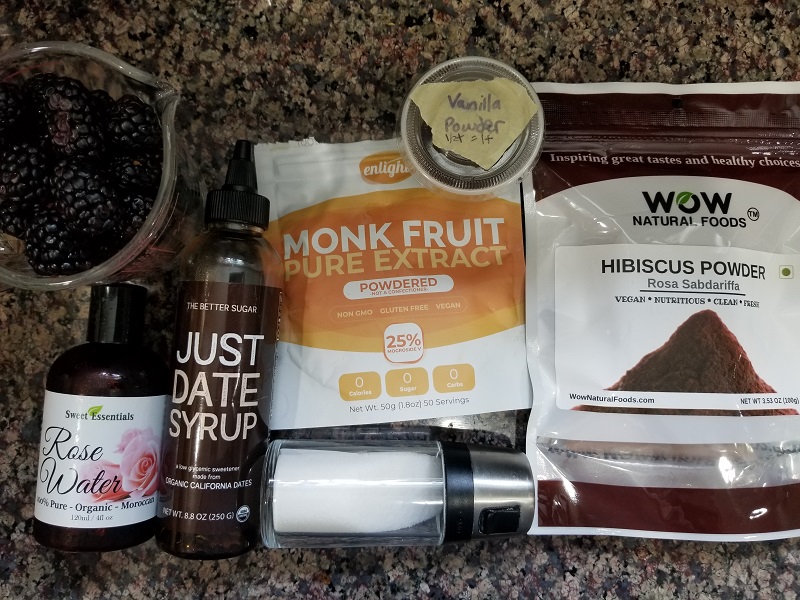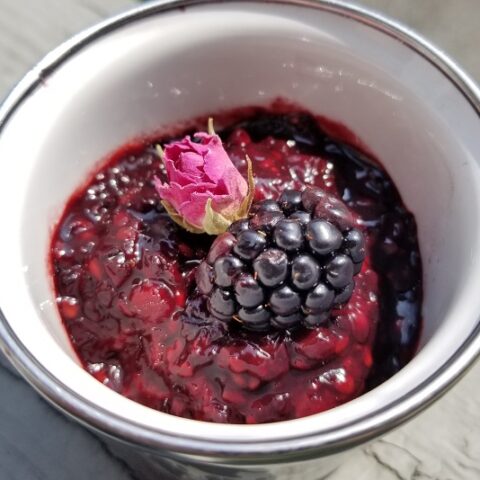 Low-Sugar Rose Blackberry Jam (No Pectin)
A low-sugar, low histamine blackberry jam without pectin, featuring complex undertones of rose water and hibiscus.
Ingredients
1 Cup organic blackberries (6oz., washed)
1 Tablespoon date syrup (or honey)
1/4 teaspoon monk fruit extract (or stevia powder)
1/2 teaspoon hibiscus powder
Pinch of salt
1/8 teaspoon vanilla powder
1/2 teaspoon rose water (optional)
2 Tablespoons water (optional)
Instructions
Thoroughly wash your blackberries, and then cut the larger ones into thirds and the smaller ones in half.
Place them in a heavy-bottomed sauce pan and turn the heat on medium-low.
While the pan heats up under the berries, add the date syrup to the berries and then measure out the monk fruit, hibiscus powder, and pinch of salt into a separate bowl. Do not measure the vanilla or rose water yet.
After a few minutes, your blackberries and syrup should start to get mushy and bubble up, and you should start stirring the mixture with a wooden spoon, lightly smashing some of the berries as they further soften. Lower the heat to low and give this mixture about 2 more minutes of simmering (if it's still boiling, lower the heat even more), continuing to crush the berries and blend them with the date syrup.
After those 2 minutes, take your potato masher (or a large whisk) and mash all the berries. Add your monk fruit, hibiscus powder, and salt mixture and blend thoroughly. If you want a very smooth mixture, use an immersion blender to even out the texture, but keep in mind that if you blend for more than 1 minute you may start cutting the seeds smaller and making them harder to remove.
Add the vanilla powder, rose water, and water to the mixture and cook for 1 more minute, then turn off the heat and continue to stir the mixture for another minute or two before moving it onto a cool surface.
You can leave out the water if your jam already seems thin enough, but if you cook much longer you'll start to cook out the flavor. Most people do end up preferring to remove the seeds from their jam (though I personally like the texture). To do this, simply allow your jam to cool for a few more minutes and then push it through a fine mesh sieve using a spoon. Place your fresh jam into a glass jar to use immediately and safely freeze the rest.
Notes
DATE SYRUP: you can sub honey or maple syrup, but it needs a bit of traditional sweetener alongside the monk fruit. If your stomach can't yet handle sugar, you can omit it, but the texture may be overly-thick and it won't be as sweet.
HIBISCUS POWDER: if you can't tolerate hibiscus, you can sub 1 teaspoon lemon juice, if tolerated.
ROSE WATER: you can sub 1/2 teaspoon orange blossom water or just use the vanilla powder, but I highly recommend first trying it with rose water.
Nutrition Information:
Yield:

1
Serving Size:

1
Amount Per Serving:
Calories:

139.81kcal
Total Fat:

0.77gg
Saturated Fat:

0g
Trans Fat:

0g
Unsaturated Fat:

0g
Cholesterol:

0mg
Sodium:

158.15mgmg
Carbohydrates:

30.81gg
Fiber:

9g
Sugar:

8.29gg
Protein:

2.18gg
Nutrition data is primarily accumulated from online calculators for convenience and courtesy only, and can vary depending on factors such as measurements, brands, and so on. We encourage you to double-check and make your own calculations.
Save this post for later!