It's blueberry season here in the US, and my family subscribes to a CSA box that has been very fruitful the last few weeks. For me that means fresh low histamine jams, easily made and even more easily frozen. If you've never made stovetop jam before, it's a lot like making a smoothie; you put everything in the pot, turn a few knobs, and voila! A low-sugar, low histamine jam that's as versatile as it is delicious.
My favorite use for this recipe is on top of these fluffy pancakes or with a piece of my favorite tolerated bread. You can also serve it over ice cream or blend it with your milk of choice for a sweet beverage over ice, though make sure you've used an immersion blender if you do that. Please remember to check the notes for the best substitutions, and feel free to switch out blueberries for your fruit of choice.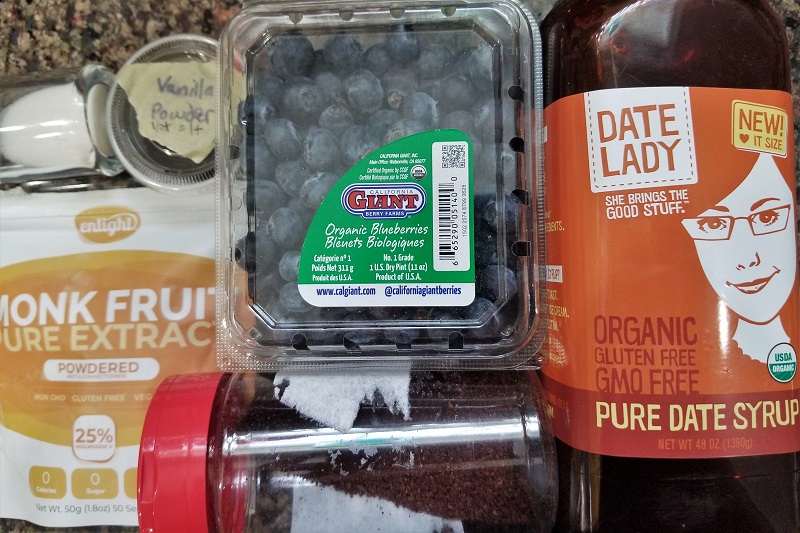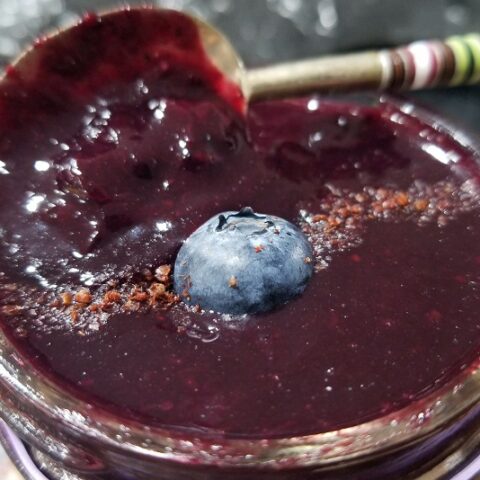 Blueberry Vanilla Jam (Low Histamine, No Pectin)
A low-sugar, low histamine blueberry vanilla jam with balanced sweet & tart undertones.
Ingredients
1 Cup organic blueberries (washed)
2 Tablespoons date syrup (or honey)
1/4 teaspoon monk fruit extract (or stevia powder)
1/2 teaspoon sumac powder
1/4 teaspoon vanilla powder
Pinch of salt (omit if sumac contains salt)
Instructions
Thoroughly wash your blueberries, and then place them in a heavy-bottomed sauce pan and turn the heat on medium-low.
While the pan heats up, add the date syrup to the blueberries and then measure out the monk fruit, sumac, vanilla, and salt into a separate bowl.
After a few minutes, your blueberries and syrup should start to get mushy and bubble up, and you should start stirring the mixture with a wooden spoon, lightly smashing some of the berries as they further soften.
Lower the heat to low and give this mixture about 5 more minutes of simmering (if it's still boiling, lower the heat even more), continuing to crush the berries and blend them with the date syrup.
After those 5 minutes, take your potato masher (or a large whisk) and mash all the berries. Add your monk fruit, sumac, vanilla, and salt mixture and blend thoroughly. If you want a very smooth mixture, use an immersion blender to even out the texture.
Cook this mixture for 1 more minute, then turn off the heat and continue to stir the mixture for another minute or two before moving it onto a cool surface. If you cook it much longer you'll start to cook out the flavor of the spices.
Allow your jam to cool for a few more minutes and then place it in a glass jar to use immediately and safely freeze the rest.
Notes
DATE SYRUP: you can sub honey or maple syrup, but it needs a bit of traditional sweetener alongside the monk fruit. If your stomach can't yet handle sugar, you can omit it, but the texture may be overly-thick and it won't be as sweet.
SUMAC: If you can't tolerate sumac you can sub the same amount of amchur or 1 teaspoon lemon juice, if tolerated. Also, note that some sumac contains salt already, so if yours does, simply omit the pinch of salt.
VANILLA: you can sub 1/2 teaspoon traditional vanilla extract if tolerated, but the alcohol base can irritates some people.
Nutrition Information:
Yield:

1
Serving Size:

1
Amount Per Serving:
Calories:

212.58kcal
Total Fat:

0.67gg
Saturated Fat:

0g
Trans Fat:

0g
Unsaturated Fat:

0g
Cholesterol:

0mg
Sodium:

183.21mgmg
Carbohydrates:

51.91gg
Fiber:

7g
Sugar:

14.76gg
Protein:

1.16gg
Nutrition data is primarily accumulated from online calculators for convenience and courtesy only, and can vary depending on factors such as measurements, brands, and so on. We encourage you to double-check and make your own calculations.
Save this post for later!