This time of year, cauliflower and brussels sprouts are basically the only low histamine vegetables I can find in the organic section of my local supermarket. Cauliflower and histamine intolerance actually go very well together (unless you have a sulfite sensitivity), as in cauliflower histamine content is very low, and it's overall a very healthy food. Not only is it high in fiber and antioxidants, but it's also a rich source of nutrients like choline, folate, and sulforaphane, all of which play a role in the body's methylation pathways (essential for proper detox).
In this vegan cauliflower recipe, we use other antioxidant-rich foods, like ginger, turmeric, onions, and garlic, to create an antihistamine powerhouse you actually enjoy eating alongside your Saturday night pizza. I've used both fresh cauliflower and fresh frozen cauliflower, and this recipe works with either since the baking temperature is so high. This is easily one of my favorite things to do with cauliflower, but I'll have more ideas coming to you soon!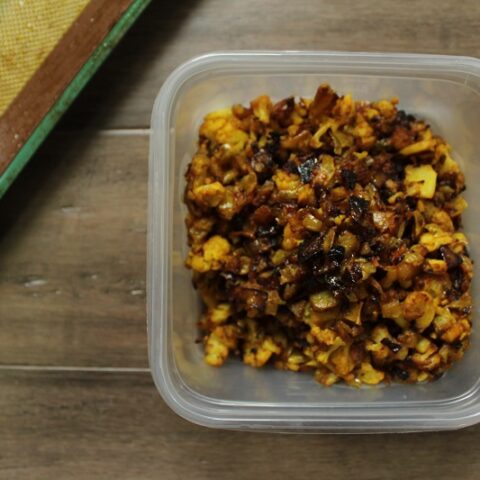 Crispy Spiced Cauliflower
A sweet & spice-filled cauliflower recipe that's perfect for when you just don't have time to wash more than one bowl!
Ingredients
1 large head/600g organic cauliflower, (cut into florets)
1 medium/250g sweet onion
6 cloves garlic
1/3 cup organic olive oil
1/8 teaspoon camu camu powder
1 Tablespoon lemon juice
1/2 teaspoon sea salt
1/4 teaspoon black pepper
dash of cardamom
1/2 teaspoon turmeric
1/4 teaspoon ground ginger
1 teaspoon ground cumin
1/4 teaspoon ground coriander seed, (NOT cilantro, but the coriander seed)
Instructions
Preheat oven to 425°F/220°C.
Chop your cauliflower into small florets (no larger than 1 inch on any side), and place it into your mixing bowl.
Dice the onion and mince the garlic, and slide them on top of the cauliflower.
Measure out all the spices in a bowl, then the olive oil and lemon juice. Mix them all together in a separate small bowl, or simply pour them all on top of the cauliflower, onion, and garlic mixture.
Toss everything together in the bowl until each floret has been coated with a thin layer of oil, then arrange them in a single layer on the silicone mat (placed on top of your baking sheet).
Bake the mixture for 20 minutes, then take the tray out of the oven and use a spatula to move around the mixture. Rotate the tray to the other side, then bake for another 15 minutes.
DING! If it's done enough for you after 35 minutes, take it out now, but since I usually work with frozen cauliflower, at this point I move around the mixture one more time and bake for another 10 minutes to let it all crisp up even more. I like to eat most of mine off the pan initially, then tupperware the rest for the freezer, but I live alone so you do what you need to.
Notes
Lemon Juice: If you can't handle lemon juice, make sure you use frozen cauliflower and add an extra teaspoon of olive oil and a 1/4 teaspoon of camu camu powder. It won't taste quite the same, but the olive oil will make up for the lost liquid, the camu camu will add some tartness, and using frozen cauliflower ensures that the cell walls are already mostly broken down.
Freezer?: You can & should freeze this once you've made it, but if you're working from frozen cauliflower initially, then I highly recommend eating all you can of it fresh, because the crispness doesn't translate well after it's been frozen a second time.
Save this post for later!