I first made this low histamine stew just a few months after I began eating low histamine, and I was tweaking all my old favorite recipes. At the time I'd begun experimenting with sipping on bone broth for my stomach, which seemed to respond well to it.
Eventually this experiment expanded into uncured sausage and bacon, both of which I now keep in the freezer to eat a few times a month. I've tried making this stew with two other brands of sausage, and never got nearly as flavorful a result, so make sure that the stew tastes like you want it before you add any meat.
The stew can be made vegan by omitting the sausage and using vegetable broth​ instead of homemade bone broth. But if you are making a vegan-friendly version, consider adding some fresh-cooked chickpeas near the end and adding extra spices.
Speaking of which, some of these spices get mixed reviews on various low histamine lists, but I've never had a reaction to any of them— however, always make sure you've reintroduced a food following an elimination diet before you add it to a big stew like this (one of my favorite protein-rich low histamine dinner options).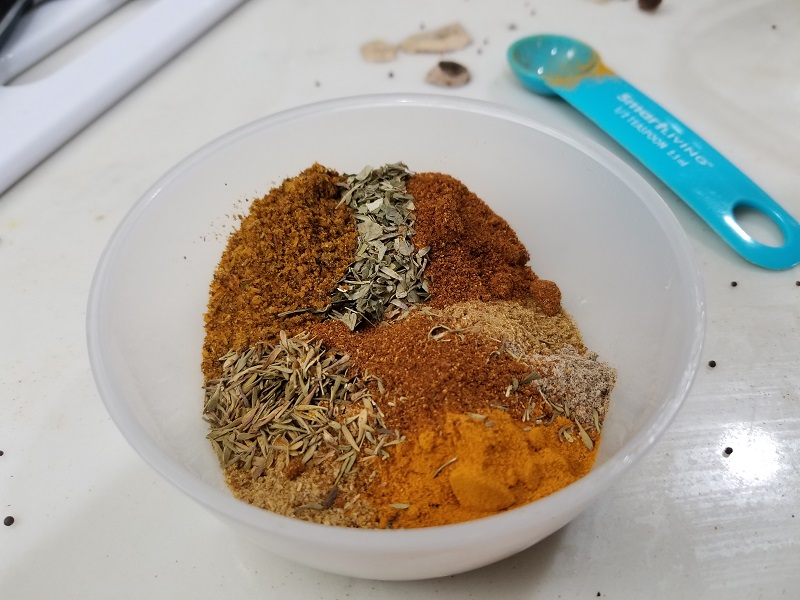 📖 Recipe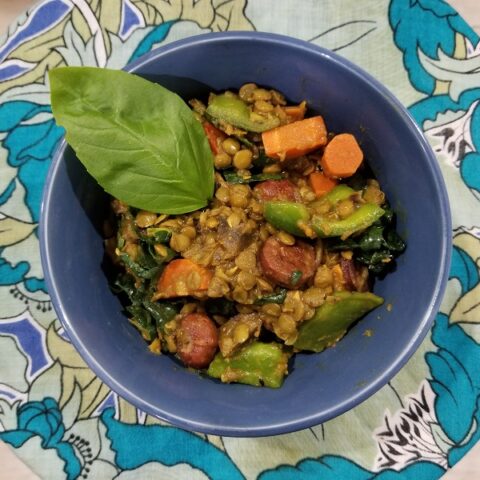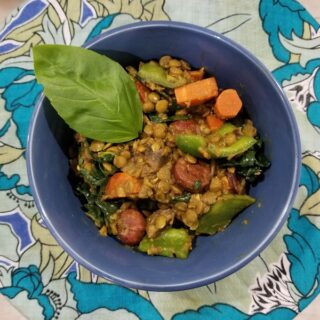 Spanish Lentil Stew Without Tomatoes (Vegan Option)
A protein-rich stew that's high in veggies and in Italian-Indian spices, which form the base of this flavorful dish.
Ingredients
12

oz

uncured sausage

optional; otherwise use 1 Tablespoon fat of choice

3

cups

dry green or black lentils

picked over and rinsed

1

medium onion

any color

6-8

garlic cloves

pressed or minced

1

teaspoon

whole mustard seeds

1

teaspoon

nigella sativa seeds

4

cups

bone broth or stock

preferably homemade (sub. water)

3-4

medium carrots

peeled & chopped

1

large sweet potato or 1½ cups cubed squash

1

Tablespoon

tomato paste

sub. umeboshi paste

2

teaspoons

ground cumin

1

teaspoon

ground coriander seed

1

teaspoon

ground turmeric

⅛

teaspoon

ground cardamom

1

teaspoon

dried thyme

2

teaspoons

dried oregano

1

teaspoon

garam masala

optional

½

teaspoon

hot pepper or 1 minced jalapeno pepper

optional

½-2

cups

water

2

bell peppers

cut into chunks

1

bunch chopped kale

ribs removed

1

Tablespoon

lemon juice

can sub 1 teaspoon sumac

1

teaspoon

salt

or more to taste

Fresh pepper

to taste
Instructions
Before starting the stew, mince the garlic and the onion and then set them aside, each in a separate bowl. Next, cube the carrots and the sweet potato (or squash) into similar-sized chunks, and put them into a bowl together. If you're unfamiliar with chopping kale, you should also do this now; otherwise, set it aside.

Measure out all the spices except nigella and mustard seeds, meaning the cumin, coriander, turmeric, cardamom, thyme, oregano, garam masala, and hot pepper. You can omit the hot pepper, but the dish isn't quite the same without the garam masala. If you'd like to make your own replacement spice blend, consider basing it off the spices already in the recipe.

Now place a large cast iron or nonstick pot over medium-low heat while you slice the sausage into rounds. If you're not using sausage, skip this step and move to the next one. Once sliced, arrange the sausage in a single layer in the bottom of the pot and cook for 5 minutes. Flip each slice over to brown the other side, cooking for another 5 minutes. You may need an extra 5 minutes or so to make sure everything is browned if you're doing this in a slightly smaller pot, as I usually do.

While the sausage is cooking, measure out your lentils into a large glass bowl and saturate them with water, cleaning the lentils and draining off any floating bits. You'll want to "rinse" the lentils 3-5x before you set them aside.

Once the sausage is done, use a fork or a pair of tongs to remove each of the pieces, leaving any grease behind. If you didn't use any meat, add 1 tablespoon of oil to the pot and give it one minute to heat up. Set aside the sausage and immediately add the minced onion to the hot oil, shaking the pot horizontally to make sure it's all in a single layer. If it looks like there's less than 1 Tablespoon of add, add enough olive oil or avocado oil to get up to 1 Tablespoon.

Once the oil is once again hot, add the nigella and whole mustard seeds and cook for one minute. Then add the onion and brown the mixture in the oil over medium heat for 5-7 minutes. Now add the garlic and cook for 2 more minutes; it should be very fragrant.

Now add the lentils, bone broth, carrots, sweet potato (or squash), and tomato paste (or umeboshi paste). The mixture will be chunky, but it will all soften after cooking.

Mix everything well and then add the spices you measured early directly to the pot and stir them in, replacing the lid and cooking over low heat for about 30 seconds. Now remove the lid and smell the stew, taking a spoon and tasting the liquid to see if the flavor of the spices is strong enough. Add a dash more of anything you smell lacking, and put the lid back on to cook for 10-15 more minutes (just set a timer and check back in after a bit).

While the stew cooks, wash your bell peppers and cut them into chunks. Set them aside and then wash your kale, remove the stem from each leaf, and then fold over the halves for easy slicing. Slice them into small pieces and set aside. By now your stew should be lightly bubbling, and may even be in need of more liquid. If this is the case (meaning that the veggies or lentils are "above water"), simply add more water ½ cup at a time until everything is re-submerged.

Once the initial 10 minutes has passed, take the lid off the pot and check on the lentils. They should be soft but still have a slight bite to them, and the carrots and sweet potato (or squash) should be tender when pierced with a fork. If they're not done yet, keep them on the heat for 5 more minutes with the lid on, checking them every 2 minutes thereafter if still not done.

Once the veggies are tender, turn off the heat but keep the pot on the burner and add the bell pepper, stirring them in until they're enveloped in the heat. While the bell pepper softens, measure your lemon juice (or sumac), salt, and pepper.

After 2 minutes, take the pot off the still-warm burner and move it to a cool surface. Stir in the lemon juice, salt, pepper, kale, and sausage (if used), mixing well and then tasting it for personal flavor adjustments; I tend to use more salt and sometimes some fresh green onion or chopped basil on top. You should never add salt until the end or it can make the lentils tough. After that, it's all ready to eat!
Notes
Type of lentils: I've used black, green, and red lentils to make this stew, and all of them have turned out fine, but green lentils are probably the easiest option to find. Dealer's choice. Tomato paste: if you can't tolerate even the tiniest bit of tomato paste or umeboshi paste, you can leave them out. However this stew really does well with just one tablespoon of vinegar or something else acidic (that's not lemon juice). Lemon juice: you could substitute sumac or lemon juice or even mustard, but this is another echo of the acidity that the tomato paste would provide. The two are similar but complementary tangs that just add great depth of flavor, but without enough to cause a reaction in most people after a month or two of an elimination diet. Sausage: as I said, the sausage is not necessary but it adds greatly to the flavor. You can make your own sausage or buy fresh-frozen sausage, of even just used pieces of chicken or pork. It's really just another good way to add healthy protein into my diet. Bone broth: both bone broths and animal/vegetable stocks can be made much more quickly in an instant pot, limiting histamine buildup. Though if you find a recipe you like but are wary of the length, give it a try cooking it for half the time, because some flavor & nutrition is definitely better than none! Changing vegetables: these are merely some of my favorite vegetables at the time I pulled together this recipe, but you can substitute with some of your own favorites. Just bear in mind the cooking times for those may be different, so you may need to tweak some of the cook times. Freezing: this dish freezes very well, particularly with these veggies. I like to freeze it in three different serving sizes so I can pick how much of it to eat with one meal, but it generally makes about 8 full meals with this one pot.
Nutrition
Serving:
1
g
Calories:
461.85
kcal
Carbohydrates:
59.29
g
Protein:
29.33
g
Fat:
14
g
Saturated Fat:
5
g
Polyunsaturated Fat:
8
g
Cholesterol:
33
mg
Sodium:
848.91
mg
Fiber:
9
g
Sugar:
6.34
g
Save this post for later!