When I first decided to try a low histamine diet for my symptoms, kale was one of the few foods on my "safe" list. For the first few weeks of my strict low histamine diet, I often stewed it in coconut milk with ginger powder for flavor, but honestly, that wasn't the most flavorful option. However, it did spark my interest in making a delicious low histamine kale dish that I'd happily serve to anyone in my family, histamine intolerant or not.
Yet I've gotten a few questions about this popular vegetable, namely: is kale high in histamine or low in histamine? The answer is that's low in histamine, but can be moderately high in oxalates, which is a different sensitivity, but one which many histamine intolerant people also have. Oxalates are a compound found in some foods, as well as being produced by the body, and if your body can't process them properly, then high levels can build up and lead to kidney stones.
You can read more about oxalates here, but their levels in kale are only considered medium, and seem to be lower when kale is boiled and drained. So if you have histamine issues but no oxalate issues, then kale is a very healthy and nutritious addition to your diet— especially when you make it this way! The complementary garlic and ginger are both powerful natural antihistamines.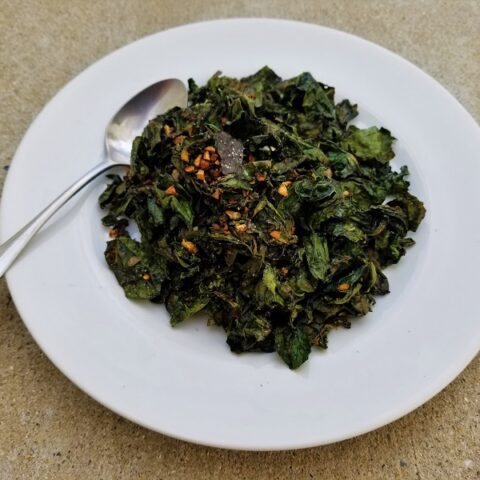 Crispy Garlic-Ginger Kale (Histamine-Friendly)
A simple spiced, crispy kale side dish that balances out the veggie's natural bitterness, while staying low histamine and vegan-friendly.
Ingredients
​1 bunch of kale, washed and despined (12-18 large leaves, depending on the bunch)
1T avocado oil
1 inch of ginger
3 cloves of garlic
1/4 teaspoon coriander powder
1/2 teaspoon cumin powder
1/8 teaspoon salt (more to taste)
1/4 teaspoon camu camu
Instructions
Wash your kale and remove the bulky spines, as they won't cook up nearly as well, and then stack the leaf-halves up and— keeping them stacked together— and fold them in half, crumbling the leaves until they're all flexible, breaking apart the cell walls of the leaves. Then cut the stack of softened leaves apart; each leaf should end up cut about 10 times.
Put your pan over medium heat and let it warm in the interim. Meanwhile, peel and mince both the garlic & ginger, and set them aside.
Place your torn leaves into the now-hot pan, moving them around until there's basically no water left on the leaves at all. Once they're dry, drizzle the oil into the pan and stir everything until each leaf is lightly coated in oil.
Lower the heat to low and then add the garlic to the mix and stir together, leaving the mixture to cook for one minute.
Add the ginger, coriander, and cumin. Stirring occasionally, cook the kale for 3-5 minutes or until mostly crispy.
Add the salt and camu camu powder, turn off the heat, and then stir everything in the still-hot pan until each piece is flavored.
Plate it & enjoy!
Notes
Pair this side with something sweet! I recommend serving it with a sweeter root vegetable, like carrots or sweet potato, and a more plain protein, like chicken or pork belly.
Optional flavor enhancers include: 1/2 teaspoon lemon juice (subbed for the camu camu), half a serrano pepper (minced), and toasted sesame seeds on top.