For me, one of the toughest things about a low histamine diet is the loss of sweets. Or at least, it feels like a loss of sweets, since you're not supposed to have sugar outside of a short list of fruits. In fact, if I have any more sugar than you'd find in a mango or an apple, I get a stomachache. So when formulating this low histamine cookie recipe, I was careful to not only keep the ingredients low histamine, but also to keep the sugar level low.
This low histamine almond cookie recipe only contains 7 or 8 grams of sugar per cookie, and all of it is coconut sugar. Coconut sugar has much less impact upon your blood sugar levels (fluctuations of which can trigger histamine release) compared to refined sugar, which is why I was originally excited to try this recipe. But while I followed that paleo cookie recipe to a T and it didn't hurt my stomach, it also didn't manage to satisfy my sweet tooth. So I modified it.
First, I added in some monk fruit extract for extra sweetness, and a bit of salt for further emphasizing the sweet flavor. I had to switch out the vanilla extract for vanilla powder to make it truly histamine-friendly, and voila! The perfect recipe. It takes just 30 minutes & one bowl to put together, and you can clean up any mess while your cookies are baking.
Since my freezer is already teeming with leftovers, I also appreciate that you only get 8 cookies out of this as written (though it can easily be doubled). I usually make these every other week and keep them in the bottom shelf of my freezer, serving them up as the base for a faux pie (see notes below).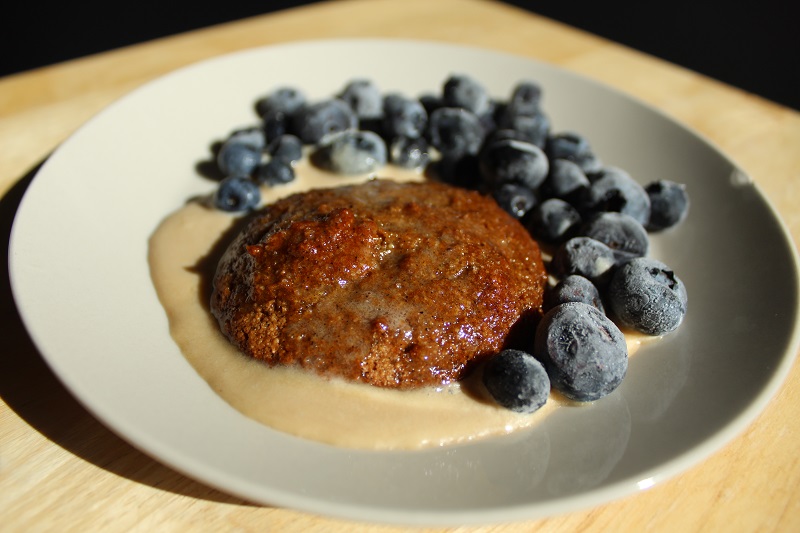 Vanilla Almond Cookies
A slightly sweet, sturdy cookie, teeming with vanilla flavor and a strong almond base!
Ingredients
1 cup (120g) almond flour, [make SURE it's super-fine almond flour, and organic, if you can find it]
1/4 cup (60g) coconut sugar
1/2 teaspoon (1g) pure monk fruit powder, [NOT the sweeteners based in erythritol, but the real stuff]
1 teaspoon (2g) baking powder
2/3 teaspoon (2g) vanilla powder, [a heaping half teaspoon also works]
1 large or extra large egg
2 Tablespoons (30 ml) melted coconut oil, [you can also use ghee for a crispier cookie, if you can handle some dairy]
1/4 teaspoon (0.5g) sea salt (optional)
Instructions
Preheat oven to 375°F/190°C.
Measure and mix all dry ingredients together, except for salt (it will be used for topping).
Place the silicone mat or parchment paper onto the baking tray before finishing putting together the dough.
Add in the egg and coconut oil (or ghee) and mix thoroughly.
Immediately scoop 8 cookies onto tray in tablespoons and sprinkle an even amount of the salt onto the top of each cookie. If you plan to eat these with any type of salted sauce, you may want to omit the salt, but I think it makes them taste sweeter when eaten alone.
Bake for 10-12 minutes on top of silpat, then remove from oven. The cookies should be slightly browned on the bottom & firm when done. Immediately take the silpat off of the tray and place it onto a cool surface, to avoid burning the bottom of the cookies with lasting heat from the baking tray. They're pretty sturdy, so don't worry about breaking them apart.
Allow the cookies to cool for at least 5 minutes before you serve them, even if you're using them to make faux pie (see notes). Enjoy!~
Notes
Making It Vegan. Since the egg mainly acts as the binder in this recipe, you would do just as well to make a flax egg in place of the existing egg, and voila! Veganized.
Making Faux Pie. I love using coconut cream & fruit to make these into the base for a faux pie! My fruit of choice is usually blueberries, for their natural antioxidants and low sugar level, but I also love peaches, mango, and raspberry (in moderation). Simply microwave a frozen cookie for 20 seconds, and then serve with a handful of fresh fruit and a couple spoonfuls of coconut cream; a sprinkle of salt enhances the sweetness. If using frozen fruit, microwave the cookie and the fruit together.
Subbing Flours. While I haven't tried it myself, you may be able to substitute up to 1/2 cup of the almond flour with coconut flour, but you'll have to add one extra egg for every 1/4 cup of coconut flour used. I highly recommend sticking to the almond flour, and simply seeking a different recipe if you can't tolerate nuts.
Subbing Sugars. While I haven't tried it myself, date sugar would probably work basically the same as coconut sugar, based on their properties. Just remember to use a solid sweetener rather than liquid, no matter what you try to sub with!