Following a low histamine diet has forced me to confront how few ingredients most people rely on for their desserts. Most sweets are either fruity or chocolaty, with some people looking towards vanilla as a foil.
But in sorting out low histamine dessert options for myself, I've found a somewhat wider range of flavors, including in my favorite cuisines, Indian and Thai. This dish is actually a facsimile of a very popular Thai dessert known simply as "Mango Sticky Rice" in Thailand, but the primary ingredient (mango) is also a powerful antihistamine.
It's the perfect combination of chewy & sweet, slightly acidic with a salty undertone. But this recipe will also get into how to make sticky rice at home, as I think that's the more complex thing here. I took the easy way out with my bamboo steamer, placing it on top of my pasta-boiling pot rather than inside a metal steamer.
The results turned out great with some extra cooking time. Just remember to use a natural steamer liner along with some cheesecloth, and always keep your hands & utensils wet when working with the rice, as it really does stick to everything!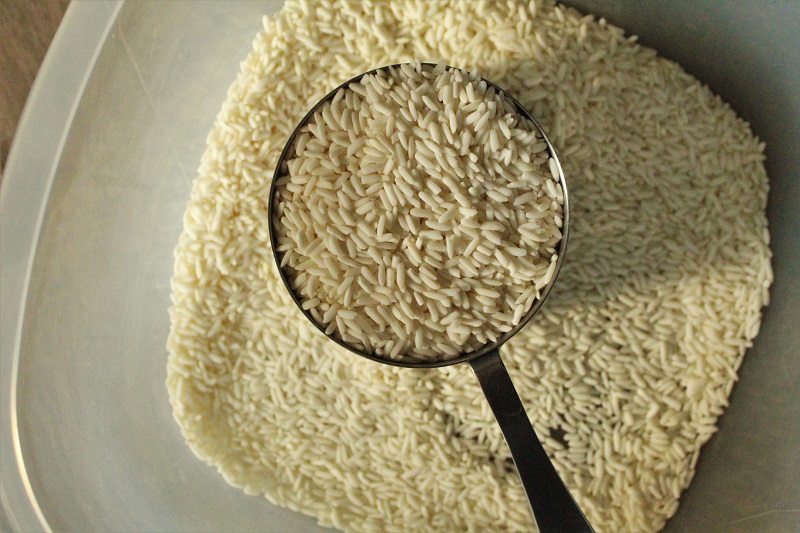 📖 Recipe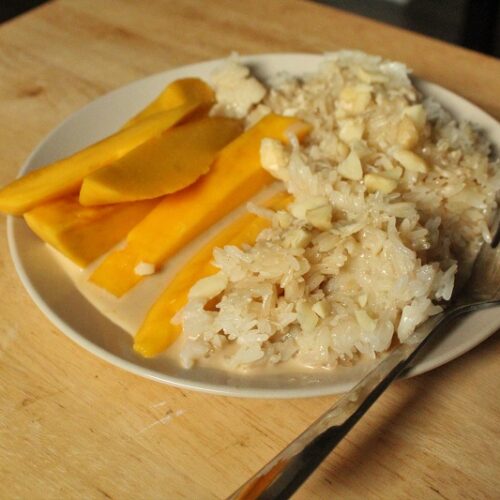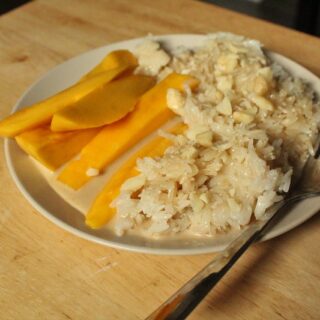 How to Make Mango Sticky Rice at Home
Ingredients
2

cups

Cooked Sweet Rice

13.5

oz.

Organic Heavy Coconut Cream

4

oz.

Unsweetened Coconut Milk

~⅓ can, stirred evenly

3

Tablespoons

Coconut Sugar

¼

teaspoon

Monk Fruit Extract

½

teaspoon

Sea Salt

3-4

Organic Mangoes
Instructions
To make the sticky rice, first soak the rice overnight (or at least 12 hours) and place a can of coconut cream and a can of coconut milk into the fridge.

Once your rice has had time to soften, set a fair amount of water to a full boil, since it will steam throughout the cooking process thereby lessening how much is in the pot. Rinse off your sticky rice at least 5 times, draining off as much as you can each time, until the water runs clear.

Line your top steamer basket with cheesecloth and a steamer liner. Then add still-wet soaked rice to the cheesecloth-lined basket to get rid of excess water, and fold the cheesecloth onto top of rice pile if at risk of burning from an open flame. Stack steamers on top of pot of boiling water and keep water boiling so that the resulting steam cooks the rice.

Set a timer for 55 minutes and let the rice steam. I found 55 minutes with a roiling boil underneath to be perfect, but check on it after 40, and then 50 minutes. Don't lift up the steamer lid more often than that, though, because that dissipates the steam (which is the only thing cooking the rice).

Take the coconut cream, coconut milk, and the organic mangoes out of the fridge. Open the cans and put the coconut cream & milk into your bowl. Add the coconut sugar, monk fruit, and salt, and blend it all together until it has a smooth, almost whipped consistency (about 90 seconds). Pour the mixture into a saucepan and heat on low for 5 minutes, allowing the sugar and salt to fully dissolve. Set aside ½ cup of the mixture, and pour the rest back into the bowl.

Once the rice is done (taste a small lump and it tastes like plain rice; this's how you know it's done), immediately put it into the remaining coconut milk mixture and mix everything together with your big spoon. The aim is for the rice to soak in the coconut milk for the next fifteen minutes, so let it sit for a bit, covered with a plate to keep the heat in. Make sure each grain of rice is thoroughly saturated before covering.

While the rice finishes absorbing, wash and prepare your mangoes however you prefer to eat them. Serve the mango alongside the rice (with extra sauce spooned on top), and if you can tolerate them, chop and add some pili nuts or some puffed rice or toasted sesame seeds to the top. This rice freezes beautifully in single-serve containers, so your leftovers will be safe for the next time a ripe mango comes along!
Notes
This recipe DOES NOT work with a milk other than coconut milk. And make sure you use canned coconut milk, not any type of coconut milk drink or coconut water (they're different from coconut milk for cooking). You can increase the monk fruit to ½ teaspoon if it's not nearly sweet enough for you, but I'd recommend adding 1 extra tablespoon of coconut sugar, instead.
Nutrition
Serving:
1
g
Calories:
2933.7
kcal
Carbohydrates:
464.48
g
Protein:
40.47
g
Fat:
101.32
g
Saturated Fat:
31
g
Polyunsaturated Fat:
3
g
Sodium:
1147.8
mg
Fiber:
13
g
Sugar:
142.02
g
Save this post for later!