I am absolutely on a low histamine dessert kick right now. I don't know if it's the upcoming holidays or just the turning of the weather, but I've been scarfing down on-diet sweets like nobody's business, including a low histamine ice cream recipe I'm aaaaalmost ready to release. Probably the chocolate cravings aren't helping, but I digress.
This berry bowl has been my saving grace since my first very restrictive month on the low histamine diet, and it was a go-to all summer. Now that it's heavy into the fall season in my part of the world, I'm regularly digging into my stash of 6 pints (!!!) of freshly-frozen blueberries from August. Blueberries are a potent antihistamine and they freeze beautifully. I have this about once a week, and I try to only buy one pint of fresh berries each month, since they have to be imported.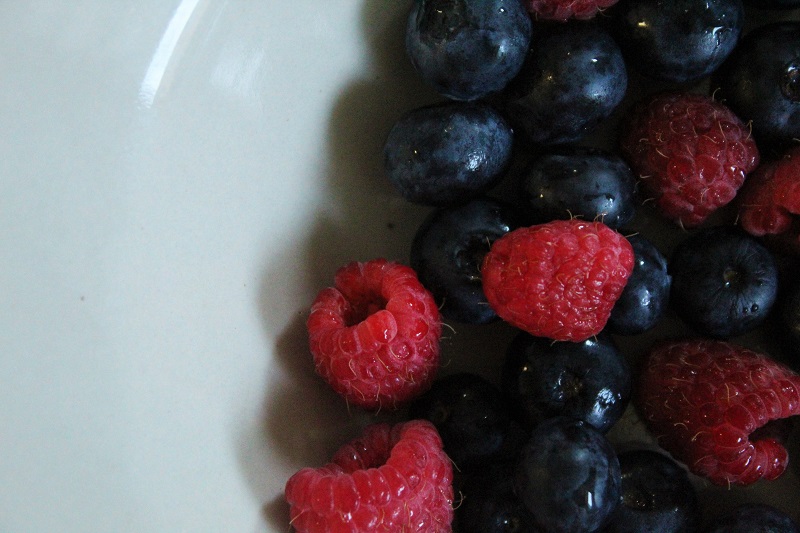 I know, I know, this also seems like one of the most straightforward "recipes" ever, but there is actually a trick to making this low histamine dessert bowl better than what you might normally whip up. Well, there are 2 tricks, really. They're listed below, but it has to do with how you use the coconut milk powder (I now use the one linked here rather than the brand in the photographs!) and the variety of sweetener.
You'll also note that the bowl in my pictures is rather bare, topped only with bits of my homemade vegan white chocolate. Depending on the type of berry, sometimes I sprinkle on chia seeds or toasted rolled oats for some crunch, but honestly, it's not usually my preference. I like my fruit pretty straight-up, so let's get to it!
Coconut Berry Bowl
While this is best for spring & summer, when organic berries are most abundant, this can also be done at other times of the year with frozen fruit.... though I highly recommend using fresh blueberries!
Ingredients
3/4 cup organic berries of choice (blueberries & raspberries are a house favorite)
2-3 tablespoons organic coconut milk powder, [make sure there are no added starches; it's more expensive & more clumpy, but there ARE brands out there which don't use maltodextrin]
pinch of pure monk fruit powder, [make sure it's pure monk fruit, NOT an erythritol blend of any kind, like Lakanto sells]
up to 1 teaspoon organic coconut sugar
pinch of sea salt
1-2 tablespoons toasted, rolled organic oats (optional), [for crunch & texture; not my preference]
Instructions
Wash the berries in the strainer/colander and tap or shake off as much water as you can, but don't dry them with a cloth or anything.
Add the berries to the bowl, then sprinkle the coconut milk powder on top and make sure its coating most of the berries. Let it all sit for 5-7 minutes so that the powder reconstitutes a bit with the water that still clings to the berries; this is essential for the proper berry bowl experience. Otherwise it's just a sweet powdery mess.
Once the coconut milk is thick & coating the berries, sprinkle on the monk fruit and carefully mix the bowl so that the monk fruit powder is more spread out. A concentrated hit of that and you won't be very happy! It almost tastes bitter in large doses, but with a pinch per bowl it's well-balanced. Any coconut sugar is to add a toasty sweetness, so add a much as you'd like... but don't go overboard!
Sprinkle a teeny tiny pinch of salt, and any toasted oats of chia seeds you'd like to mix it up with, and enjoy! (Pictured here it's topped with my homemade vegan white chocolate, sweetened with coconut sugar)
Notes
This is a pretty straightforward recipe, but there are a few things to note...
For Frozen Berries: If these were fresh frozen by you, then let them defrost for just 10 minutes, then start the recipe as otherwise indicated, from step 2. If these are store-bought frozen berries, then let them sit for 5 minutes, and use only 1/2 cup; store-bought berries will benefit especially from an extra pinch of monk fruit and some rolled oats, since their texture isn't as nice.
Other Sweeteners: If your stomach somehow handles sugar alcohols well (most HIT sufferers don't seem to), erythritol could be an okay replacement, but I'd recommend trying date sugar or date syrup before anything else. Try adding juuuuuuuust a touch first, and then adjust from there. I like to use a blend of 1 teaspoon monk fruit + 1/2 cup coconut sugar that I keep well-blended in a sugar shaker on my counter. It's roughly the same sweetness level as refined sugar, but it doesn't give me a tummy ache.
Canned Coconut Milk: If you don't have coconut milk powder, you can use canned coconut cream, but I highly recommend investing in some coconut milk powder (also great for low histamine lattes). The water that clings to the berries after washing actually re-hydrates the powder, lending a thicker and sweeter flavor, which is why I prefer it over the regular canned coconut milk (it makes the whole dish feel too wet and watery).