It's been suggested for my entire life that I might be the cookie monster in disguise. Totally quitting sugar for the first few weeks of my low histamine diet was by far the most difficult part of it all, because I was feeling better… but I still wanted sweets. So once I began reintroducing foods, especially antihistamine foods, one of the first things I worked on was making low histamine dessert recipes using my own safe ingredients.
Finding delicious low histamine desserts was and often remains a struggle, but I've kept track of my options, and finally decided to share them here. Some of the recipes utilize ingredient swaps, while others are desserts for the antihistamine diet specifically. These recipes & treats use whole food sweeteners, antihistamine fruits and vegetables, and low histamine grains, as well as various forms of coconut.
While I have no issues with coconut, I've realized that rely upon it heavily in lots of my own low histamine sweets. But I realize that it causes issues for some, so I've starred all the recipes which DON'T use any coconut. Otherwise, all potential triggers are listed in the recipes themselves, so please don't make anything unless you've already reintroduced the ingredients alone. I hope this list of low histamine dessert ideas helps you find something sweet to eat!
Carrot Cake Balls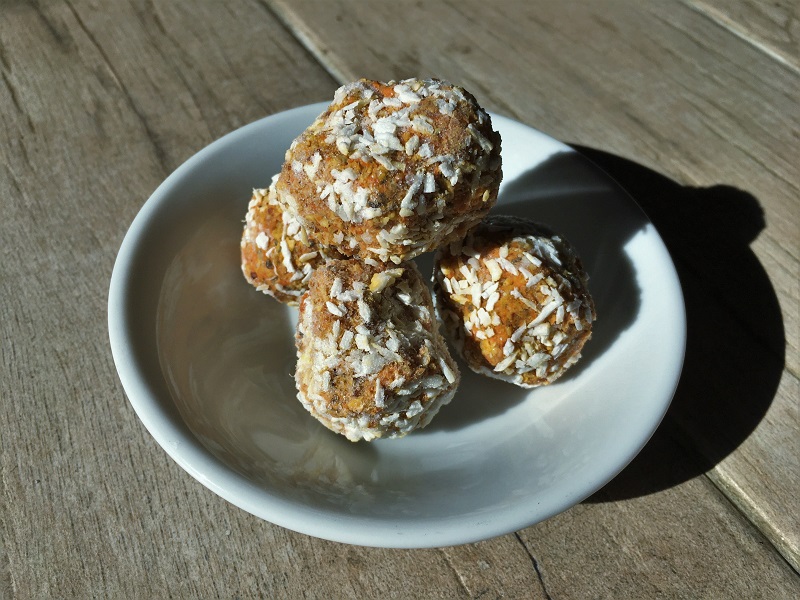 These are like a facsimile of my mom's carrot cake recipe, sans the super sweet frosting. I made them for the first time a few weeks ago, and while they feel more like a snack food to me, I really enjoyed them with vegan ice cream. I've been taking a couple out of the freezer, microwaving them for 30 seconds on high, then drizzling a teaspoon of manuka honey on top and serving them with a scoop of vegan coconut ice cream.
*Salted Macadamia Butter with Apple Slices
Just like with any other nut butter, start off with some dry-roasted macadamia nuts (or roast them from raw) and the most high-powdered blender you can get your hands on. Blend up the macadamias with salt (unless they come salted), maybe 1 cup of nuts per 1/2 teaspoon of sea salt, and then slather it on a thin slice of apple.
The last time I made macadamia nut butter at home I also added a quarter teaspoon each of some warm spices, namely clove, cardamom, and camu camu. It ends up being salty and sweet, but also creamy with some complexity. In the fall I smeared it on slices of Asian pear, which was lovely, but organic apples will be easier to find year-round.
*Vanilla Almond Cookies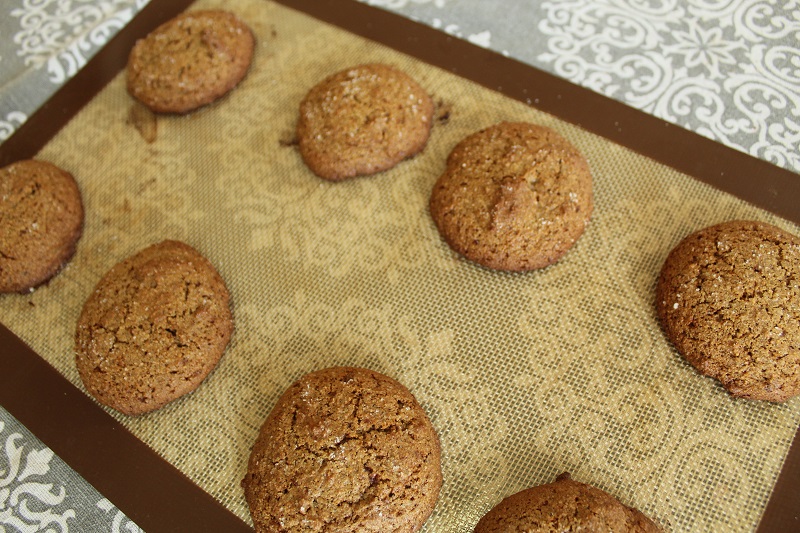 When I realized I could have eggs again, the first thing I wanted to make was cookies. These almond flour-based cookies became my saving grace, and now I keep a small batch in the freezer all the time. I especially like them in the summer with a coconut cream sauce and frozen berries, but they're also great with tea in the evening.
Coconut Ice Cream-Filled Mochi
This particular dessert idea falls under the umbrella of "want to do." I've had plain mochi and I've had coconut ice cream (homemade and otherwise), but I haven't yet combined them into a proper ice cream mochi, which is low histamine when made with a dairy-free ice cream. If you're unfamiliar with mochi, they're a Japanese dessert made with sweet rice flour and usually filled with sweet red bean paste (but more popularly filled with ice cream, outside of Asia). They're chewy and lightly sweet, while the ice cream inside is creamy and often fruit-flavored (see below)!
Get the mochi recipe here (use arrowroot flour instead of potato starch).
Nondairy Ice Cream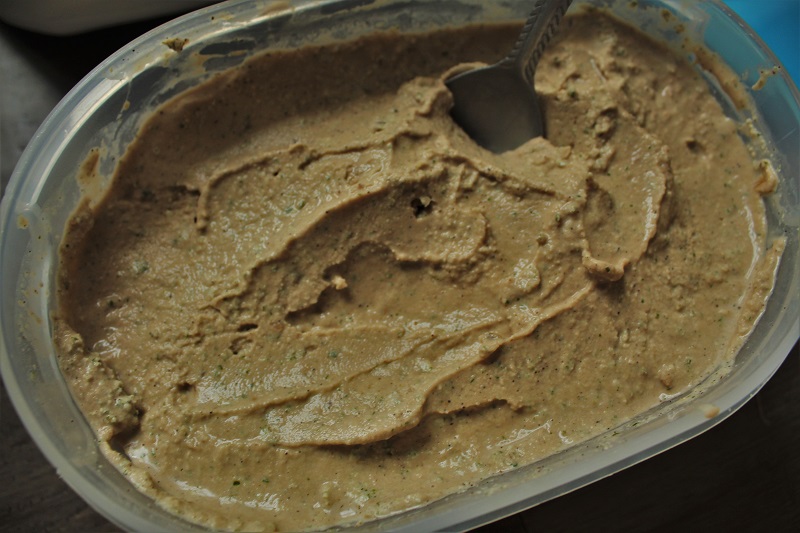 Vegan ice cream is actually super easy to make at home, whether you have an ice cream maker or not. Fresh mint in a coconut milk base is my favorite flavor (recipe linked below), but fruity ice creams are another delicious treat. If you're in the USA and can tolerate small amounts of guar gum, the Coconut Bliss brand makes a plain dairy-free ice cream that you can sub for in every low histamine dessert which calls for ice cream. Some ideas include the mochi linked above, ice cream sandwiches, and an affogato (or even served with just plain ginger syrup or a strongly-brewed tea, like a tea-ffogato).
*Sweet Potato Ginger Crumb Cake
Along the lines of the carrot cake balls above, this crumb cake is on the slightly snackier side, and tastes best when lightly microwaved before serving (especially if you've kept it on the freezer!). Relying upon oats for much of the wheat flour substitution, as well as an entire sweet potato, I found that this hits the spot for a cozy dessert without being too sweet. Note that the recipe calls for butter, but ghee would probably work just as well, and I wouldn't recommend using coconut oil (but let me know if you try it!).
Blueberry Cobbler Ice Cream
While this is similar to the faux blueberry pie I describe above, in my vanilla almond cookie recipe, I assure you that the flavor result is very different. I haven't made the ice cream portion of this recipe, but twice I've made the almond crumble and the sauce, the latter of which I froze in 1oz. ice cubes for easy preparation. I cannot recommend this low histamine recipe enough!
*Chia Pudding
Once upon a time, I bought a two-pound container of chia seeds, and to this day I'm still using them up! It's slow going at just one tablespoon at a time, but chia seeds offer a wealth of omega-3 fats, as well as a delightful crunch & base for a variety of flavors. I've been on a blueberry kick my whole life, so blueberries and coconut milk are my go-to here, but to each their own (macadamia is another house favorite). You can also indulge in a homemade tapioca pudding, but I prefer chia, myself.
Mango Sticky Rice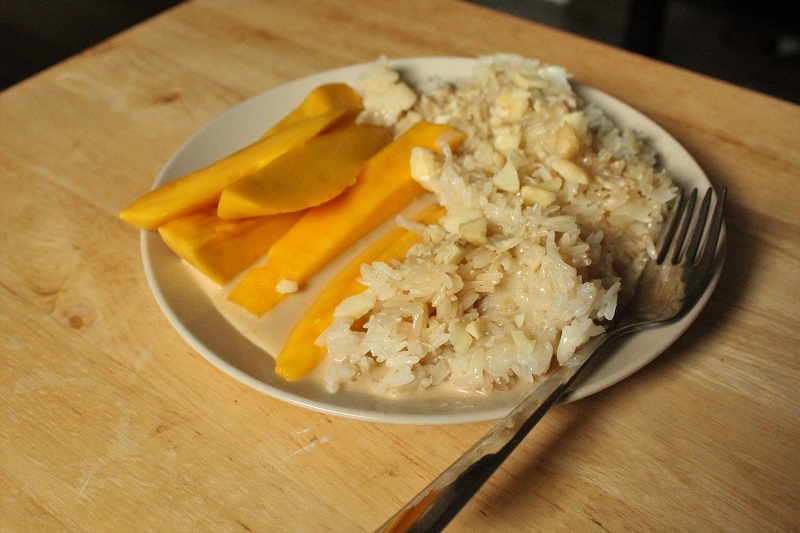 This was always my favorite dessert to get at restaurants when I was a kid, and I was delighted to realize how easy it is to adapt as a low histamine recipe. The flavor combination is sweet & salty, chewy rice, plus tangy and sweet mango chunks. I highly recommend trying this out whenever you get your hand son fresh mango, as it's just not the same with the frozen stuff!
*Blueberry Muffins
For those of us who love to bake our cake and eat it without frosting, these slightly savory blueberry muffins are for us. They make use of cassava flour, a generally non-triggering flour that's great for those with mast cell activation syndrome, as well as the antihistamine powerhouse of blueberries (fresh or frozen). The recipe comes from one of my own favorite resources for all things scientifically low histamine, Mast Cell 360.
Coconut Berry Bowl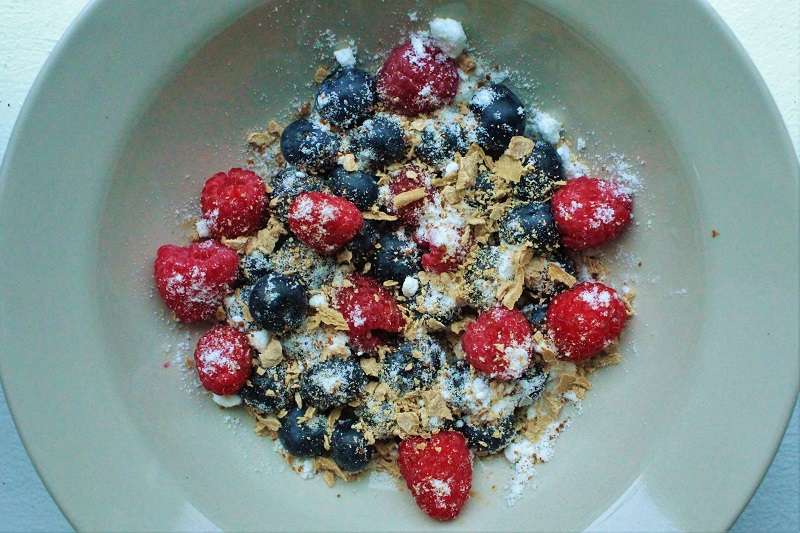 This was my very first low histamine dessert, and it remains a favorite in my house thanks to its simplicity. There's not too much of a recipe, but I do include a few flavor variations in the recipes below, so check it out.
*White Chocolate Blondies
These are best if you can tolerate butter, but even if you can't, coconut oil would work okay. I was thrilled to find vegan white chocolate chips, made with rice powder instead of milk powder, to use in place of the dark chocolate listed in the recipe below. That's the only change I made, and it was worth the wait for the chips to come in! These are buttery and indulgent, and because of the sugar content, I'd recommend having just one per meal (still worth it).
*Sweet Squash & Apples
This is actually a childhood favorite of mine, and my family recipe thankfully needed just a couple of tweaks to get it to be low histamine. The sweet apples and butternut squash work together to form the sweet base of this one-pan recipe, preferably served with a dollop of coconut cream. Taste the flavors of autumn anytime of the year, too, as this dessert freezes beautifully!
Fruit Popsicles
They're not just for kids, and they're not just for the summer! Fruit popsicles are a delicious way to capture some of the whole food nutrients of fruit, without eating just plain fruit for the nth day in a row. The popsicle recipe linked below uses coconut milk with blackberries, but I've come to enjoy adding a pinch of monk fruit extract and subbing in raspberries or blueberries. You could also use homemade macadamia nut milk or homemade oat milk, if you can't tolerate coconut.
*Chocolate-Dipped Fresh Cherries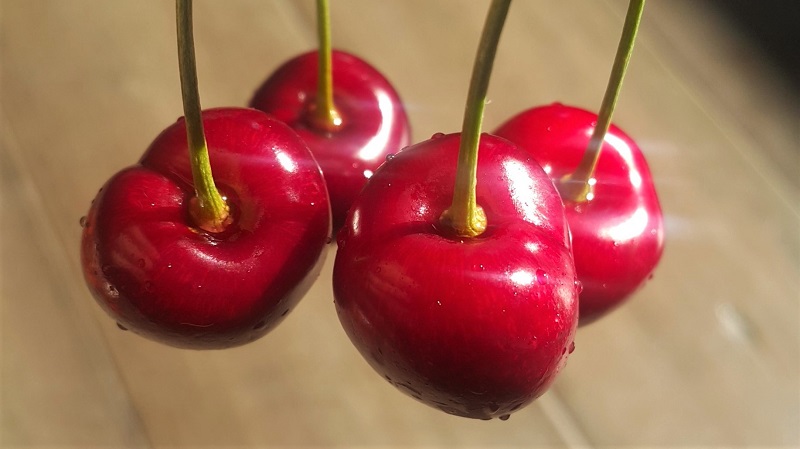 If you can tolerate them, tart cherries are a potent anti-inflammatory, and therefore a natural antihistamine that also tastes great. I love eating the sweet ones plain, but tart cherries dipped in vegan white chocolate (with rice or coconut in place of the dairy) are a special summertime treat. I also love cherries because of the ease of dipping (shoutout to cherry stems!), but any mix of other fresh fruits, with or without the chocolate, would be a delicious low histamine treat.
*Pistachio Nigella Halva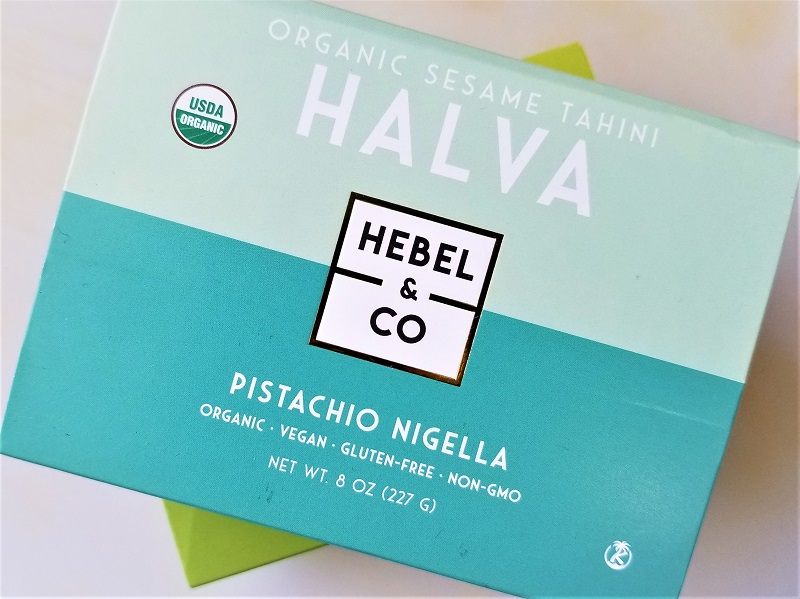 Last spring, halva became my favorite low histamine dessert⁠— it's this flaky confection that tastes like the insides of a Butterfingers bar. You can buy it pre-made from Hebel & Co, which has the cleanest ingredients list of the 10+ brands I've checked out, but also has the most histamine-friendly flavors. Their Pistachio Nigella was the first to catch my eye, but the Superseed and the Vanilla both also feature strongly antihistamine inclusions. This is an affiliate link to buy the halva, if you'd like to support the site.
Natural sugars are high up on the list of ingredients for Hebel & Co's halvas, but note that each 32g serving of their Superseed halva contains 6g of sugar balanced out by 5g of protein, so the potential inflammatory effect is kept in check. It also keeps in the fridge for a week or two, and it tastes & feels special enough for a small amount to be satisfying. This isn't something I always keep around, but it is something I could never make properly at home!