All the low histamine pancake recipes I've found have been too dense, so I set out to make my own with a somewhat lighter blend of low histamine flours, and this was the (*fifth* &) final iteration. They're super fluffy on the inside but a bit crunchy on the outside (the trick is to keep the heat on medium-low or low, otherwise you'll cook the outside too quickly), though admittedly they can be a bit delicate. Much like my chestnut flour crepes, they definitely teeter on the edge between sweet and savory, especially if you add protein powder.
But these are SO amazing with a touch of maple syrup and jam or nut butter, and if you can tolerate it, real butter. Whether you tend to have dessert for dinner or are just in search of a low histamine breakfast, these gluten-free, dairy-free pancakes will definitely hit the spot. I've kept them frozen for up to a month, but they should keep well in an air-tight container for up to 6 months (see notes).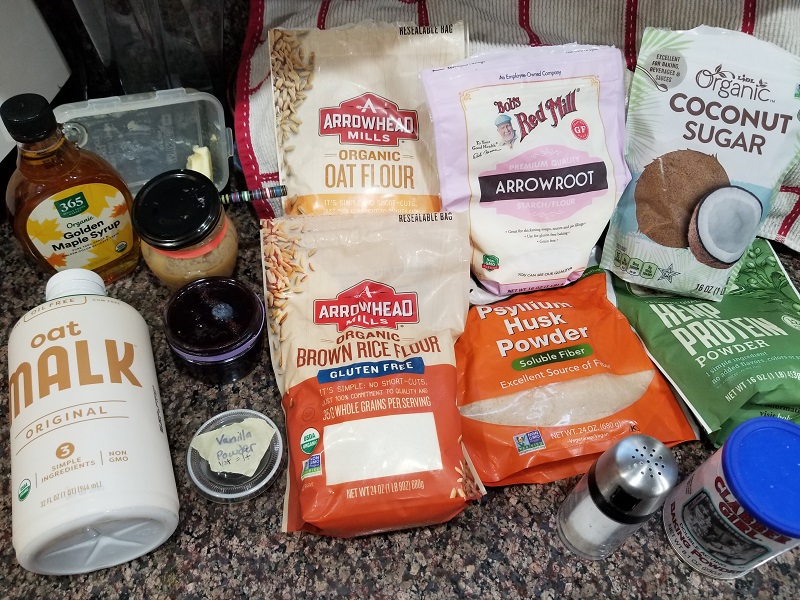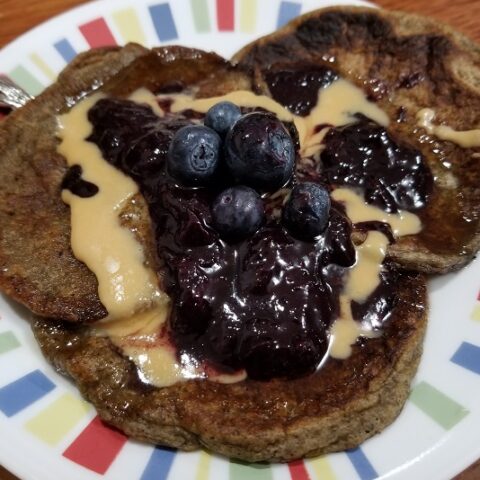 Fluffy Low Histamine Pancakes
Fluffy on the inside and crispy on the outside, these delicious vegan-friendly pancakes are also gluten-free!
Ingredients
1 Tablespoon flax seed meal (or psyllium husk)
3 Tablespoons water
1/2 cup brown rice flour
1/2 cup oat flour (certified gluten-free, if needed)
1/3 cup arrowroot flour/starch
1/2 teaspoon sea salt
1/4 teaspoon vanilla powder
1 1/2 teaspoons baking powder
2 Tablespoons coconut sugar
2 Tablespoons protein powder (optional)
2 1/2 Cups oat milk (or water)
3 Tablespoons avocado or coconut oil (or butter/ghee, if tolerated)
Maple syrup (optional)
Homemade jam (optional)
Instructions
The first thing you need to do is prepare your egg replacement. If you'd prefer to use a regular egg, skip this very long step and omit the flax seed and the 3 Tablespoons of water. If using flax, in a large bowl, measure out 1 Tablespoon of flax seed meal. In another bowl or cup, measure out 3 Tablespoons of water, and grab a small hand blender or milk frother. Pour the water into the large bowl with the flax meal and immediately blend everything until well-combined. The powder will immediately begin to congeal and turn into your flax egg, so you need to stir quickly & thoroughly. If using psyllium husk powder, measure out your 2 1/2 cups oat milk and 3 Tablespoons of water into a large bowl, then grab an immersion blender. Add your tablespoon of psyllium husk powder to the liquid and immediately blend everything thoroughly. Set aside your egg replacement.
Now measure out all your dry ingredients into another bowl: brown rice flour, oat flour, arrowroot flour, sea salt, vanilla powder, baking powder, coconut sugar, and protein powder (if using). Pictured here is hemp protein powder (the green stuff), which did end up darkening the final pancakes.
Your egg replacement should only take 2-3 minutes to finish thickening, so once you've measured your dry ingredients, add the oat milk to your flax egg and combine well. If you made a psyllium egg, your oat milk was already added.
Now turn on medium-low heat under your pancake pan, and start it warming on the stove. While that heats up, add all your dry ingredients to the liquid and combine well, which should take about 30 seconds to a minute.
Once the batter is well-combined, add a Tablespoon or so of butter to your pan and let it melt for 30 seconds.
Once the butter has melted, spoon about a quarter cup of batter per pancake onto your hot pan, where you melted the butter or oil. Allow the pancakes to cook on this first side until there are a lot of small bubbles forming on the surface, about 4-5 minutes. If you try to flip them too soon, they'll fall apart.
When you flip the 'cakes they should be browned on the other side, and if they're not, give them more time on that side. You have to be a bit delicate with these, as part of the fluff comes form the use of baking powder, which creates delicate air bubbles.
Cook them for 2-3 minutes on the other side and then remove and serve. I heartily recommend maple syrup or jam, especially if you added protein powder, but if you didn't then you may want to try a nut butter of some kind.
Notes
FLAVORS: you can add blueberries, dairy-free white chocolate chips, nuts, even a swirl of jam! In the fall sometimes I add apple butter or chopped granny smiths, but I may have to come up with an all-oat version of that!
FREEZING: to store these for freezing, first let them totally cool to room temperature, and then layer them with wax paper in between for easy removal. Keeps good frozen for up to 6 months.
REHEATING: to reheat the pancakes, place them directly onto the rack of the oven or toaster oven and heat for 6-7 minutes at 400°F (205°C).