Known as Chinese Cabbage, not only are bok choy histamine levels low, but in fact it's a highly antihistamine food. It's also become increasingly available around the world, so when I passed it in the market the other day, I decided to give it a try. I'd heard that bok choy is high in folate and iron and a ton of other nutrients, but really it just reminded me of some amazing meals I had in Taiwan (a trip that feels like a lifetime ago).
This bok choy recipe omits the typical vinegar and soy sauce in favor of sumac and sea salt, though it's just as easy to make. And after reading about the forever chemicals in our bodies, I've switched fully to cast iron and other traditional cooking tools. But however you choose to prepare it, you can easily double or triple this recipe for a crowd (though I wouldn't recommend freezing it). It would go beautifully with anything garlic-heavy, like my Rosemary Garlic Skillet or Asian-Inspired Lettuce Wraps, but get creative— I can't wait to hear what you think!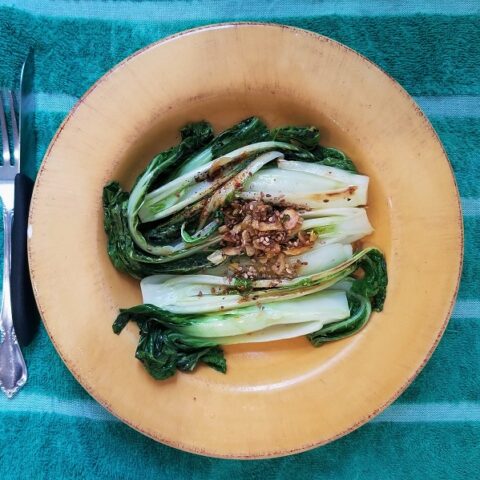 Bok Choy
The classic ginger-garlic bok choy is made low histamine in this soy-free reimagining, perfect as a side dish. (Plus optional sweet and spicy additions!)
Ingredients
4 pieces of baby bok choi
1 Tablespoon sesame oil
3-4 cloves of garlic, sliced
1 teaspoon ginger, minced
1/4 teaspoon honey (optional)
Dash of sumac
Dash of chili pepper (optional)
Sprinkle of sesame seeds
Salt & pepper to taste
Instructions
Lightly wash your bok choy, then slice each one in half and thoroughly wash & dry each half.

Slice your garlic and mince your ginger, and then turn on medium-low heat under your cast iron.

Gather your spices while you wait for the pan to heat, then add your oil and wait one more minute.

Add the ginger and garlic and let them infuse the oil for one minute, stirring frequently.

Add the bok choy using the tongs (so as to not splash yourself with any hot oil), and arrange it carefully in the pan with the whites in the center. Stir occasionally while it cooks for 4-5 minutes, until the whites are tender but the green tops are just starting to brown. If it seems to be cooking too quickly, turn the heat to low, add 1 tablespoon of water, and put the lid on it to steam for one minute.

Once the whites have started to brown, turn off the heat and move the pan to a cold burner, immediately adding the honey, sumac, chili pepper, salt, black pepper, and sesame seeds, stirring 'til combined.

Plate it and enjoy!
Notes
You'll need tongs and a cast iron pan for this recipe; a nonstick pan would also work well (though the forever chemicals now freak me out).
Salt: I recommend at least 1/4 teaspoon, to make up for the lack of soy sauce, but you may want more or less.