This cauliflower baked chicken recipe actually started out as a snack, meant to be a dip for corn chips or lentil chips. After all, it's rarely a bad idea to add more cruciferous low histamine vegetables to your diet, especially if you enjoy eating very flavorful foods (and are looking for more ways to sneak in your veggies!).
But alas, things don't always go as planned, and I had the idea of turning it into a low histamine sauce for chicken, like my pesto sauce or General Tso's, and it went so well I decided to post it. If you decide to make this for dinner or lunch one day, it would go very well with a variety of sweeter root vegetables.
Alternately, any other roasted cruciferous vegetable, like asparagus or brussels sprouts, would complement it well. We went with bacon-fat baked carrots, cooked right under the chicken during the latter half of the recipe, which was a big hit with the whole family.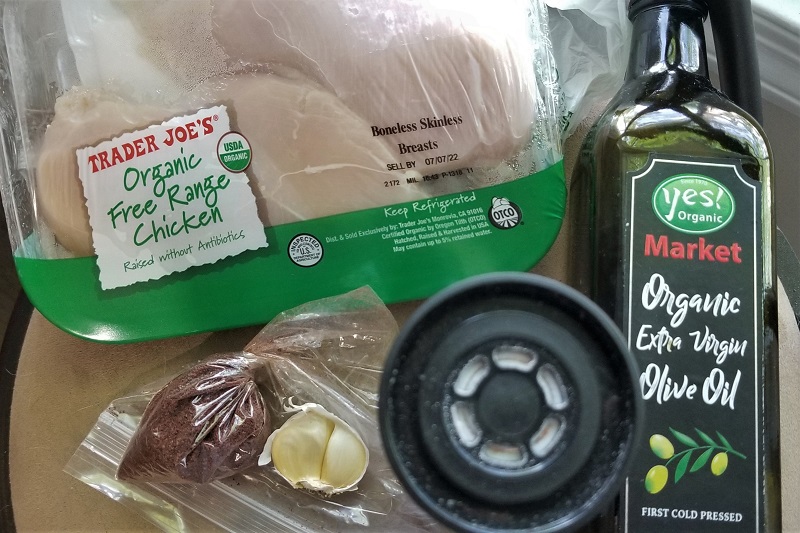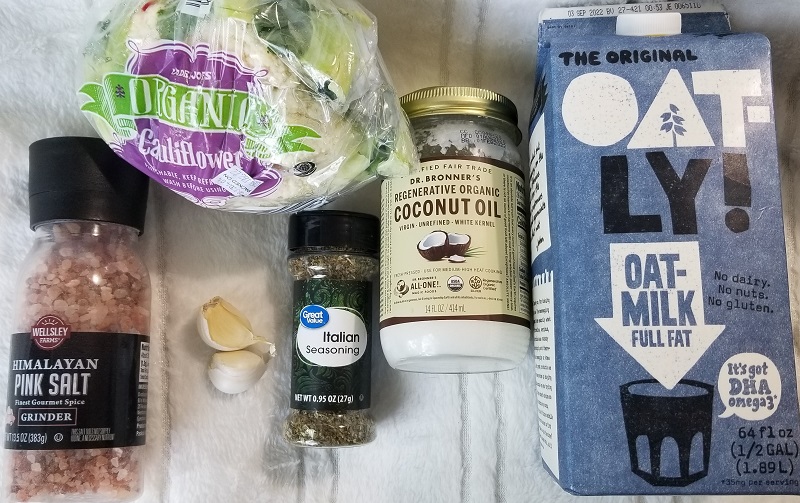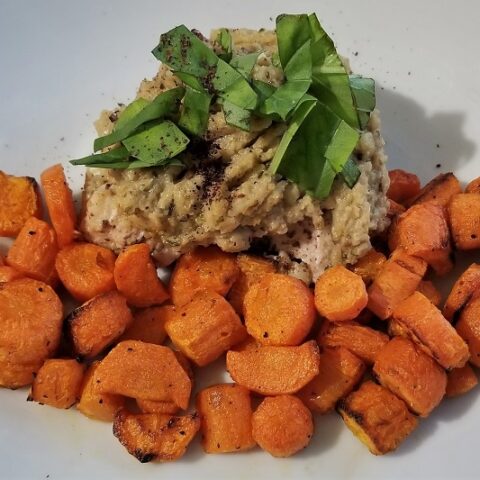 Cauliflower Baked Chicken (Italian Herbs & Spices)
Total Time:
1 hour
15 minutes
A lightly spiced cauliflower baked chicken dish with a simple cauliflower-based sauce baked right in!
Ingredients
1 medium head cauliflower (2 Cups florets)
4 Tablespoons oil (coconut or olive oil)
3 cloves of garlic, minced + 2 cloves
1 teaspoon + 1/2 teaspoon sea salt
1 1/2 teaspoons Italian seasoning
1/2 teaspoon fresh rosemary, minced
6-10 Tablespoons milk of choice (for pureeing)
1 1/2 lbs. chicken breasts
1 teaspoon ground sumac
Chopped basil for finishing (optional)
Instructions
Preheat oven to 425°F/220°C. Then chop your cauliflower into small florets (no larger than 1 inch on any side), and place them into a large mixing bowl.
Mince the garlic and add it to the cauliflower, and then measure and add just 2 Tablespoons of oil and 1 teaspoon salt to the cauliflower & garlic in your bowl. Toss everything together until each floret has been coated with a thin layer of oil, salt, and garlic bits, then arrange them in a single layer on the silicone mat (placed on top of your baking sheet). Bake the mixture for 20 minutes.
Take the tray out of the oven. Measure the Italian seasoning & rosemary, and sprinkle them onto the cauliflower before lightly mixing the florets with a spatula and returning it all to the oven. Rotate the tray to the other side, then bake for another 10 minutes. This is a good time to slice your remaining two cloves of garlic into thin strips.
Your cauliflower should be evenly browned after 10 minutes, so take it out of the oven and allow it to cool for a few minutes, preferably on a surface far from the stovetop. If you have a lot of browned or burnt garlic and you don't enjoy that flavor, this is a good time to take your spatula and remove all that from the tray before making your mash.
Reset your oven temperature to 400°F/205°C and turn on the convection setting, then line a medium-sized baking dish with aluminum foil, leaving a little extra foil on either side to cover the chicken during baking. If you haven't already, now is the time to slice your remaining two cloves of garlic very thin. Cut your chicken breasts to make your 1 1/2 lbs. of chicken into 6-8 pieces, then place them in your foil-lined dish. Drizzle over your Tablespoon of oil, then sprinkle on the sumac and garlic slices, making sure each piece of chicken is evenly-coated.
Fold the extra foil over your chicken breast, then bake them for 20 minutes.
While your chicken is starting to cook, grab a large bowl and scrape all your cooled cauliflower into it, and then grab a potato masher and lay into them for a minute or two. Alternately, just scrape everything into a blender or Vitamix and move on to the next step.
Taking your immersion blender in hand (or locating the button on your blender), add 6 Tablespoons of your milk of choice to the florets and then blend it all together until smooth, adding more milk by the Tablespoon until you reach the consistency of mashed potatoes; I tend to prefer 8 or 9 Tablespoons, but everyone is different. Removing your chicken from the oven, place it on the stovetop and then pull back the aluminum foil. Your chicken should be white on the outside, but will remain partially uncooked on the inside. Scrape all your puree onto the chicken breasts, spreading it evenly across the top so the whole mixture cooks evenly like a pie.
Return your chicken to the oven, cooking another 10 minutes before checking the temperature with a meat thermometer. If it's not done, you can continue baking for another 3-5 minutes until the centers of the chicken breasts reach 165°F/75°C. Once done, take of bite of your finished dish to see if it's salted to your taste, and if not, sprinkle the remaining 1/2 teaspoon of salt across the rest of it.
Then simply plate and serve it with a sprinkle of chopped basil (optional), preferably with a side of root vegetables, like roasted sweet potatoes or blistered carrots.
Notes
MULTI-PURPOSE: once you've made the herbed cauliflower mash, you could stop there and eat it as a dip with corn chips or lentil chips. You can also double- or triple-batch this recipe to freeze some of the mash for later use, as it's very easy to scale up; just ignore all the parts involving the chicken.
OIL: you can really use any high-smoke point oil for this, and the meat lovers among you can even use an animal fat if you'd like (such as lard).
CHICKEN: you can use any cut of chicken you'd like, but you may have to adjust the baking time. I just chose chicken breasts because about one-third to half a pound of chicken seems to be the right serving size for most people's preferences, making this super easy to freeze in single servings after baking.
TEMPERATURE: 30 minutes' cook time may seem long for this temperature, but covering the chicken in foil, plus adding the cauliflower mash slows down the cooking time; those using glass cookware may need those extra 3-5 minutes of cooking, though.
Nutrition Information:
Yield:

6
Serving Size:

1
Amount Per Serving:
Calories:

249.53kcal
Total Fat:

17.69gg
Saturated Fat:

2g
Trans Fat:

0g
Unsaturated Fat:

11g
Cholesterol:

98mg
Sodium:

392.5mgmg
Carbohydrates:

3.55gg
Fiber:

3g
Sugar:

1.6gg
Protein:

18.79gg
Nutrition data is primarily accumulated from online calculators for convenience and courtesy only, and can vary depending on factors such as measurements, brands, and so on. We encourage you to double-check and make your own calculations.
Save this post for later!