This heavily modified soy-free General Tso's Chicken recipe exactly fulfilled my craving! It took a few batches before we got the ratios right, but most recently the sauce came out as close to perfection as one can hope to find. Served over a bowl of fluffy Jasmine rice, this low histamine Chinese dish really hit all the tangy, sweet, umami, and salty notes one craves in General Tso's sauce. Here at home we live quite close to a Chinese takeout, and the smell always awakens old cravings in me.
With my bucket low, I had to give a recreation a go! While this HIT-friendly version uses the lowest-histamine substitutions, many of you may still be unable to tolerate some of these things, whether due to an allergy or lingering intolerance. If this sounds like you, please wait until you have more space in your bucket before trying this recipe. The sauce freezes beautifully, and so do the raw chicken tenders (for instant cooking later on).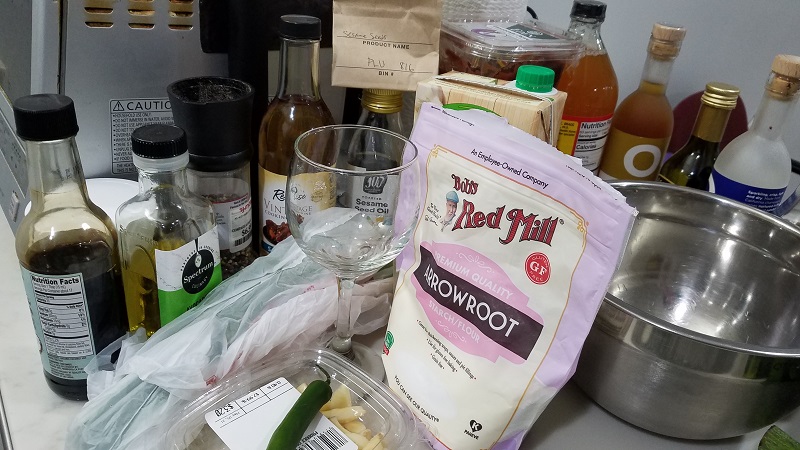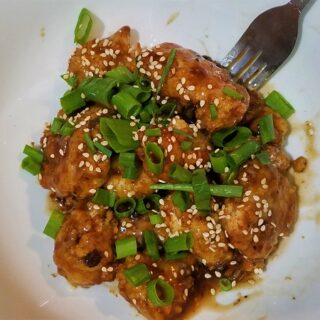 Low Histamine General Tso's Chicken Recipe
Oven-baked chicken tenders with a sticky sweet & spicy sauce that's reminiscent of the famous Chinese chicken!
Ingredients
1 lb. organic chicken tenderloins, cut into inch-long pieces (can sub with cauliflower)
2 large eggs
1 cup extra-fine almond flour
1/2 cup rice flour (brown or white, but not sweet)
1/2 teaspoon garlic powder
1/2 teaspoon ground black pepper
1/2 teaspoon sea salt
1/4 teaspoon baking powder
avocado oil cooking spray (olive oil is also okay)
1 organic serrano pepper
1 teaspoon sesame oil
3 large cloves garlic
1 teaspoon fresh ginger puree
1/3 cup chicken broth (homemade, if possible)
2 Tablespoons sherry wine (cooking wine; use a wine wand for 10 minutes before using)
3 Tablespoons apple cider vinegar (or white vinegar)
1/4 cup coconut aminos
1 Tablespoon umeboshi (Japanese plum paste)*
2 Tablespoons real honey (make sure it's not adulterated!)
2 teaspoons arrowroot starch
3 tablespoons water
1/4 cup chopped chives
1 Tablespoon roasted sesame seeds
Instructions
Wash & chop serrano pepper, and mince garlic.
Put chopped pepper in pan over medium-low heat, and dry-cook for 5 minutes. Meanwhile, measure 2 Tablespoons of sherry wine out, and then use a wine wand in the mixture for at least ten minutes, stirring gently whenever you remember to.
Add sesame oil and garlic, and sauté for 3 more minutes, when garlic is just starting to brown.
While the mixture sautés, mix together the broth, apple cider vinegar, sherry wine, coconut aminos, umeboshi, honey, black pepper, and ginger puree. Once the garlic starts to brown, add in the vinegar mixture.
Stir everything together for 30 seconds, and then let it cook for 7-10 minutes, stirring occasionally.
Once the sauce is lightly boiling, turn the temp fully to low. Mix 2 teaspoons of arrowroot starch with 2 Tablespoons of water until they form a slurry. Add the slurry to your sauce and combine well, until the mixture has thickened.
Preheat your oven or air fryer to 400°F/205°C for 5 minutes. Crack your eggs into a small bowl, and then blend them until they're a light yellow color. Measure out your almond flour, rice flour, garlic powder, sea salt, and baking powder into a separate bowl, mixing them until well-combined.
Dip each of your chicken tenders into the egg, and then into the almond flour and line the dredged tenders up on a plate while the air fryer preheats. Once the fryer is ready, spray it with cooking spray, and then line up the tenders in a single layer and cook at 400°F/205°C for 3-4 minutes on each side, until lightly browned.
Once cooked, toss your air-fried chicken or cauliflower in the sauce until coated, then sprinkle tops with toasted sesame seeds and chopped chives. Serve with a side of steamed veggies & enjoy!
Notes
*Umeboshi is a fermented food, but it's also been studied as an active anti-histamine, and found to have little residual histamine according to some studies.
Note that if you can't tolerate any of these ingredients, you can change the type of meat, but there isn't much you can do with many of these ingredients, which are themselves substitutions.