Today was the first time I felt like cooking in a very long time, so I took advantage and tried out two versions of a recipe I've been working on— a low histamine tahini broccoli side dish. The winning version uses a lot less tahini than I'd been expecting to add, but it's absolutely delicious, and the flavor will remind you so much of peanut butter that you won't even miss the high histamine food.
Don't be scared off by using 4 cups of broccoli, either, as I can promise you that it shrinks by a lot!
The dish was actually inspired by a peanut chicken dish I had a few years back in Indonesia, before my histamine issues took over my life. Instead of using inflammation-promoting peanut butter, I replaced the staple with tahini, which is a fancy way of saying sesame seed butter. Over the last year, tahini has become a go-to for me in pancakes, salad dressings, and even snack foods, owed in small part to its strong flavor resemblance to peanut butter.
Beyond that, this recipe can be easily halved, but it also freezes wonderfully. For those who prefer meat with their vegetables, it takes little extra effort to prep more of each ingredient (except the broccoli) to create extra sauce to spoon onto chicken or pork. This combination of flavors plays in both the Middle Eastern and East Asian realms of ingredients, but I promise it all comes together delectably.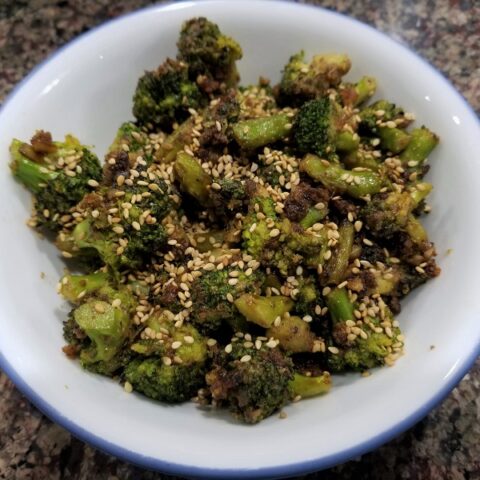 Garlic Tahini Broccoli Stir-Fry (Vegan)
A nutty yet citrusy tahini broccoli stir-fry with sweet hints of garlic and ginger.
Ingredients
4 cups chopped broccoli (florets & stems; roughly 2 large heads of broccoli)
2 Tablespoons sesame oil
3 cloves garlic, minced
1 teaspoon fresh or frozen ginger, minced
2T tahini (or almond butter)
1 teaspoon honey (alt. coconut sugar)
1/2 teaspoon sea salt dissolved in 2T water
1/2 teaspoon sumac
1 teaspoon lime zest (or lemon zest)
1 teaspoon toasted sesame seeds (or sliced almonds)
Instructions
Cut your broccoli into florets & small cubes of broccoli stem, keeping the two parts separate and drying them to get off any residual water. Mince both the ginger and the garlic, zest the lime, and dissolve the salt into 2 Tablespoons of water.
Turn on medium-low heat under a cast iron* or nonstick pan, and add your sesame oil, giving it 10 seconds to heat up a bit (any longer and it will pop when you add your ingredients). Add a third of your garlic, half of your ginger, and all your broccoli stems to the pan, heating for 1 minute.
Add all the broccoli florets and stir until everything has a light coating of oil, then add the rest of the ginger & garlic and stir everything again until well-distributed.
Arrange the broccoli mixture in a single layer in the pan, cooking it for 9 more minutes & stirring every 30 seconds or so. You want to encourage as many pieces of broccoli to brown and crisp up, but NOT burn. If anything begins to burn, reduce the heat and stir until the burning bits are on top of yet-to-be-cooked bits— the ginger and garlic should also brown but not burn.
Once fully cooked (a fork goes easily into the stem of the largest piece of broccoli), pour in your tahini and honey and stir until evenly-coated, then increase heat to medium high and cook all together for 30 more seconds.
Once the pan has heated up to temperature, which may take another 30 seconds, pour on the salt water and stir immediately and constantly, until the coating on the outside is more of a sauce (about 1-2 minutes).
Then turn off the heat and add your lime zest and sumac, stirring until evenly-coated, and then sprinkle toasted sesame seeds on top before serving.
Notes
*Note that if you use a cast iron pan, you'll want to keep the heat on low the whole time, as cast iron conducts heat much better than nonstick pans. Don't forget your pot holder!
You may want to add more salt for your own palate, but be sure to try it before you add more.
If you tend to like dishes a bit sweeter, you can add a pinch of pure monk fruit at the same time as you add the honey, but keep in mind that even a pinch goes a very long way.
This sauce goes nicely with plain chicken, and if you want to make extra of the sauce to have on top of meat, simply double every ingredient except for the broccoli and roasted sesame seeds, and otherwise follow the recipe as written.
Nutrition Information:
Yield:

2
Serving Size:

1
Amount Per Serving:
Calories:

183.8kcal
Total Fat:

13.21gg
Saturated Fat:

3g
Trans Fat:

0g
Unsaturated Fat:

19g
Cholesterol:

0mg
Sodium:

529.43mgmg
Carbohydrates:

14.39gg
Fiber:

12g
Sugar:

4.64gg
Protein:

5.59gg
Nutrition data is primarily accumulated from online calculators for convenience and courtesy only, and can vary depending on factors such as measurements, brands, and so on. We encourage you to double-check and make your own calculations.
Save this post for later!