I have always been fascinated by the adaptability of ingredients and the endless possibilities they can offer in the kitchen. Having a mother who's from the deep south, one such ingredient that's caught my attention is hominy: corn treated with an alkali solution to create its own very distinct texture and flavor.
While hominy is a staple in many traditional dishes, it can sometimes be hard to find or even tolerate, or maybe you just want to spice things up and try something new. This is where my list of hominy substitutes comes in handy.
After a long-time of experimenting with these substitutes for hominy, I have compiled a list of the best alternatives, ranked in order of preference.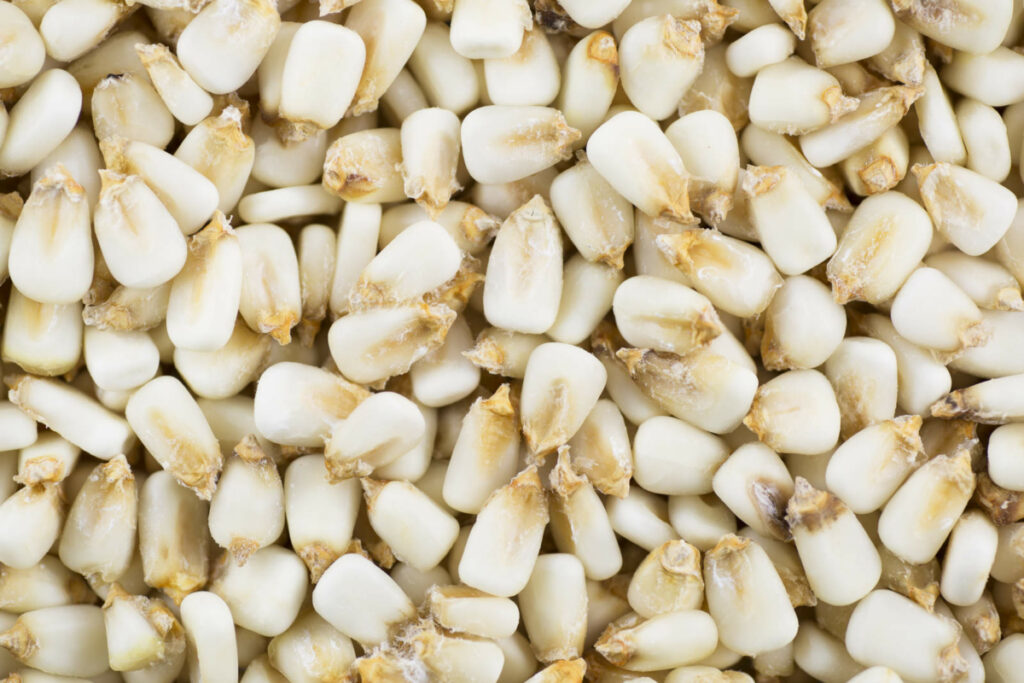 Best Substitutes for Hominy
Sweet Corn
1 cup of hominy = 1 cup of sweet corn
Sweet corn is a popular and easily accessible substitute that can be found in most, if not all, grocery stores. This corn is harvested while still immature, giving it a sweet and juicy flavor that works perfectly in many dishes.
However, despite these qualities, sweet corn has a somewhat different texture than hominy, which may affect the dish's final texture. Though the flavor will be similar, making sweet corn a great alternative to hominy that can add a unique flavor and sweetness to your favorite southern recipes.
Sweet corn, as it stands, has several advantages over other alternatives. One advantage is that fresh or frozen sweet corn is much easier to find in grocery stores. Another is that because it has a naturally sweet flavor, it can add a nice touch to certain dishes, such as broth, stews, and casseroles.
Chickpeas
1 cup of hominy = 1 cup of chickpeas
For a healthier, lower-calorie, and grain-free substitute to hominy, chickpeas are just your bet, as they offer balanced protein, fiber, and essential nutrients. While they have a slightly softer texture, their nutty and sweet flavor is similar. Not to mention, they're versatile enough to be used in a wide range of dishes, such as salads, soups, stews, and curries.
Replacing hominy with chickpeas in your recipes is incredibly easy, as it's as simple as draining and rinsing a can of them or even taking out your soaked & previously-boiled chickpeas from the freezer. If you want to achieve a smoother texture, though, you should mash or puree the chickpeas.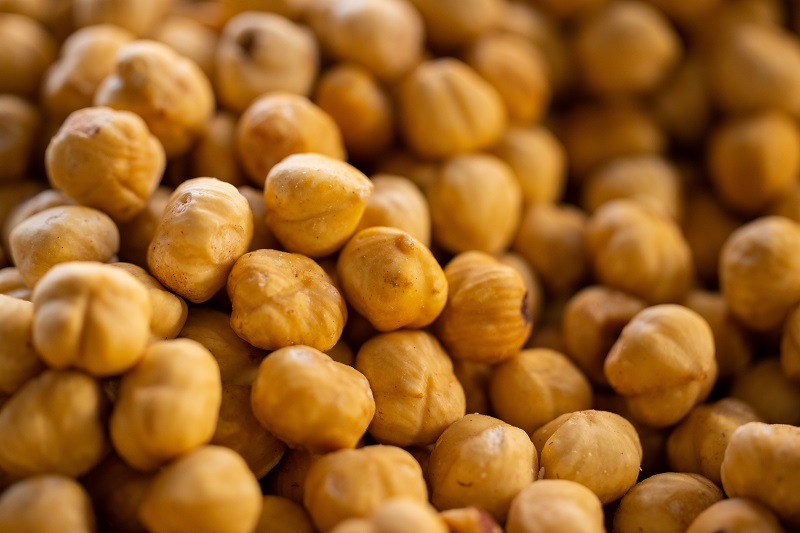 Brown Rice
1 cup of hominy = 1 cup of cooked brown rice
Whole-grain brown rice is a nutritious and delicious hominy substitute, as it's a healthy grain high in fiber, vitamins, and minerals. With its chewy texture and nutty flavor, brown rice can add depth and richness to your dishes.
If you want to use brown rice as a hominy alternative, simply cook it according to the package directions and add it to your recipe. Though you may need to adjust the cooking time and liquid ratio, as brown rice takes longer to cook than hominy. But if you slightly undercook it, that can add a nice textural bite to your final dish.
Dried Beans
2 cups of hominy = 1 cup of dried beans
Dried beans are another versatile and delicious alternative used in soups and stews to salads and pottage, making them a valuable asset in any pantry. Not to mention the fact that they're also a good source of protein, fiber, and other essential nutrients, so they're a genuinely healthy pick.
Pre-soaking softens the beans and reduces cooking time, ensuring they're easier to use in your recipes. To soak dried beans properly, rinse them in cold water and place them in a bowl or pot with enough water to cover them by a few inches. Leave them to soak for at least 4 hours or overnight for optimal results.
Black beans, navy beans, and pinto beans are some of the best types of dried beans to use, as they have a texture and flavor that's similar to hominy. With their great versatility and all-around nutritional benefits, dried beans, whatever the kind, are an excellent ingredient to have in your pantry for healthy and satisfying meals.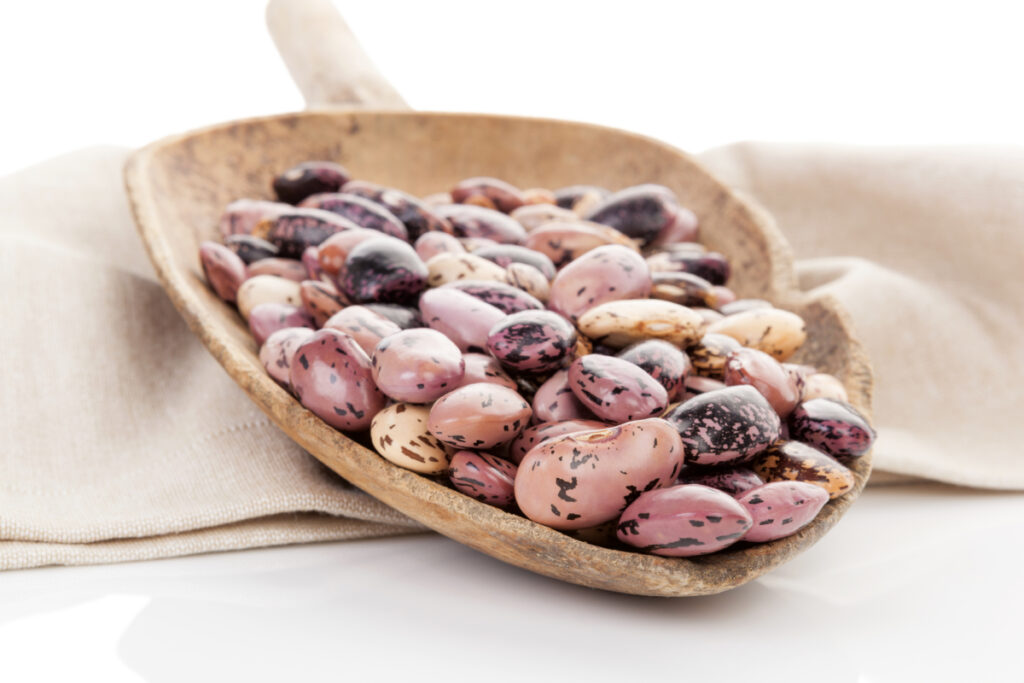 Samp
1 cup of hominy = 1 cup of cooked samp
Samp is a great hominy substitute that closely resembles its taste and texture. This pounded and crushed dried corn is a common ingredient in South African cuisine. You can find samp in specialty stores or online, making it a unique but somewhat hard-to-acquire addition to your pantry.
Samp also has several benefits, such as a similar flavor profile to hominy, packing a slightly nutty and earthy tone that can add depth to your dishes. Also, its texture makes it an excellent thickener for soups and stews. One thing to keep in mind is that it takes a longer time to cook.
This means you'll need to soak the samp overnight and cook it for around 2-3 hours until it's tender to use as a swap. But rest assured, the extra time and effort can be worth it for the unique and delicious flavor that samp can bring to your dishes.
Polenta Meal
1 cup of hominy = 1 cup of polenta meal
Polenta meal is a versatile and easy-to-find substitute that's made from finely ground cornmeal, has a texture similar to hominy, and is a staple in Italian cuisine. You can find polenta meal in most grocery stores, so it can be a convenient ingredient to use and keep on hand.
One of the advantages of using polenta meal is its high versatility. It can be an excellent thickener for sauces and gravies, as it has a slightly grainy texture. Moreover, polenta meal is easy to prepare, requiring only a few simple steps to turn it into a delicious and satisfying addition to your meal.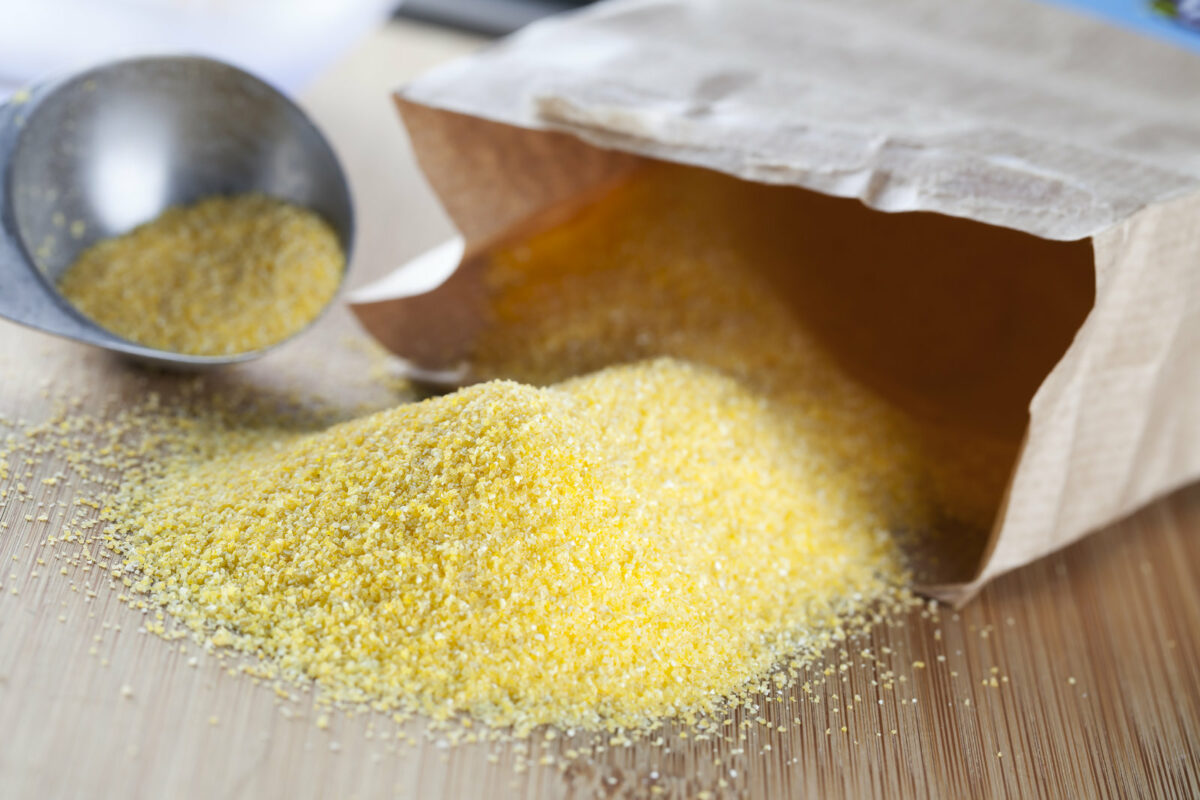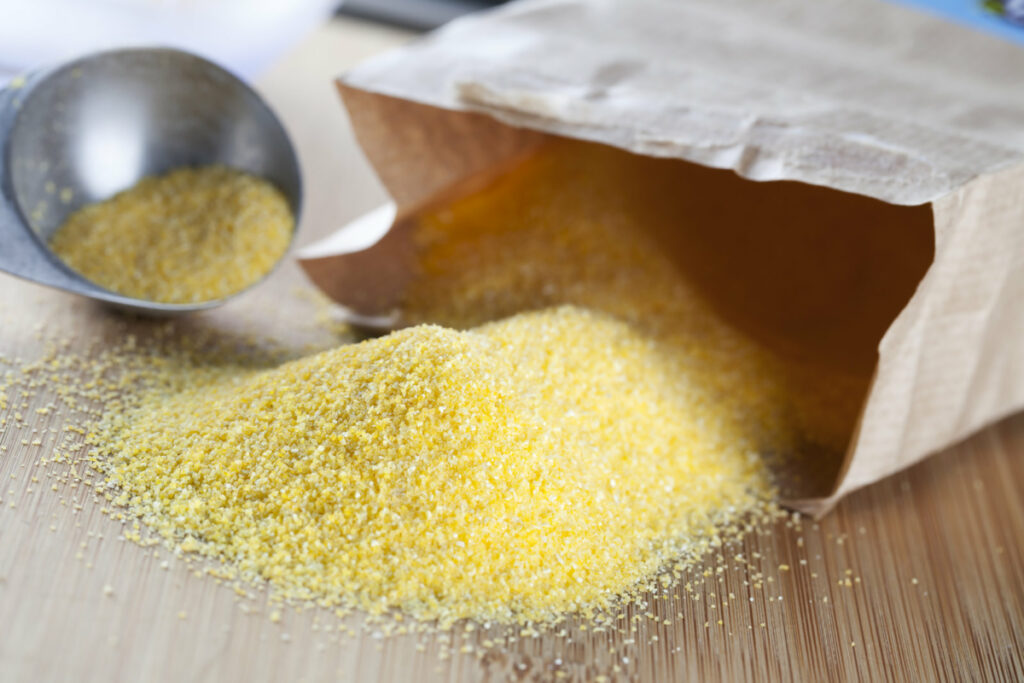 Buckwheat Grits
1 cup of hominy = 1 cup of buckwheat grits/groats
Buckwheat grits are a gluten-free and healthy alternative that can add a unique flavor and texture to your dishes, as it's a nutritious grain (technically a seed) that's high in protein and fiber. These grits are made by coarsely grinding roasted buckwheat groats, resulting in a nutty flavor that's quite similar to corn grits.
One of the benefits of using buckwheat grits is their versatility, as they can be served as a breakfast porridge or a side dish or used as a base for a savory bowl. With their unique flavor and nutritional benefits, buckwheat grits are an excellent ingredient to have in your pantry for preparing healthy and satisfying meals.
You can even follow the same steps to make buckwheat grits as you would for corn grits. Grits should be added to boiling water or broth, cooked for about 20 minutes, and occasionally stirred. You can add butter, cheese, herbs, or any other seasonings to improve the flavor or mimic the flavor of hominy.
Grits
1 cup of hominy = 1 cup of grits
Grits are a fantastic alternative to hominy because they taste and have a texture nearly identical to it. Made from ground corn, much like hominy, grits are a staple in Southern cuisine and can be easily found in most grocery stores.
To prepare grits, boil them in water or milk until they reach a creamy consistency, and add butter, cheese, or other seasonings to enhance the flavor. Grits are an incredibly versatile side dish that can be enjoyed at any meal, whether breakfast, lunch, or dinner.
Also, they can be used as a creamy soup or casserole base, adding depth and richness to your recipes. Their creamy texture and mild flavor more than make them a perfect alternative for hominy.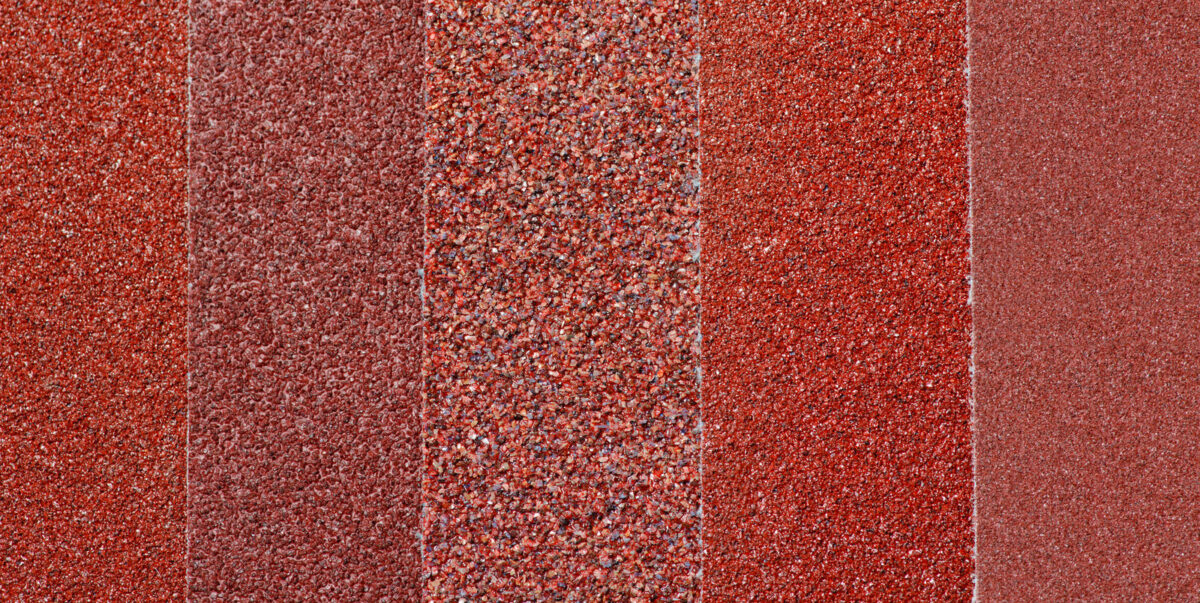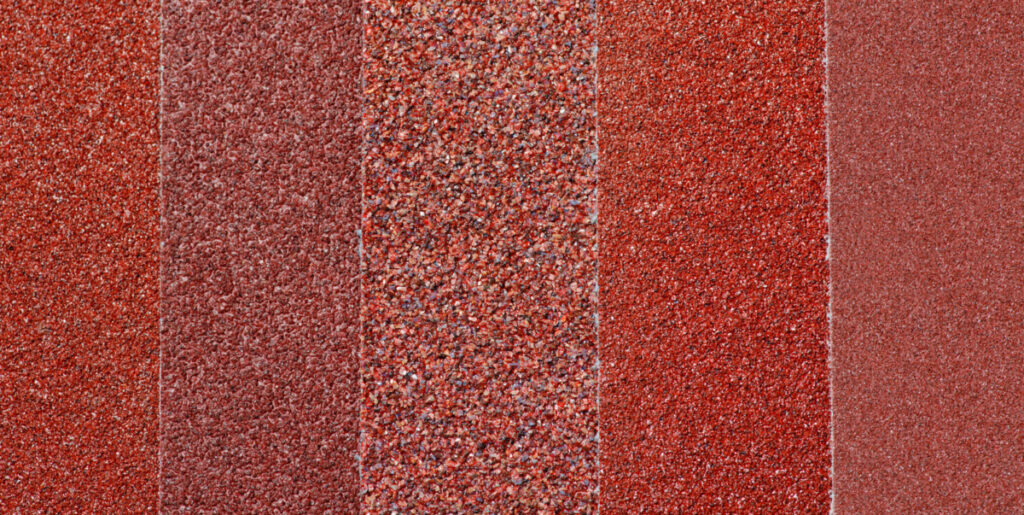 Adzuki Beans
1 cup of hominy = 1 cup of adzuki beans
Adzuki beans are a unique substitute for hominy in cooking that's remarkably easy to find these days. Not only do they have a similar texture and mild flavor, but they are also packed with nutrition. These beans are also a good source of protein, fiber, and essential vitamins and minerals, such as iron and magnesium.
They're low in fat and calories, making them a great addition to any healthy diet. Adzuki beans are also incredibly versatile and can be added to broths, stews, salads, and dips, or mashed or pureed to create a creamy texture.
If you prefer a more substantial bite, you can leave them whole. It also pairs well with a wide range of flavors and spices, making them a fantastic ingredient to experiment with.