There are so many low histamine soup recipes out there, and at the moment, at least half the 50+ I found contain one or more high histamine ingredients. Since many people blindly trust recipes on the internet as soon as they've been labelled low histamine by whomever, they'll give them a try and then continue to have reactions and not understand why.
It's for this reason that I'm a huge advocate of taking charge of your own health. Take the time to learn your own triggers and limits so that you can know as soon as you read an ingredients list whether you can tolerate that recipe, and find sites whose recipes you trust.
Even this list of low histamine soups is only level-one vetted.
Medical Disclaimer: as with everything on this site, this article is provided for information only. I strongly urge you to speak with your doctor or a licensed medical professional in order to assess whether or not you have histamine issues, and/or which foods cause a histamine release for you personally. Every body is different, and some people will tolerate different foods than you do. Please keep comments respectful.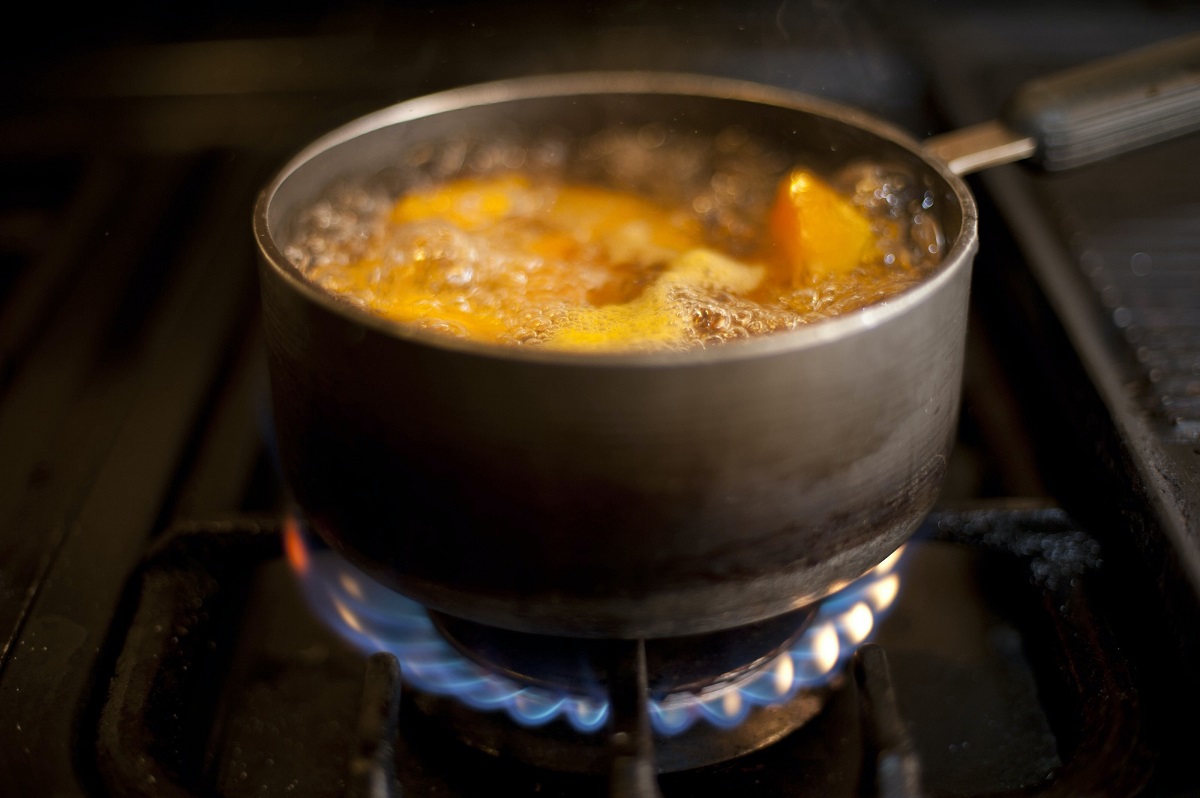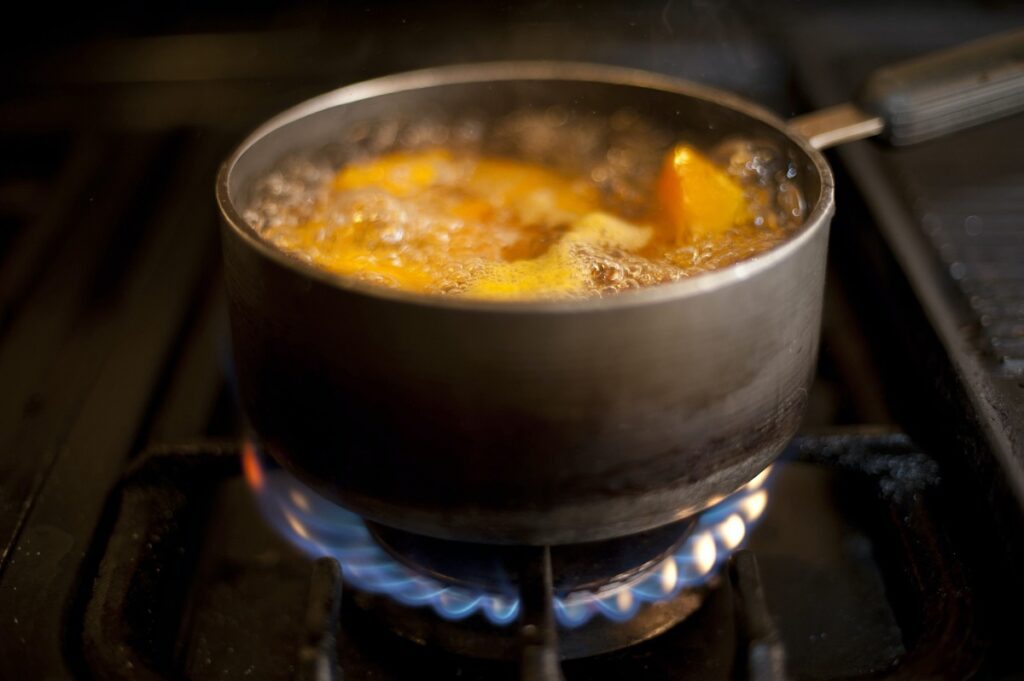 I'm only showing you recipes containing low histamine ingredients, but most people will still have a few random ingredients they know trigger a reaction and will need to avoid regardless of histamine content.
With that in mind, I decided to list out all the low histamine soup recipes I've found over the years, categorized by more general type, each one with the recipe ingredients listed below. All the vegan low histamine soups are marked with an asterisk (*).
There are definite digestive benefits to packing your lunch or dinner into a blended, softened dish like a soup or light stew. One of these is that you can guarantee that it will maintain all the nutrients and high fiber levels found in those ingredients.
I found that there are a lot of recipes which look quite similar, so for ones with lots of ingredient overlap, I just picked the recipe whose directions were easiest to follow. For the most part these recipes can also be categorized as antihistamine soups due to the addition of mast cell-supporting ingredients like ginger, asparagus, and turmeric.
Note that most of these soups will also freeze just fine for a make-ahead lunch that will have defrosted by the time you get to your lunch break.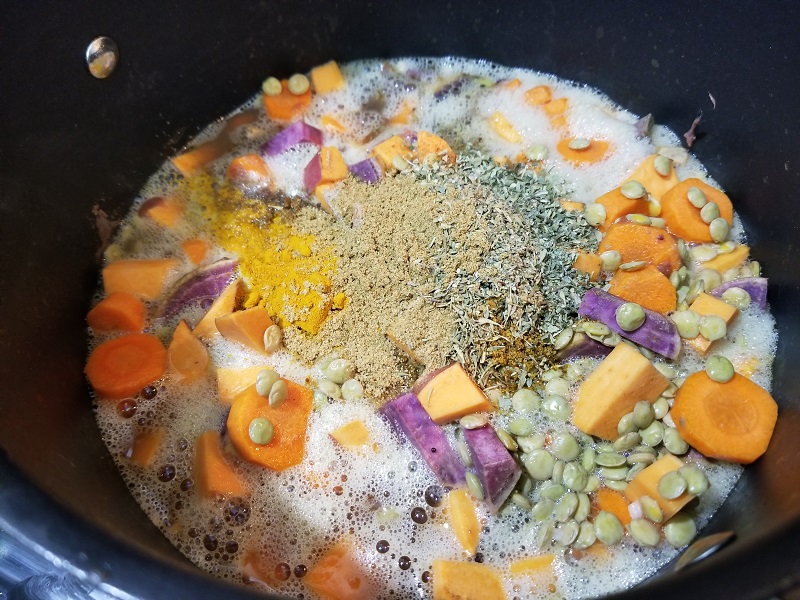 Creamy Low Histamine Soups
Creamy Cauliflower Veggie Soup
For a hefty dose of several different vegetables, this chicken soup will hit the spot. Like many of these low histamine soups, this one from MastCell360 incorporates six different low histamine vegetables and a variety of common garden herbs to create something tasty and oh-so-freezer-friendly.
Ingredients: garlic, ghee, onion, celery, cauliflower, parsley, rosemary, carrots, asparagus, arugula, and chicken.
With both butter and coconut cream, this low histamine soup is a creamy, comforting blend of winter vegetables and fresh chicken. The recipe is also quite forgiving, lenient enough to allow you to switch out some of the vegetables you can't tolerate for some you can.
Ingredients: chicken, stock of choice, onion, celery stalk, parsley, leeks, cornstarch, butter, and coconut cream.
While the level of creaminess in this soup is up to the chef, what's not up for debate is the nutrition. This licorice-scented low histamine soup is also low lectin, low oxalate, low salicylate, and gluten-free. The first step is to make the broth that's used as a base, so for those who'd prefer a thinner soup, simply add more water to the pot.
Ingredients: leeks, fennel plants, celery stalks, fennel seeds, parsley, olive oil, thyme, mint leaves, and coconut cream.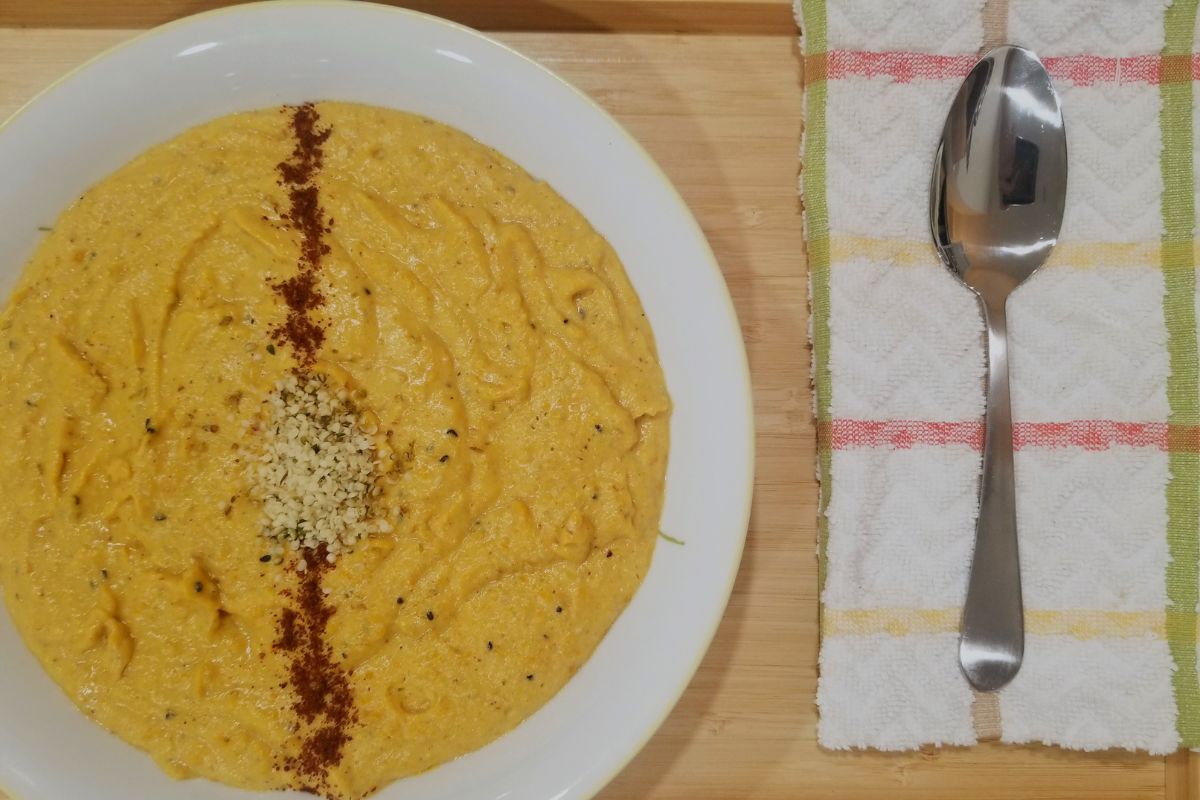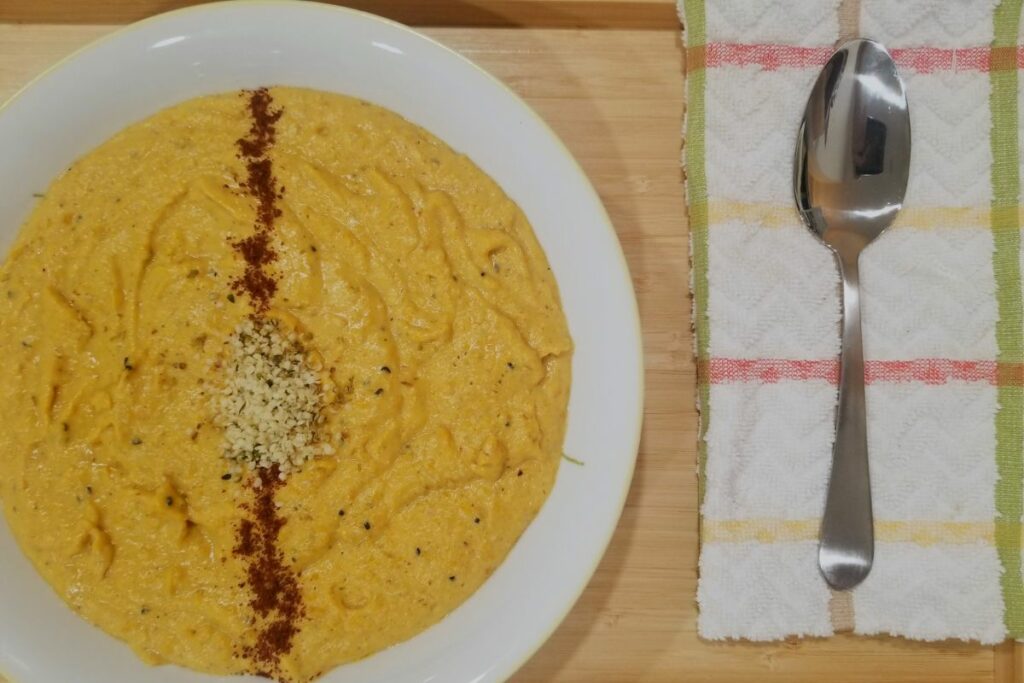 *Low Histamine Butternut Squash Soup
This low histamine butternut squash soup is a nutty mesh of fall flavor and Middle Eastern spices. It's vegan-friendly, nut-free, and oh-so-creamy, featuring za'atar and nigella seeds for a punch of low histamine spices. While I don't like to add any extra stock, you can also add as much stock or water as you'd like to thin out this dish.
Ingredients: butternut squash, coconut oil, za'atar, nigella seeds, coconut sugar (optional), amchur, shallot, garlic, coconut milk, and tahini.
While the creamy component in most of these soups is coconut milk, in this particular recipe, the coconut milk is optional, so it's also quite brothy. The stars of this show are sweet potato and your choice of arugula or watercress, depending on what's in season at the time. Although it's overall vegan, you could easily add some pulled chicken or chickpeas, as desired.
Ingredients: olive oil, onion, celery, garlic, sweet potatoes, broth of choice, arugula, black pepper (optional), and coconut milk (optional).
Hearty Low Histamine Soups
Roast Sweet Pepper & Cauliflower Soup
Similar to my roasted red pepper sauce, this soup makes use of a combination of cauliflower and red bell peppers in place of the more traditional tomatoes, baking them at a high temperature to get a slight char. This pick is perfect for cooler weather, making it a good choice for winter days and rainy evenings.
Ingredients: cauliflower, sweet red peppers, onion, garlic, sweet paprika powder, chicken or chickpeas, stock of choice, apple cider vinegar, olive oil, cilantro.
Sweet Potato Kale Chicken Soup
This simple low histamine soup comes together in three steps, and features a favorite vegetable combination of mine. The sweet potatoes provide a starchy complement to the mildly bitter kale, whose signature flavor is further tempered thanks to the use of a few common spices.
Ingredients: olive oil, onion, celery stalks, garlic, oregano, thyme, ground cumin, chicken broth, jalapeno, cilantro, chicken, sweet potato, and kale.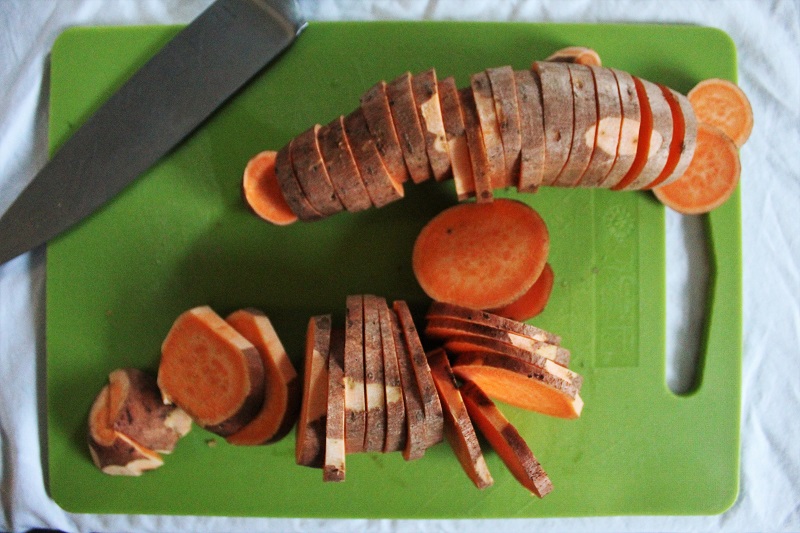 Packed with flavorful spices, this stew gets an honorary position on this list thanks to its very sauce-heavy nature. Making use of a bit of lime juice and three forms of coconut, this curry-like soup hits each of the five flavors with great balance.
The recipe's directions are all offered in an instant pot, but you could also follow along using a regular pot and just add each of your ingredients in the same order.
Ingredients: chicken thighs, broccoli, sweet potatoes, coconut milk, lime juice, coconut butter, garlic, coconut oil, turmeric, ginger, and parsley.
Sweet potatoes must be the veggie of the season, because they seem to feature prominently in this list of low histamine soups. This vegan option also happens to be low lectin and come together in just over a half hour in the instant pot.
The recipe specifies to use frozen vegetables, but for those with the fresh versions on hand, those are always preferable so that you don't double-freeze your food.
Ingredients: cauliflower, sweet potato, onion, fennel bulb, fresh turmeric root, fresh ginger root, garlic, broth of choice, and green herbs of choice.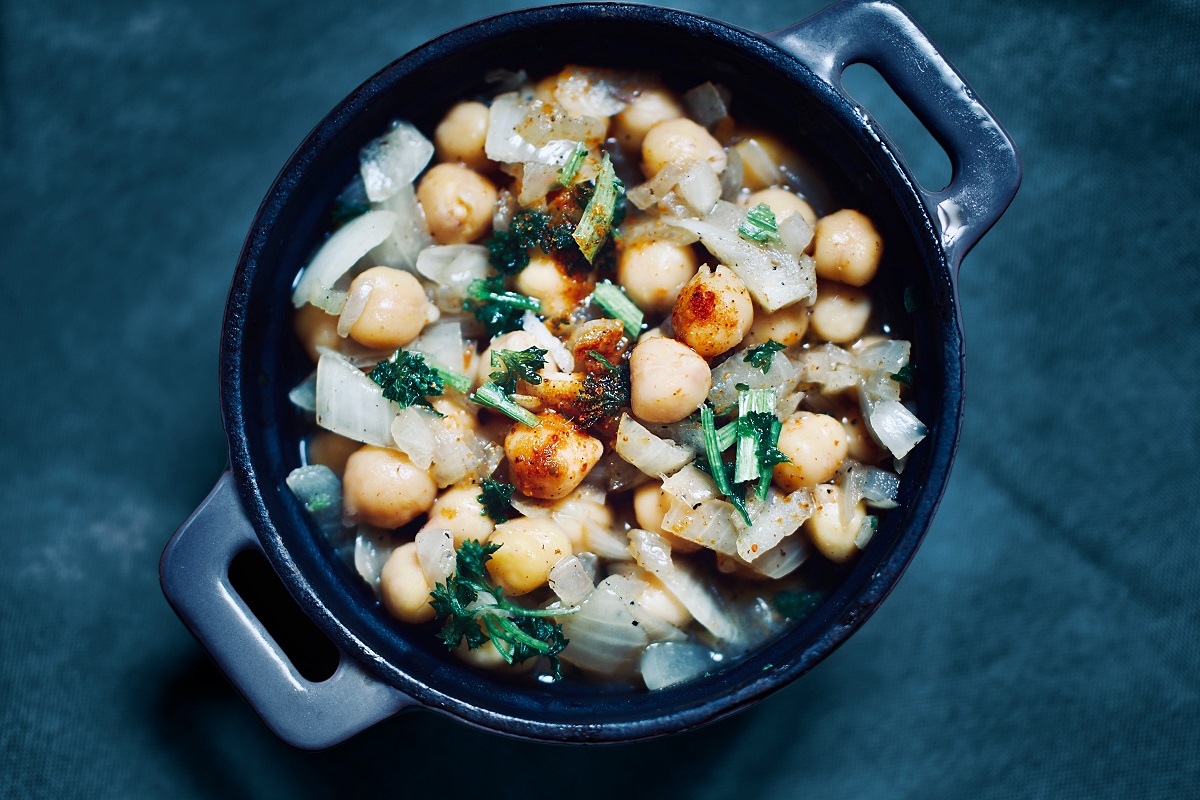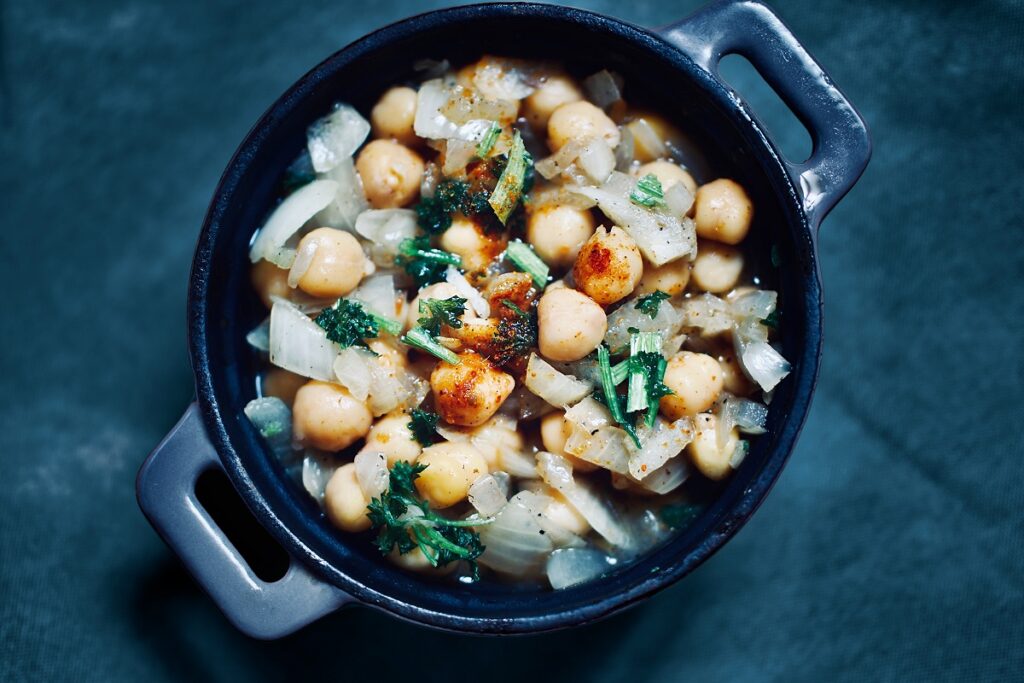 Brothy Low Histamine Soups
Kale is widely thought to be a bitter vegetable, only acceptable in the form of crispy chips. But when combined with cauliflower and a few alliums, the combination becomes a savory winter soup. Packed with antihistamine foods, this is a great choice for those short on time. Everything can be done in an instant pot in under an hour, with very little cleanup.
Ingredients: olive oil, garlic, onion, leeks, cauliflower, kale, Italian seasoning, and vegetable broth.
This low histamine chicken soup offers a healthy dose of comforting veggies and herbs, with a bit of pulled chicken for protein. The simple combination of ingredients tastes fresh and are easy to obtain regardless of the season, and everything freezes nicely.
Ingredients: olive oil, onion, celery, carrots, ginger, cabbage, thyme, broth, and chicken (optional).
Do you have a favorite low histamine soup I've missed?
Save this post for later!