Waffles and burnt coffee are the two smells that always remind me of visiting my grandpa in Louisiana and having the smell of breakfast wake us up. Luckily if I have eggs, which I can now tolerate, I can also have a lot more carb-heavy foods with my breakfast, like these low histamine waffles, along with my favorite low histamine coffee. Since many people don't like using pre-made gluten-free flour blends, I've included specific flours I'd recommend you use for great flavor and texture.
If you want to use your own gf flour blend, simply substitute the sorghum flour, sweet rice flour, and psyllium husk for 2 cups of gf flour (make sure it include a binder). Much like my fluffy pancakes and chestnut crepes, this is not a very fussy batter, and you just need to make it runny enough to scoop into your hot waffle maker. I highly recommend pairing this with a pat of butter, a smear of homemade jam, and a drizzle of maple syrup on each side.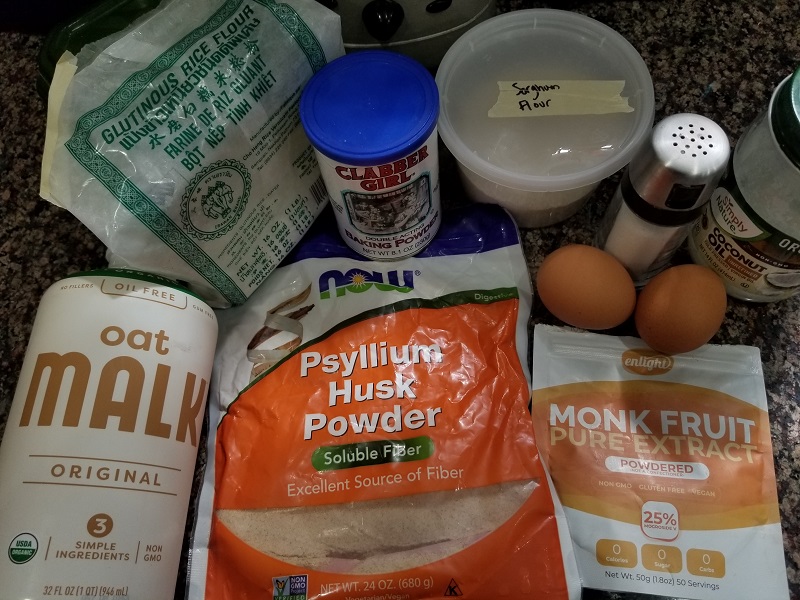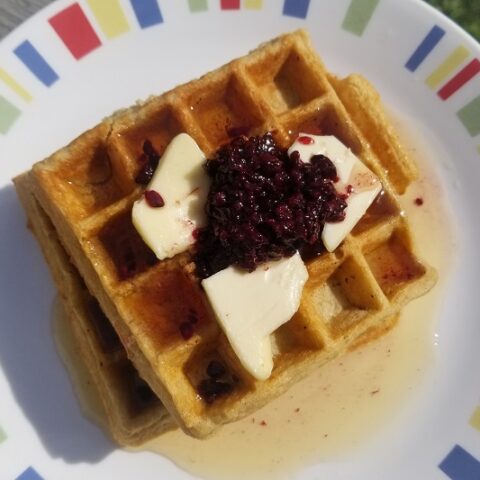 Low Histamine Waffles (No Dairy)
Fluffy gluten-free waffles perfect for pairing with maple syrup & jam or with fried chicken tenders.
Ingredients
1 1/4 Cups sorghum flour
2/3 Cup sweet rice flour (NOT white rice flour)
1 Tablespoon psyllium husk powder
1⁄2 teaspoon salt
1 Tablespoon baking powder
2 cups oat milk (or milk of choice)
1/2 teaspoon monk fruit powder
2 eggs, room temperature (sub: flax eggs)
4 tablespoons coconut oil (or butter, ghee)
Instructions
In a large bowl, add & whip the eggs, monk fruit, and the coconut oil together for about 1 minute.
Measure out the sorghum flour, sweet rice flour, psyllium husk powder, baking powder, and salt into a separate small bowl and mix together until well-combined. You could use a set of bowls or even a Vitamix or other high-powered blender for this entire recipe, though you'll still need some separate bowls.
Add your milk of choice into the egg mixture and blend until smooth.
Spoon by spoon, add your dry ingredients to the egg mixture until it's all well-combined.
Locate your waffle maker, clean it, and plug it in to preheat. Make sure you have some tolerated oil spray on hand for each batch, then spray both sides of your waffle machine. Wait 1 minute, then using a ladle, scoop roughly 1/3 Cup of the batter into each side on the bottom of your preheated & greased waffle machine.
Cook your waffles according to the directions of the waffle maker, or until they are golden brown (generally about 3-5 minutes depending on temperature and type). Top with butter or nut butter of choice, maple syrup, homemade jam, or your even candied nuts, and enjoy! Freeze leftovers with layers of wax paper between waffles, in an air-tight container.
Notes
SORGHUM FLOUR: you can substitute most any other medium-weight flour, such as oat, white rice, brown rice, or amaranth flour.
SWEET RICE FLOWER: you can substitute any other tolerated starch, such as arrowroot or tapioca.
PSYLLIUM HUSK: this is the binder for your waffles, so don't leave this out! You can replace it with xanthan gum, if tolerated., but it's important to combine this well with your dry ingredients before adding in the wet ingredients, as it absorbs liquids incredibly quickly.
PROTEIN POWDER: like with my pancakes, you may use up to 2 Tablespoons of protein powder in this batter, adding up to 2 additional Tablespoons of milk to thin it out, if needed.
FROZEN: these waffles can easily be frozen and reheated in the toaster oven on 400°F/205°C for 4 minutes, and they're good as new. Yes, you can also microwave them on 30% power for 3 minutes to defrost.