One of the first things I googled when looking into this diet was 'are sweet potatoes low histamine?' with at least three question marks at the end. In the end, sweet potatoes are one of the 15 foods I let myself eat during my first week of low histamine eating. I immediately saw a difference in my mental & physical health when I started the low histamine diet, and sweet potatoes have stayed a staple of my kitchen throughout this journey.
This simple, low histamine sweet potato recipe calls for just oil, salt, and sweet potatoes; it really couldn't get any simpler. But one of the reasons I absolutely insist you make these tonight is because they freeze better than any other vegetable I know of. They lose no discernible texture, flavor, or aroma during the freezing process, which makes me love them even more. Now onto the recipe!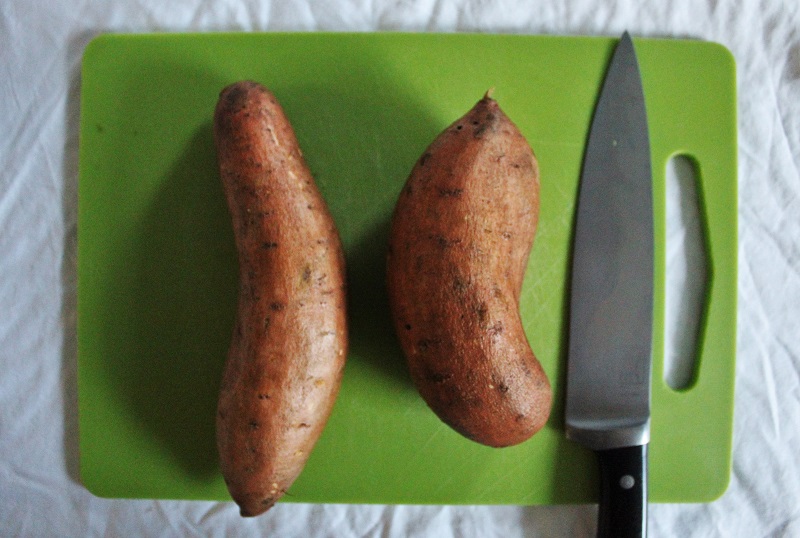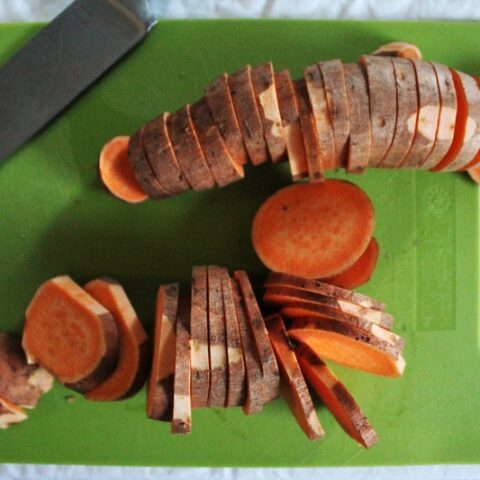 Low Histamine Roasted Sweet Potatoes Recipe
A crispy but creamy side dish that's safe for a low histamine diet!
Ingredients
1-2 large organic sweet potatoes, skin on
2-3 Tablespoons of organic olive oil
sea salt & pepper to taste
garlic (optional)
Instructions
First, preheat your oven to 400°F (205°C).

Then wash your sweet potatoes very carefully, scrubbing gently with your nails and removing any little sprouts on the spud (these are usually purple, but can also be white). Cut off any bruised or exposed parts where dirt may have gotten in, as you'll want to keep the skin on for this roasted sweet potato recipe. This isn't just because it's faster to prep the ingredients if you don't have to peel them, either, but because it makes for a much more enjoyable experience.

Once the spuds are clean, slice them into thick, even slices, making the end pieces slightly larger. For a very large potato, make a slices a bit thinner (around 4mm), but for smaller taters make them 6-7mm thick.

Arrange the slices one layer thick on your baking sheet, then drizzle the oil evenly across all the pieces. Don't worry about the bottom of each slice, as the oil will make its way under each piece as they cook. You can sprinkle sea salt and any spices you want on right now, or add salt later (but don't put any "raw" spices on the slices once they're cooked, or they'll taste bitter).

Put the tray in the preheated oven and set the timer for 20 minutes. After 20 minutes, take out the tray and flip over each individual slice; they should be browned on the underside.

While your sweet potatoes are baking, take out your garlic cloves and mince them.

After the first 20 minutes of baking, add your minced garlic to the tray and bake for an additional 10 minutes, then take them out of the oven to cool. Add any additional salt & pepper now, and enjoy the sweet, soft potato inside each slice, and the chewy, caramelized outsides!
Notes
These sweet potatoes freeze very well. I always keep some in my freezer, and I love adding a few slices to the pan during the last few minutes of cooking an omelet. They reabsorb oil and spices very well, and sometimes I'll fry some up along with pork belly & some spices (namely cumin, coriander, cardamom, cayenne, and ginger), especially when having the aforementioned omelet. This is one of my favorite quick & easy low histamine side dishes!