There are so many low histamine smoothie recipes out there, and at the moment of publishing, at least half the 50+ out there contain one or more high histamine ingredients. Unfortunately, many people blindly trust the recipes out there on the internet as soon as they've been labelled low histamine by whomever happened to write them.
So they'll give them a try and then continue to have reactions and have no idea why. It's for this reason that I'm a huge advocate of taking charge of your own health. Try your best to understand what's actually going on in your body rather than totally handing off your care to someone else.
Take the time to learn your own triggers and limits so that you can know as soon as you read an ingredients list whether you can tolerate that recipe. Then find sites whose recipes you trust & which largely match your dietary restrictions.
Even this list of low histamine smoothie recipes is only level-one vetted. I'm only showing you recipes containing low histamine ingredients, but most people will still have a few random ingredients they know trigger a reaction and will need to avoid regardless of histamine content.
With that in mind, I decided to list out all the low histamine smoothie recipes I found here, categorized by more general type, each with the recipe ingredients listed below. Whether due to an ulcer, a diet change, or mere preference, some people simply prefer a smoothie for one of their meals.
There are definite digestive benefits to packing nutrients into a fruit-sweetened package, and one of them is that you can guarantee it will be fully blended and high in fiber. I found that there are a lot of recipes which look quite similar, too.
So for recipes with lots of ingredient overlap, I just picked the one whose directions were easiest to follow and/or site was easiest to navigate. A few of them were clearly written without a taste tester present; after giving two carrots + one cup of kale + one apple a sip, I decided to leave a few recipes off the list for taste reasons.
Since I assume you can tolerate water, I've left it off all the ingredients summaries. Also, in my in-depth searching I found a couple other smoothie roundups, which you can check out here and here.
For the most part these recipes can also be categorized as antihistamine smoothies due to the addition of mast cell-supporting ingredients like ginger, mango, and turmeric.
Note that most of these smoothies will also freeze just fine for a make-ahead lunch that will have defrosted by the time you get to your lunch break. PS: these are the glass straws I use for all of my smoothie pictures!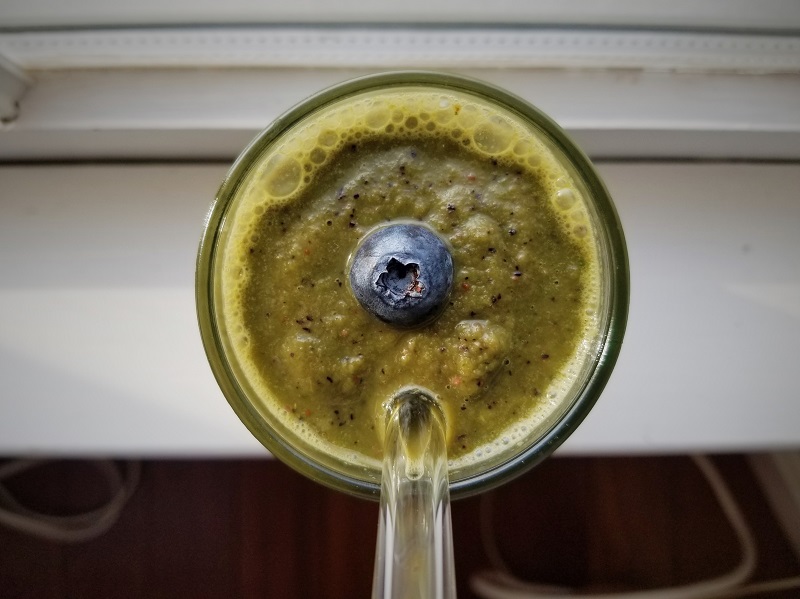 Low Histamine Green Smoothies
Savory Green Smoothie
A very varied smoothie with a hint of sweetness and a kick of garlic, this one is for you if you're looking to drink your breakfast. Ingredients: zucchini, coconut milk, sea salt, carrot, ginger root, ground turmeric, garlic, sprouts, parsley, and basil.
Antihistamine Green Smoothie
My very own recipe, this creation was formulated especially to stabilize your mast cells, in turn lessening histamine release through smoothie greens. All the ingredients are low histamine or naturally antihistamine foods, and include: fresh ginger, oat milk, fresh basil, moringa powder, pure monk fruit powder, salt, organic apples, frozen organic blueberries, baby arugula, and pea sprouts (optional).
Blueberry Smoothie With Greens (collagen optional)
This is a very simple low histamine smoothie with a bite of acidity but sweet overtones, thanks to the base of blueberries. The ingredients for this are: frozen blueberries, baby greens, coconut milk, collagen peptides (optional), and camu camu powder.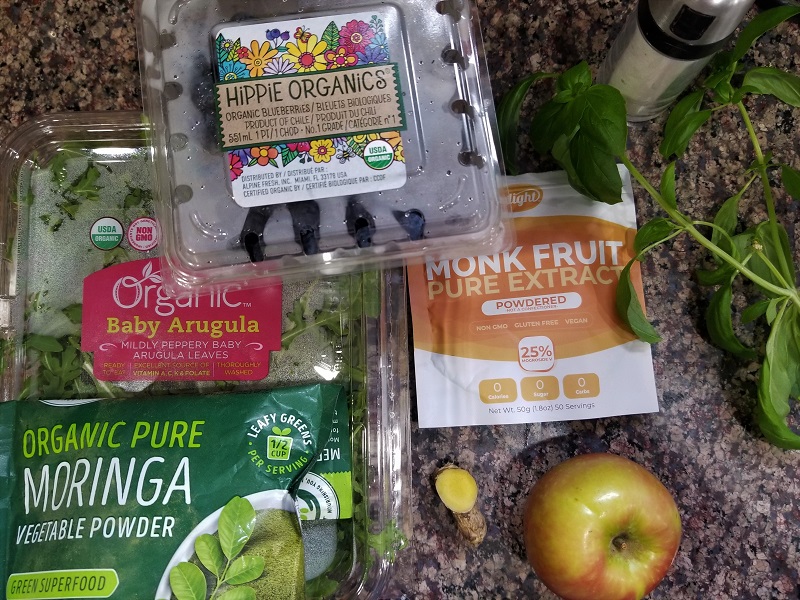 Low Histamine Protein Shakes
Beet-Berry Protein Shake
This recipe would not be for me, as fresh beets taste too much like dirt for my liking, despite how much I adore their color. But for those looking seeking a low histamine smoothie with protein powder, this may be a good option. The ingredients are: milk of choice, frozen blueberries, fresh beets, pure honey, brown rice protein powder (optional), and ice.
Blueberry-Melon Protein Smoothie
Note that you can substitute a serving of rice or hemp protein for the collagen in this recipe, unless you already know you tolerate it. This smoothie honestly sounds divine, except that I'd steam the kale before using it in order to take the bite away and make it blend more easily.
The ingredients for this one are: blueberries, sugar kiss melon (or cantaloupe), Vita Coco Coconut Milk, kale, coconut butter, and 2 scoops of collagen peptides (optional).
Mango-Kale Smoothie With Protein
As with the recipes above, you can substitute a serving of rice or hemp protein for the collagen, unless you already know you tolerate it. This one is probably the sweetest low histamine protein shake on the list, with a nice balance of bitter kale, sweet mango, and spicy ginger.
Its components include: collagen protein (optional), coconut oil or MCT oil, kale leaves, frozen mango, fresh ginger, turmeric powder, and unsweetened coconut milk.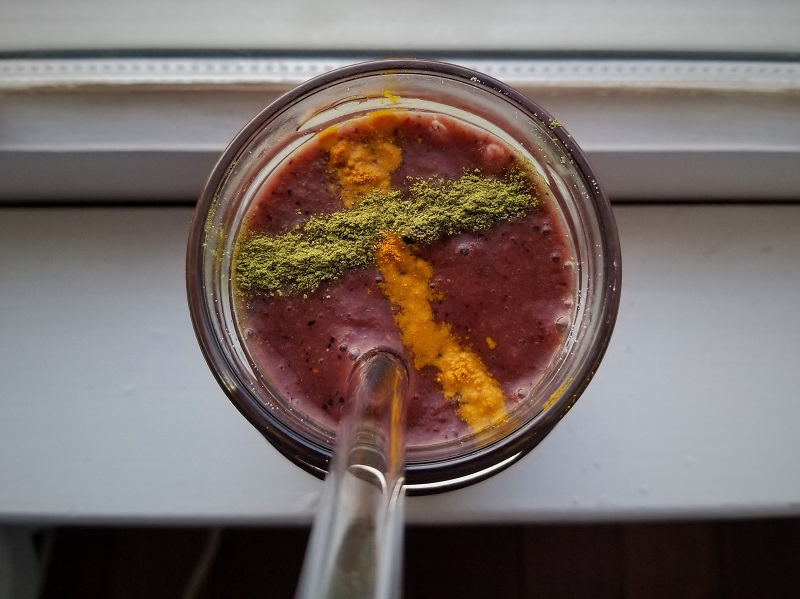 Low Histamine Fruit Smoothies
Super Antihistamine Fruit Smoothie
This antihistamine smoothie makes use of several foods known to block the release of histamine or even to stabilize the mast cells (from which histamine is released). The ingredients in it are: frozen cherries, frozen blueberries, apple, oat milk or water, fresh or frozen ginger, pea sprouts, moringa powder, turmeric, monk fruit powder, and salt.
Mango-Ginger Smoothie
This is my second-favorite low histamine smoothie on the list, and the mango definitely plays a huge role in that. It provides the perfect sweet background for the bittersweet carrot and the bite of ginger. Its ingredients include: frozen mango, carrot, oat milk, ground ginger, and honey.
Creamy Cherry Smoothie
One of the few smoothies I found that include whole nuts & seeds (pecans, macadamias, and flax seeds), this blend is for those with a bent towards creamy sorbets. The flavor is overall strong enough to cover even the flavor of a plant-based protein powder, so there's definitely something to that.
The ingredients for this smoothie are: cherries, coconut milk, pecans, macadamias, flax seeds, stevia, and ginger.
Save this post for later!