​If you're looking for a simple low histamine dessert, you need not look any further. This recipe is sweet without much sugar, salty enough for balance, and rich in both healthy fats & protein. With only 2 teaspoons of low histamine sweetener, the entire recipe comes out to around 8g of sugar total, or just 2g of sugar per serving. Unless you're super sensitive to sweeteners, this amount won't spike your blood sugar & the fat, fiber, and protein in the nuts will keep you fuller and happier than a grain-based dessert.
For this recipe I was inspired by the pralines my grandpa used to make when we would visit him down in Louisiana, although this version comes with way less sugar. My nut of choice is a pecan, but the technique and ingredients can be applied to most any low histamine nut— though pistachios or macadamias would be my next two choices. The addition of a liquid sweetener plus a low cooking temperature for slightly longer also keeps you from needing to use any oil, which can be tough for some people to tolerate early in the elimination diet.
Whether you're looking for a sweet topping for your ice cream, a crumble for your oatmeal, or just a tasty snack in the afternoon, this is your new go-to recipe. It can easily be doubled or tripled, and stores well on the counter for several days or in the freezer for a few months. You can also click here for more low histamine dessert recipes.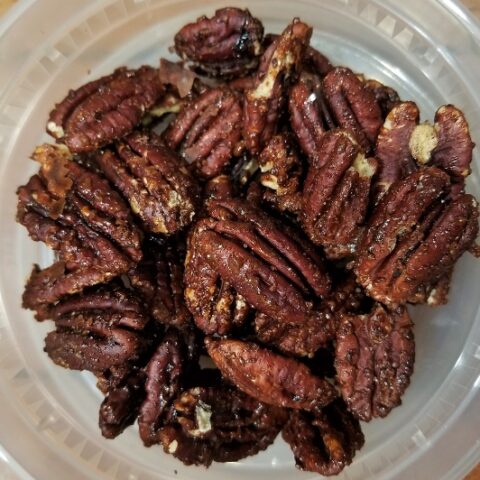 Low Sugar Candied Nuts (Low Histamine)
A general sweet 'n' salty candied nut recipe which you can use & customize with any low histamine nut!
Ingredients
1 cup raw organic pecans cut in half (or pistachios, pumpkin seeds, macadamias, pili nuts, hazelnuts, or almonds)
1 teaspoon date syrup
1 teaspoon coconut sugar
dash of pure monk fruit (optional)
1/4 teaspoon sea salt
Instructions
Preheat the oven to 285°F for 10 minutes (this step is not necessary if using a toaster oven).
Measure out & chop your nuts of choice, as needed, and then put them into a small glass bowl. Now measure out your coconut sugar, salt, and monk fruit (if using) into a separate small bowl and stir them together until well-combined.
Drizzle the date syrup over the nuts and stir everything together until each nut has at least a bit of syrup sticking to it, and then sprinkle on the sweetener mixture & salt.
Mix everything together until each nut has a thin layer of sticky sweetness on the outside, and then drop your nuts into a single layer on a baking sheet lined with aluminum foil.
Bake your nuts at 285°F (140°C) for 18 minutes, stirring them around the pan halfway through to ensure even baking. Check them again after 15 minutes in case of differences due to nut size, but 18 minutes should be adequate.
Once the coating on the outsides has solidified, but before any of the nuts begins to burn, remove the baking sheet from the oven and take off the foil, setting it on a cool surface so that the nuts won't continue to cook.
Allow them to cool for 5 minutes before enjoying, and store them in an airtight container in the fridge for up to four days.
Notes
NUTS: You can use any low histamine nut for this recipe, but it works best with slightly larger nuts (like macadamias or pecans). If your nuts don't seem to have fully roasted after 18 minutes, you can keep cooking them for up to 5 more minutes, checking on them every 2 minutes or so.
ROASTING: It's important that you use unroasted & unsalted organic nuts, otherwise the candying process will over-roast them.
DATE SYRUP: if you don't have or don't want to use date syrup, you can substitute any other tolerated liquid sweetener.
OVER-ROASTING: If you want to test the nuts for doneness before the 18 minutes are up, either due to uneven oven temps or uneven nut size, be sure to carefully use a fork to lift one off the tray and give it at least a full minute out of the oven before you take a bite. Otherwise the nuts will both be way to hot to enjoy and will appear less done than they genuinely are.
OVEN VS. TOASTER OVEN: This recipe can easily be done in a toaster oven rather than a full-sized oven, and in that case you don't need to pre-heat the oven.
FLAVORS: If you decide to make this with something other than pecans, you can enhance the experience by sprinkling one of the many low histamine spices on top. One example is tossing candied pistachios in a pinch of ground cardamom and rose water, or even tossing candied pili nuts in dried ground lemongrass and ginger.
Nutrition Information:
Yield:

4
Serving Size:

1
Amount Per Serving:
Calories:

188.26kcal
Total Fat:

18.7gg
Saturated Fat:

2g
Trans Fat:

0g
Unsaturated Fat:

16g
Cholesterol:

0mg
Sodium:

119.13mgmg
Carbohydrates:

5.97gg
Fiber:

3g
Sugar:

2.03gg
Protein:

2.38gg
Nutrition data is primarily accumulated from online calculators for convenience and courtesy only, and can vary depending on factors such as measurements, brands, and so on. We encourage you to double-check and make your own calculations.
Save this post for later!