This is a recipe for after you've started following an elimination diet for histamine intolerance and added back in dairy. It would also work with ghee, if you're not yet ready to try it with butter. The trick is to use only fresh organic herbs, which will stay preserved at near peak quality in a whipped butter like you'll be making.
I know that very few people have found any low histamine breads, and I can relate to only thinking of butter as something that only goes on bread. But finally having butter back in my diet has shown me that it's so much more than that. Especially with so many oils being a no-go with histamine intolerance, butter is great to use for cooking meats, veggies, and eggs, or even drizzling on popcorn.
This compound herb butter, however, is also packed with a few delicious antihistamine herbs that further its role in your diet by making your butter into part of your healthy diet— isn't that wonderful?! All three of the herbs in this recipe are part of the Lamiaceae family, also known as the mint family of herbs, many of which are cultivated for their delicious or fragrant leaves.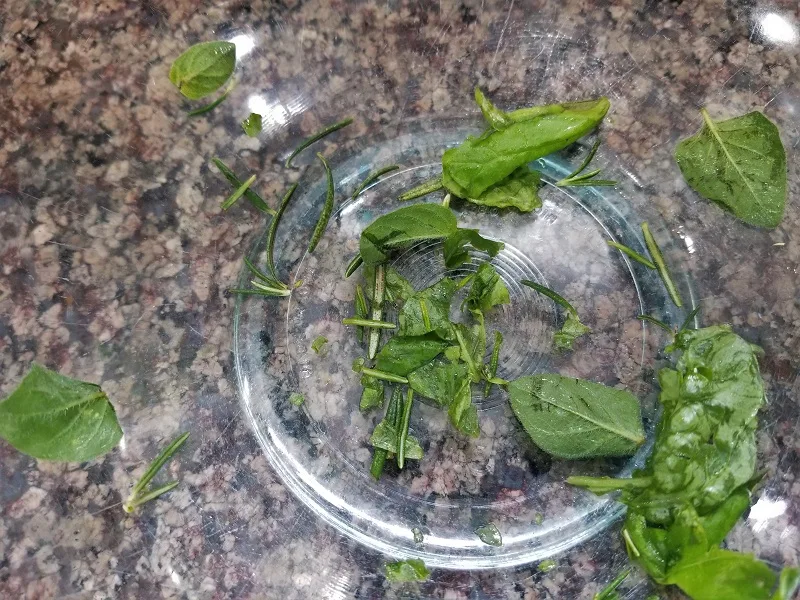 Basil: this herb is packed with nutrients, particularly Vitamin K, a potent anti-inflammatory, and it stabilizes mast cells against excess histamine release. Basil also contains beneficial plant compounds that have other antioxidant and anti-inflammatory properties. When used fresh and quickly frozen, you can easily retain these nutrients as well as the herb's rich flavor.
Rosemary: the leaves of this plant contain potent phytochemicals (plant chemicals) which have anti-microbial and anti-irritant effects. Rosemary has a mildly citrusy, but woody & herbaceous flavor with small amounts of vitamin A and manganese. You can find fresh rosemary in the refrigerated section of many grocery stores.
Oregano: this small leaf is the source of one of nature's strongest natural antimicrobials— oil of oregano. The flavor it adds is incredibly earthy, with an edge of bitterness like a lemon peel. Alternatively, you can also use the same amount of thyme for a milder flavor in complement to the basil and rosemary.
I mention raw garlic as an optional ingredient because it adds some depth and sharpness to the butter, as well as a savory quality it lacks on its own. But garlic is also a great addition because it's naturally antimicrobial and antihistamine, containing quercetin, allicin, and diallyl disulfide, all naturally anti-inflammatory. See the notes section of the recipe for more information on the quick version of this recipe!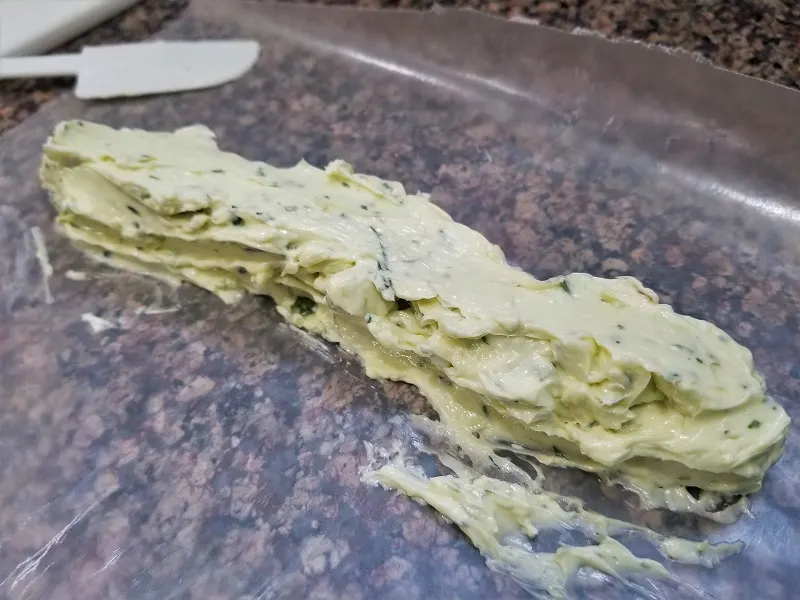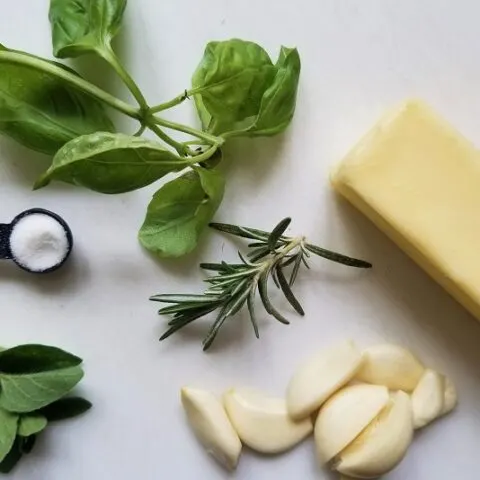 Garlic Herb Compound Butter (Histamine Friendly)
A balanced butter packed with umami-rich garlic & a blend of earthy herbs, complemented by a touch of sea salt.
Ingredients
1/2 cup of butter (1 stick, unsalted)
1/4 teaspoon sea salt
6 large basil leaves, chopped
1 sprig of rosemary ~2"/5cm long, leaves plucked & finely chopped (~1/2 teaspoon)
6 oregano leaves, finely chopped (~1/4 teaspoon)
3 small cloves of garlic (optional)
Instructions
Leave your frozen butter to soften at room temperature for a couple of hours, or use the quick-thaw method for softening butter (laid out in the recipe notes).
Once your butter is ready, prepare your fresh basil, rosemary, and oregano, and your garlic if using it. If you have an immersion blender and you plan to use larger amounts of butter at once, your ingredients don't need to be so finely chopped (see recipe notes).
Mash together the butter, herbs, salt, and garlic, using an immersion blender to better combine ingredients, if needed.
Use immediately, or if freezing, spoon the compounded butter onto a piece of wax paper or plastic wrap, forming all of it into a log and wrapping it well.
Make sure to flatten it and push out all air bubbles, and store it in another sealable bag. Place directly into the freezer and slice off pieces to use as needed.
Notes
Butter: you could also do this with filtered lard, but I don't think it would work with any plant-based fats, as they solidify at different temperatures and with different textures. If you decide to use salted butter, omit the sea salt.
Softening Butter: to soften frozen butter quickly, place the unwrapped stick of butter in a large glass bowl and heat it in the microwave for 1 minute on 10% power, heating it in 15-second increments until softened. This is a process you should watch closely, as butter melts before you know it. This will mimic the effect of leaving the stick to soften at room temperature for a couple hours, but note that if the butter starts to melt rather than soften, remove it from the microwave and set it in the fridge for a few minutes while you prepare your herbs.
Herbs: You could use different herbs in this butter, but I chose these 3 because they go well together, are powerful natural antihistamine foods, and they work well with garlic. They also all freeze very well, but using fresh herbs is infinitely preferred over using dry. If you use dry herbs, use the same amount, but expect a more concentrated flavor.
Quicker Prep for Herbs: I've made this butter a couple different ways, and if you're short on time, you can take the whole leaves of the herbs and put them into a bowl with the whole cloves of garlic. Then, use your immersion blender to chop everything together for 30 seconds before adding a quarter of the butter and blending for another 30 seconds. Then, proceed with the recipe as usual. This quicker version will have small pieces of the herbs but much less evenly-distributed than the hand-chopped version.
Nutrition Information:
Yield:

8
Serving Size:

1
Amount Per Serving:
Calories:

101.75kcal
Total Fat:

11.47gg
Saturated Fat:

7g
Trans Fat:

0g
Unsaturated Fat:

3g
Cholesterol:

31mg
Sodium:

60.79mgmg
Carbohydrates:

0.08gg
Fiber:

1g
Sugar:

0.01gg
Protein:

0.16gg
Nutrition data is primarily accumulated from online calculators for convenience and courtesy only, and can vary depending on factors such as measurements, brands, and so on. We encourage you to double-check and make your own calculations.
Save this post for later!