This low histamine pesto recipe nearly saved my sanity during the first month of my low histamine diet. I must have used it on chicken at least once a week, almost always with a side of garlic asparagus and some roasted sweet potatoes. Not only is it versatile & actively antihistamine, but it's also a huge throwback to my childhood. My grandfather had a load of pecan trees down in Louisiana, and every summer, my Mom used them to make pesto.
She'd harvest the basil from her garden, throw in some pecans from her dad's land, and blend both in a food processor with some olive oil and garlic. A traditional pesto recipe uses pine nuts and Parmesan cheese, and while you could use pine nuts instead of pecans, I personally think pine nuts taste gross. The Parmesan is probably a no-no for everyone, though, unless you're a unicorn and have a very empty histamine bucket.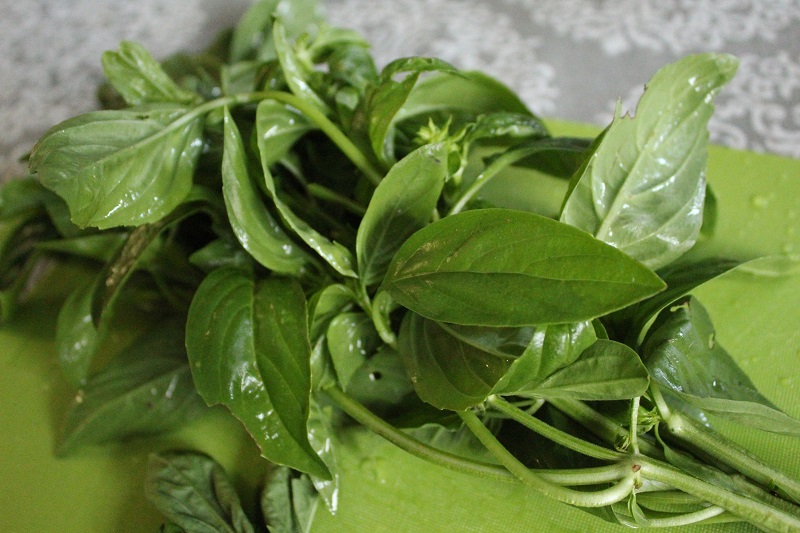 While my Mom used to prepare everything in one go, I know that not everyone can tolerate nuts of any kind. That's fine. You can leave out all of the nuts and it won't change the flavor too much (though they add a certain nostalgic, delicious flavor for me). The most important point is that you add in a bit of extra salt to compensate for the lack of cheese, even if you use the pili nuts (my secret cheese replacement).
Both garlic and basil have actively antihistamine-lowering properties, and as long as you don't react to them, they're a delicious and easy pair to eat with white meat, toaster-oven white pizzas, and gluten-free pasta (I like this chickpea pasta). Have I mentioned that it freezes like a dream? I always keep some in my freezer, usually making huge batches at the end of every summer. The blending process sort of infuses the basil flavor into the oil, so every bite really comes out tasty and favorful.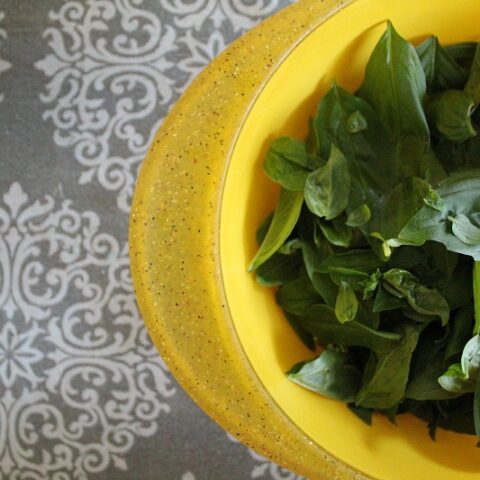 Low Histamine Pesto Recipe
A dairy-free pesto recipe perfect for low histamine pastas, pizzas, savory tarts, and meats! It freezes beautifully, and I often use it for a one-skillet pesto chicken.
Ingredients
1 cup fresh organic basil leaves, gently packed, (about 4-5 fully-grown plants from a garden or farmer's market; make sure they're 100% organically-grown)
4-6 cloves of organic garlic, (medium-sized cloves; the more you use, the stronger the garlic flavor)
1/3 cup organic olive oil, (I highly recommend using olive oil, but deodorized organic coconut or sesame oil might taste okay, if you can't have olives)
*1/4 cup roughly chopped organic pecans, soaked & dried, (to get rid of the mold that often grows on pecans, soak them overnight and then dry them out in the oven at 150°F/65°C for about an hour, or until crispy but not toasted)
*1/4 cup roughly chopped, organic sprouted pili nuts [salted], (these are not a common or cheap nut to buy, but they are one of the fattiest nuts in existence & I swear they taste exactly like parmesan cheese, except they're dairy-free and unaged)
*sea salt to taste
Instructions
*Before you start, keep in mind that for the purposes of this recipe, the pecans, pili nuts, and sea salt are sort of like garnishes. You should only prepare proportionally enough of them for the amount of pesto you plan to make at that moment. This recipe will make about 6 patties, and I generally use 3 of those on two medium chicken breasts. So for me, this makes 4 medium chicken breasts worth of sauce; however many meals that evens out to is up to you!
So in making the pesto sauce itself, the process is very simple. Wash your organic basil, and then dry it gently and pluck off each leaf. Place them into your mixing bowl, trying to get as little of the stems as possible. If it adds up to a little more or less basil, simply add a little more or less of the garlic & oil.
Peel your garlic cloves; you can chop them into a few pieces each, if your food processor is weak.
Pack the basil, garlic, and oil into the food processor, and blend it until a smooth paste, about 1-2 minutes.
Assuming you're not using all of this pesto at once, this is where the parchment paper comes in. Pull off a piece that's about 10 inches long, wide enough for 6 pesto patties, and lay it onto a flat surface.
Plop 6 even patties onto the bottom third of the sheet, and then fold the top on the patties and press lightly. Transfer these directly into the freezer for about an hour, placing them on a flat surface with a lightweight flat object on top of them. This will keep the parchment paper sticking to either side, allowing for easy storage.
After an hour or two, take the patties out of the open freezer and make sure they're solidly frozen. If you have the space, you can let them freeze overnight & that's that, but if time is of the essence, then give them another hour before you check again; it shouldn't take more than a few hours for them to harden up.
Peel apart the paper and stack the patties in a freezer-safe container for storage. From a lifetime of experience, they'll stay good for several years in the freezer, though they'll brown quite a bit after the first month. When you're preparing your pesto for serving later on, a single patty calls for 6-8 pecan halves and 10-12 salted pili nuts. Toast the pecans before serving, for an extra crunch, and roughly chop both nuts to top your main dish.
Add salt & pepper to taste.
Notes
Uses for this low histamine pesto include: gluten-free pasta or crackers, on potatoes, tossed with root vegetables, on lamb burgers or boneless chicken, and as salad dressing. I'm sure there are more, but these are my favorites!
Making it "saucier." When I was a kid, my Mom would reconstitute "freezer pesto" with some skim milk, but if you want a runnier sauce, I recommend thinning it out with a touch of olive oil or coconut milk (though almost any plain-tasting fat would work).
Substitutions: while I really recommend pili nuts & pecans, you could theoretically use any other nuts, like pine nuts or macadamias, maybe even almonds. Just remember to toast & finely chop!
When to make it. I highly recommend making this at the end of the summer, when you can get lots of fresh organic basil from the local market for cheap. You can buy basil year round, but it gets incredibly more expensive as weather gets colder. Just remember to always buy organically-grown basil.
Heating time: don't stir-fry the pesto for more than 15 minutes, otherwise you're really cooking out the freshness of the basil, even if you're using it after keeping it in the freezer for while. I also wouldn't bake it for more than ~20 minutes, either, but conduct your own experiments.
Types of basil: Thai basil or holy basil won't work in this recipe, so make sure you're buying or growing "normal" basil, also called Italian, Genovese, or Sweet Basil (Ocimum basilicum).
Salt 'n' Pepper: I always prepare this recipe without salt so that you can salt the dish you're making, without having to try and calculate exactly how much salt is in the pesto. I always grind a bit of black pepper and pass the salt shaker over a few times, keeping it nearby in case I didn't add enough, but that's just me. If you really want to, you can add the salt, pecans, and pili nuts right into the mixture; they'll freeze just fine. But I really recommend toasting & chopping the nuts right before serving, so you can taste the individual ingredients even more pointedly. It also makes the plating much prettier!