These low histamine french fries have been a freezer lifesaver for the last year. When I first started making then, they were this garlicky treat that I could make in my toaster oven and munch on during a movie. And then over the last year, as my energy has bottomed out and then bounced back, they became a freezer staple for simple meals.
You just need to have a saucy meat dish somewhere in the freezer, and either the garlic rosemary variation works great on the side, or a plain version can be made into a fancied-up poutine.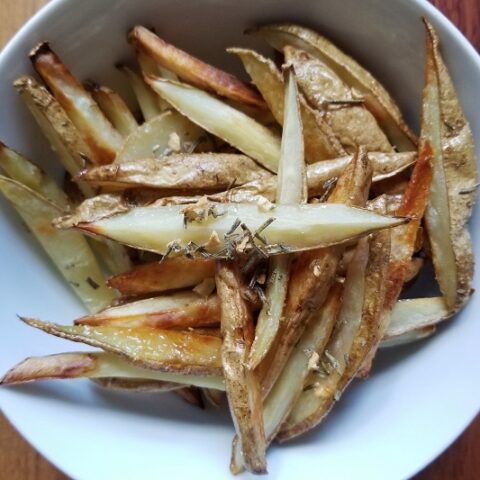 Low Histamine French Fries
Simple low histamine french fries that are crispy on the outside and fluffy on the inside, with optional rosemary garlic seasoning.
Ingredients
4 baking potatoes
1/4 cup oil of choice (avocado, coconut, ghee, butter, lard, etc.)
2 teaspoons salt (+1 teaspoon)
Optional 2 teaspoons dried rosemary
Optional 4 cloves of minced garlic
Instructions
Thoroughly wash the outsides of your potatoes, and preheat your oven to 450°F (230°C). If you want to make the rosemary-garlic seasoning ahead of time, skip to the notes at the bottom to read how.
Fill a large bowl halfway with water and add 1 teaspoon of sea salt and let it dissolve. Place the bowl next to the cutting board where you'll be making your fries. Now cut the potatoes into 1cm-thick slices lengthwise, and then cut those slices into long, thin strips as large or small as you'd like your fries to be.
As you finish cutting the fries, add them to the bowl of salt water so that they're covered in water.
Once you're done, add any more water needed to fully submerge every fry, then let your potatoes sit in the water for about 10 minutes. Once they've had a good soak, drain them and dry them thoroughly, as any extra water will hinder the crisping process. This salt water bath is important, as it will draw water out of the potato, resulting in crispier fries for you. Consider using paper towels.
Once your potatoes are dry, place them on a clean plate and pour your oil over them, making sure each piece is lightly coated. Arrange your potatoes on a baking sheet (or two), and then sprinkle all your sea salt over the top.
Place the tray(s) in your preheated oven and bake for 10 minutes, or 15 minutes for larger fries. Afterwards, check on your fries and flip them over, making sure that they're evenly-baked. This is the perfect time to add any seasonings you'd like (see notes).
Bake for 15-20 more minutes or golden brown, and then take out and allow to cool for at least 5 minutes.
To freeze, place the fries in a reasonably small container and place in the freezer for up to 3 months.
Notes
FREEZING: these french fries freeze very well and are ridiculously versatile. They can also be made with yams or sweet potatoes, but the recipe is meant more for plain potatoes that you plan to eat with a dipping sauce.
ADDING FLAVOR: to mix up the flavors, I like to add chopped garlic and dried rosemary to the potatoes halfway through baking, when I'm flipping the fries. Try 1/2 teaspoon dried rosemary + 1 clove of garlic per potato, chopped and minced very thoroughly, and added halfway through the baking. Alternatives include za'atar, fajita seasoning, or Italian seasoning.