The growing focus on healthy lifestyles has finally turned many more people onto diets that urge avoiding sugar entirely, including a low histamine diet. These diets aren't wrong, though, as sugar is an inflammatory substance that can lead to various health issues when overconsumed.
Thankfully there's a silver lining on the horizon, as there are now healthier types of sweeteners on the market that don't spike blood sugar or have any of the other negative consequences of sugar. Allulose, a fourth-generation sweetener, is one of them.
This rare fruit sugar is found in small amounts in certain plants and can be commercially derived from corn (I have yet to find a brand that doesn't use corn; I've tried 5 brands & this one has been my favorite). Allulose offers the taste and functional properties of sugar but with only a staggering 10% of the calories.
In this article, we dig into all things allulose, uncovering its origins, forms, nutritional value, benefits, drawbacks, and many different uses.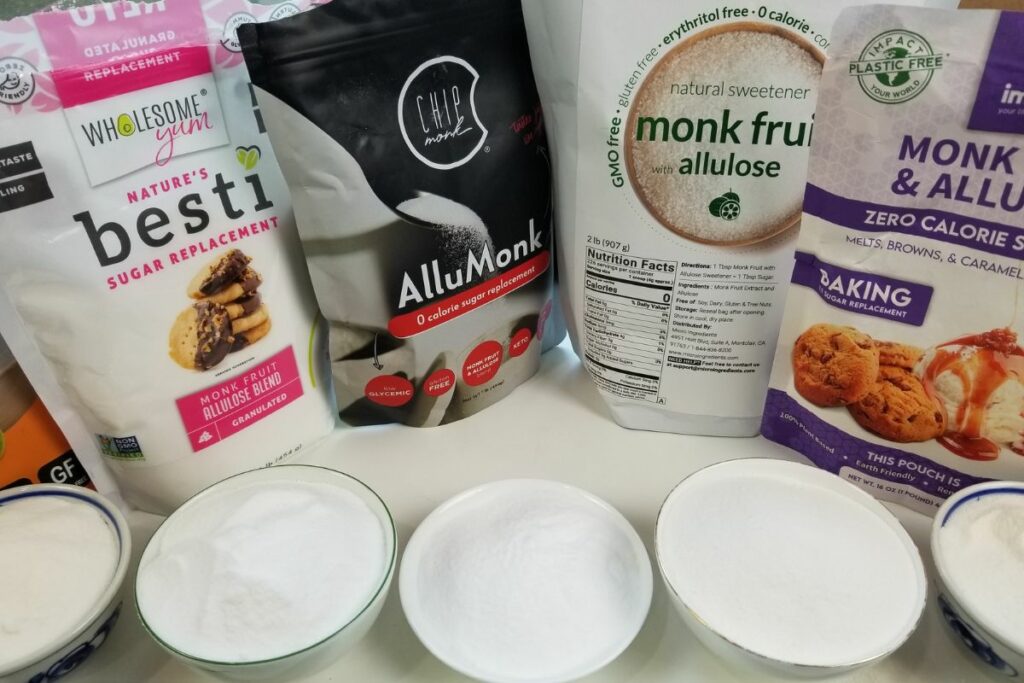 Allulose: What Is It & Where Does It Come From?
This relatively new type of no-sugar sweetener is commonly known in the science world as psicose, with the scientific name d-ribo-2-hexulose. It's also known as d-psicose, d-allulose, or pseudo-fructose (for reasons which will soon become clear).
When it was first discovered in 1940, allulose was found to have about 70% of the sweetness of sugar with only a fraction of the calories, which was considered a breakthrough in the world of commercial foods at the time. Even though it was discovered a while back, not many people know of or have heard of allulose, as it's considered a rare sugar type found in nature.
Because allulose is 70% as sweet as sugar, it's a more direct replacement for sugar in a variety of foods and beverages, most commonly baked goods, ice creams, and soft drinks. Also, it behaves in a very similar way to sugar in a dish, including caramelizing quite nicely.
Even though this sugar is not easily metabolized by the body, it does possess some beneficial effects, which I'll talk more about below.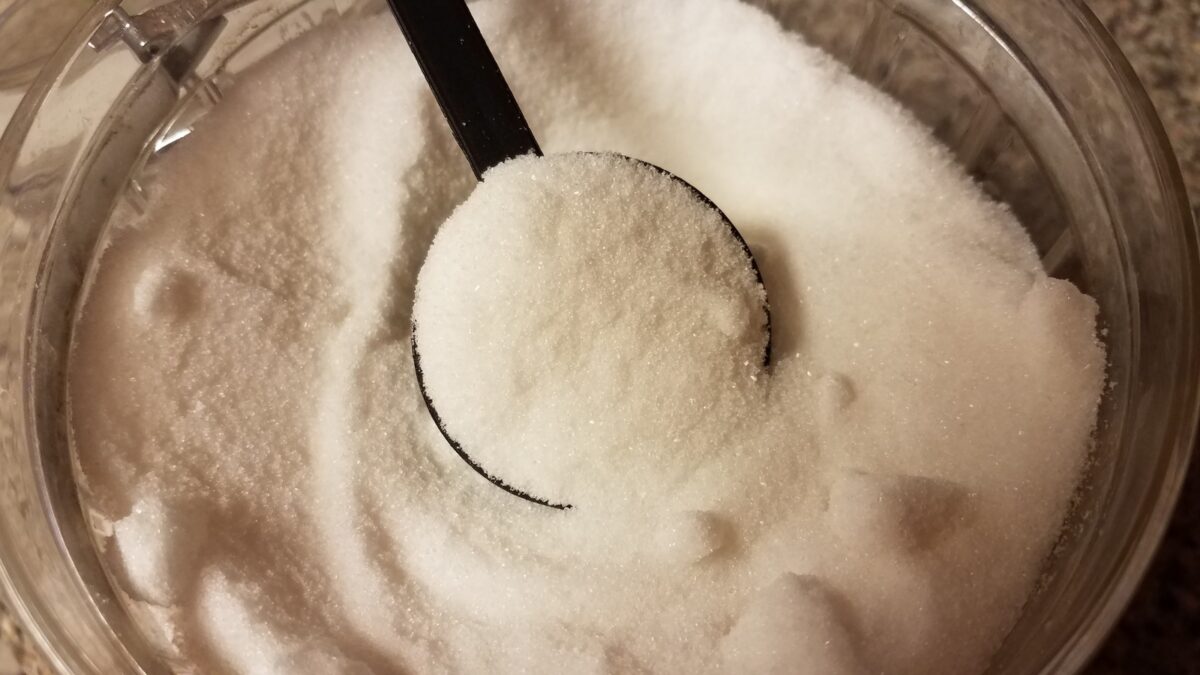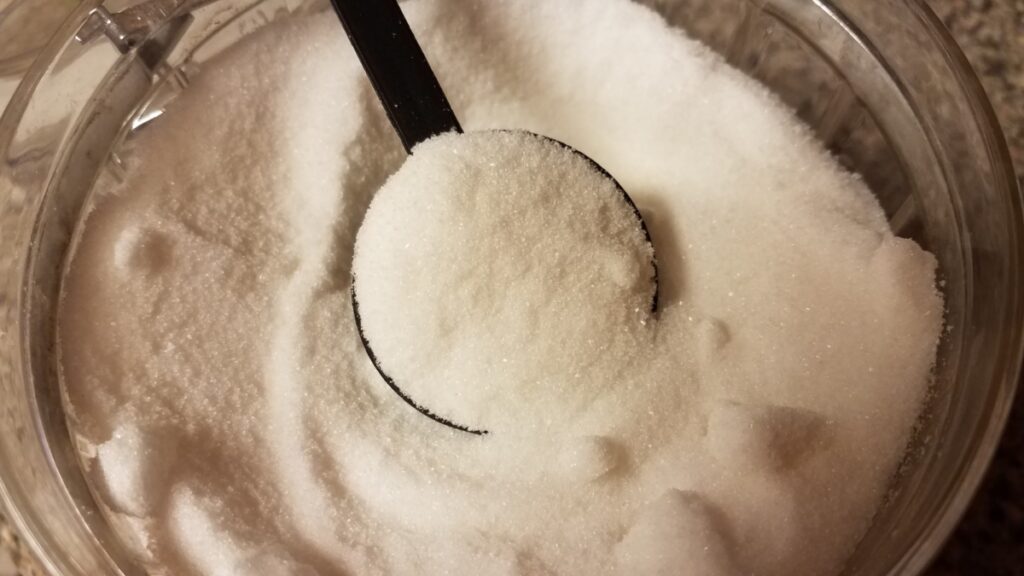 It's important to note that sugar plays many roles in foods and drinks besides just adding sweetness and taste. It also adds bulk to recipes, ensuring texture and mouthfeel, and lends part of the color we've come to expect in baked goods like cakes and cookies.
Allulose is a particularly effective sugar substitute since it can mimic these qualities, though in a somewhat diminished fashion. It also freezes similarly to conventional sugar, which is just an added bonus to its similarities.
Breaking down this rare sugar further reveals it as a monosaccharide, which is a type of simple sugar that's chemically similar to fructose and glucose. This also means that this simple sugar cannot be broken down further by the body and merely passes through the digestive tract unchanged by our bile & stomach acid.
In terms of calories and overall stats, this natural sweetener has next-to-zero calories and scores a zero on the glycemic index (GI). These attributes have caught the attention of many who see its appeal as a low-calorie alternative to sugar and other artificial sweeteners, largely in the keto & diabetic community.
Putting aside its nutritional benefits for a moment, it's still a scarcely found substance in nature. Fortunately, scientists have found a way to commercially manufacture allulose, as we'll talk about below.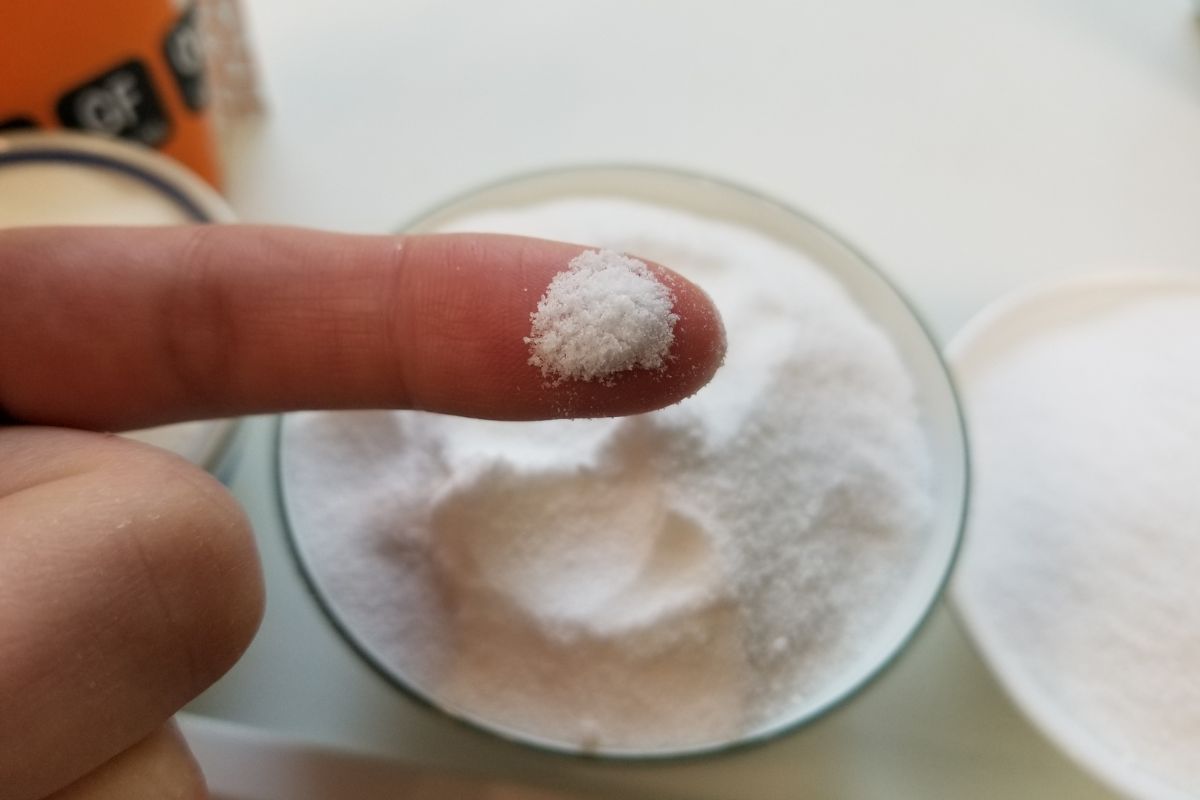 Allulose in Plants vs. Allulose Extract
Unlike artificial sweeteners, allulose naturally occurs in nature and can be found in plant foods, albeit in very small amounts. It can also be found in the leaves of wheat and processed sugar cane and in mixtures of fructose and glucose syrups in trace amounts.
Due to its rarity, this has led to allulose being obtained through a process known as enzymatic epimerization. This is a recently-discovered way by food scientists to produce allulose on a larger scale through enzymatic mass synthesis (or enzymatic conversion) from corn or fructose.
The commercial manufacturing process mainly uses corn, and many brands use non-GMO corn.
The process typically starts with corn kernels being converted into starch, then the starch into syrup. The syrup is then treated with an enzyme that transforms some of the glucose into fructose. From there, another enzyme is used to convert fructose into allulose.
Afterward, the extract ends up going through several processes of filtration, ion exchange, and purification, where it's then finally separated from the other sugars and contaminants. The enzymes used are basically just processing aids and are fully filtered out of the final product.
The end product is a highly concentrated sweetener known as allulose extract, and even though there is a degree of fermentation during the processing stage, it doesn't affect the histamine content of the final product. Fermentation doesn't always equal histamine production.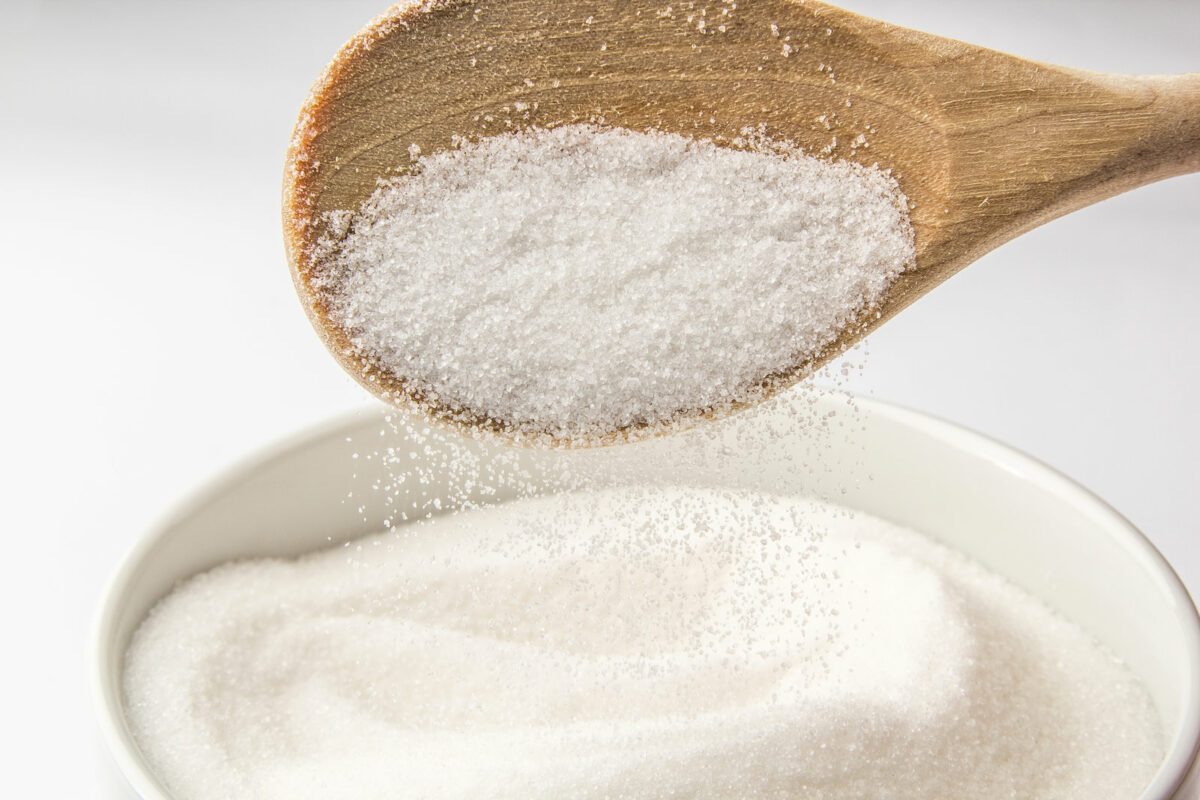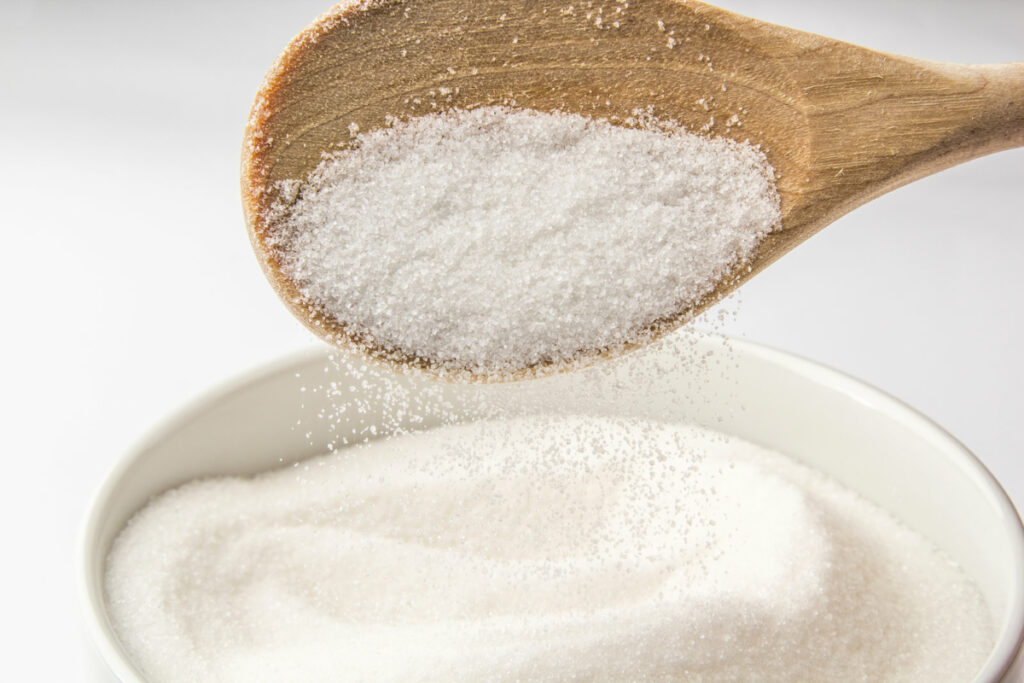 Is Allulose Good For You?
Nutritional Information
Allulose is safe to consume and is one of just three sweeteners that have been granted 'Generally Recognized as Safe (GRAS)' status by the U.S. Food and Drug Administration. The FDA allows allulose to be used as a sugar substitute in certain foods and beverages, currently most commonly soft drinks.
Because it's a type of sugar, it's categorized under total sugars, added sugars, and total carbohydrates on nutrition facts labels. However, the FDA also allows manufacturers to use a caloric value of 0.4 calories per gram to calculate the caloric contribution of allulose.
Health Benefits of Allulose
Allulose has various health benefits, like improving gut health and other physiological functions that improve insulin resistance, glucose metabolism, and rate of weight loss. Preliminary research backs this up by suggesting that allulose has potential weight management benefits, in particular, its significance in managing obesity and reducing body fat.
As a result, it contributes little to nothing calorically towards one's diet. Allulose may also reduce overeating and improve glucose tolerance by acting on vagal afferents, which is another contributor to weight reduction, according to research.
Allulose has also been demonstrated to have prebiotic qualities, which means it can aid in the growth of good bacteria in the digestive tract. Though this test was done on rats, the results are certainly promising for humans and line up with the positive effects of foods like cassava root.
Another study also discovered that allulose stimulated the formation of short-chain fatty acids, which are beneficial to gut health and inflammation reduction. This is because allulose is not digested or absorbed in the small intestine, thus traveling to the large intestine to be fermented by gut bacteria.
How is Allulose Digested by the Body?
Allulose is a monosaccharide, a single molecule of sugar, and there's technically no digestion that takes place after it's consumed. About two-thirds of the allulose that we consume is metabolized by the small intestine, but the majority of it rapidly passes through the body and usually leaves within 24 hours.
The remaining 30% leaves the body after passing through the large intestine, usually within 48 hours, releasing no calories in the process.
It's also not absorbed by the liver, meaning it's not likely to contribute to hepatic energy production. This is remarkable because the liver plays an important role in the body's energy generation, and changes in production can result in metabolic illnesses such as diabetes and fatty liver disease.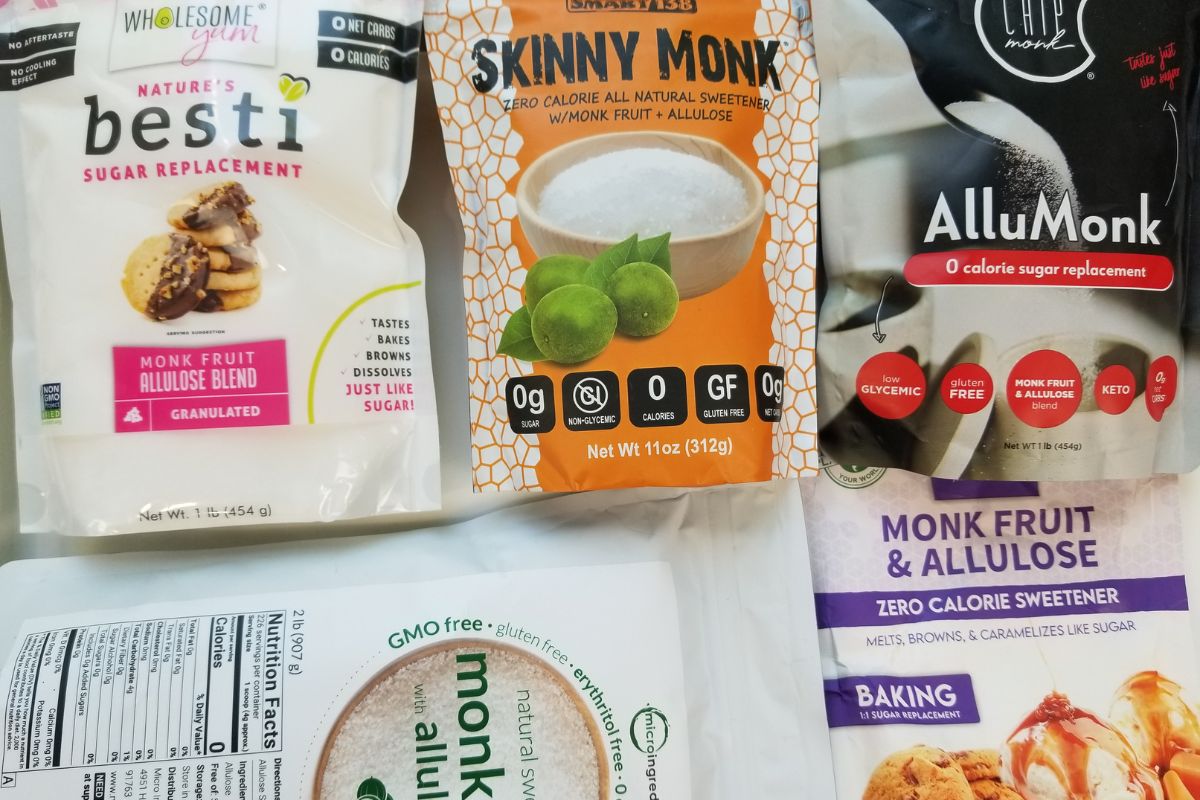 Pros And Cons Of Allulose vs. Other Sugars
When we usually think about sugar, most of us probably think about the same white crystal granules used for baked goodies or to flavor drinks like coffee or tea.
Though as we progress further in terms of research and exploration of various alternatives, certain sweeteners, like allulose, have been found to act more or less like sugar in the same recipes.
The first and perhaps the most important difference between allulose and these other natural sweeteners is that it has a very similar taste and texture to sugar, with only a fraction (10%) of the calories.
If we're talking sweetness, allulose is about 70% as sweet as sugar and has a markedly lower number of net carbs. As for stevia and monk fruit, they're about 300 times sweeter than sugar, whereas erythritol and xylitol are less sweeter than either one.
This is one of the many reasons that make it an ideal choice for those seeking to maintain low histamine levels and a healthy weight in lieu of other sugars' higher calories and inflammatory effects.
Even though allulose is a type of sugar with the same molecular formula (C6H12O6) as fructose and glucose, it has a distinct configuration that makes it impossible for our stomach acid to break it down for energy.
However, it still may not be a good substitute for some because it's not exactly as sweet as sugar. When combined with monk fruit or stevia, though, it can reach a suitable sweetness level for use in beverages, baked goods, and other dishes, but for some people, it can have a bit of an aftertaste (cooling or mildly bitter).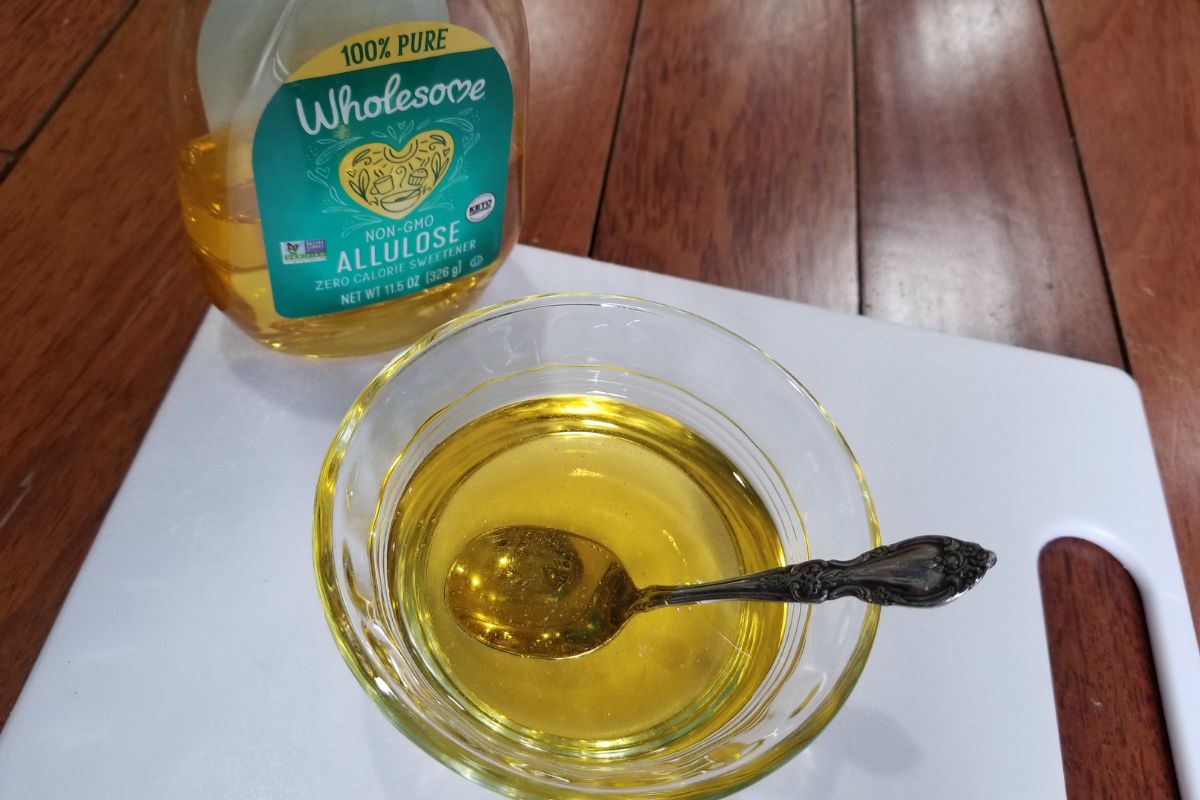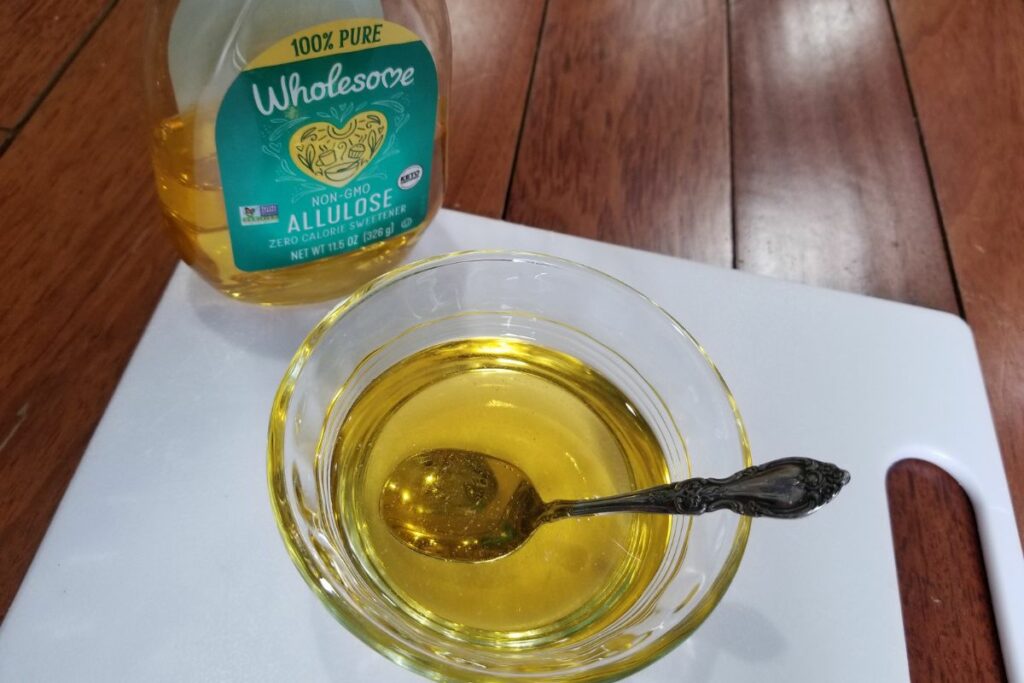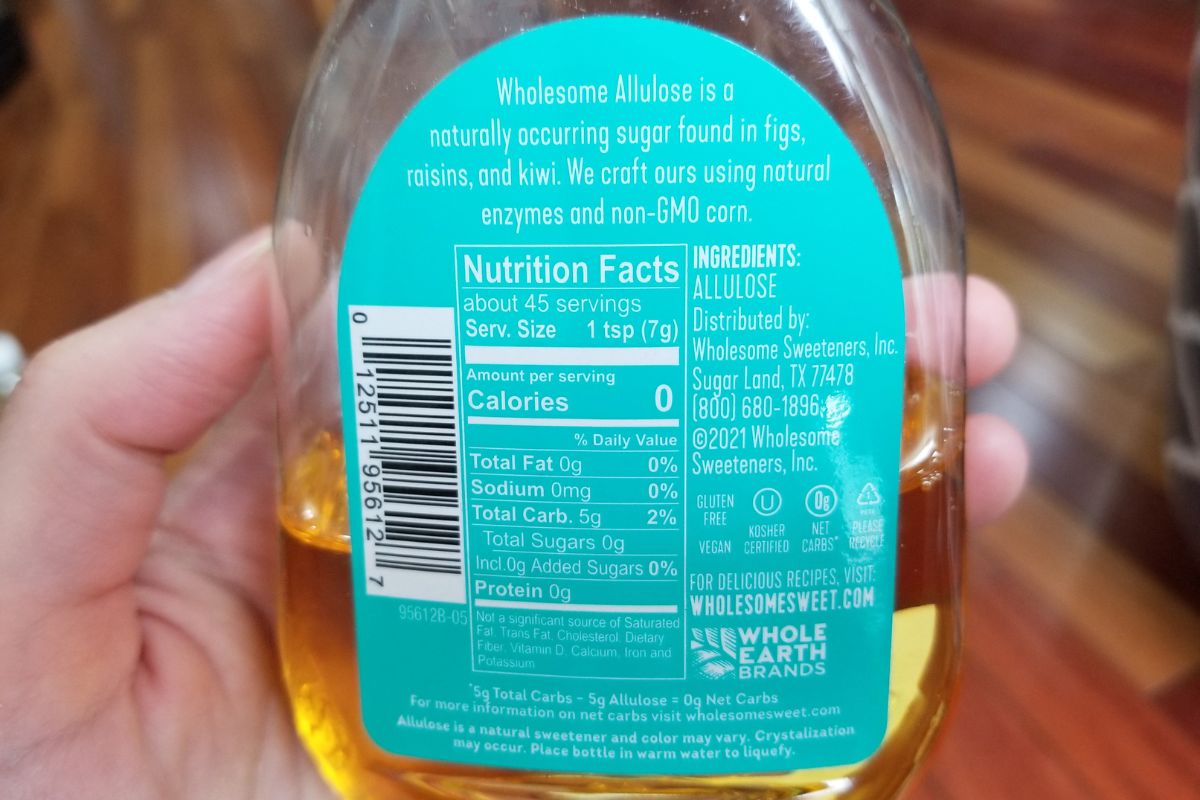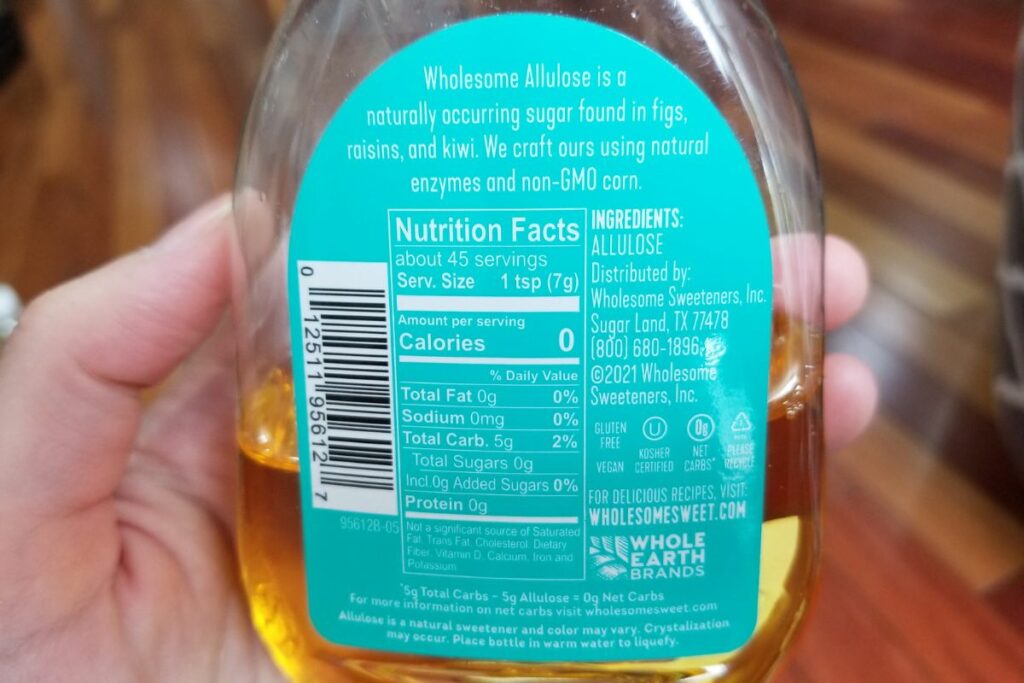 Another benefit this sugar has against other sugars is its lack of impact on blood glucose. This being the case, it's gained a lot of attention among those who follow a ketogenic diet, which restricts carbohydrate and sugar intake so that the body can utilize a different energy source called ketones.
Let's cover some nutritional stats now. There are approximately 0.4 calories per gram in allulose, which is considerably less compared to the 4 calories per gram in regular sugar. It also has a 0 score on the GI index, which is as little as humanly possible.
Sugar consumption, both in quantity and frequency, can also raise our risk of getting tooth cavities. Whereas allulose, on the other hand, is unique in this sense as it's not broken down by bacteria in the mouth. Therefore, it doesn't promote the growth of cavity-causing bacteria in the mouth, nor does it contribute to enamel erosion.
While allulose seems like a good alternative sweetener, it should be noted that cross-contamination may happen at any point in the production process. This can be a drawback for individuals who are allergic to corn, as allulose is derived from corn, which is a common allergen.
Corn can make its way into allulose, so caution should be taken for those with an allergy or intolerance, and as always, consult a healthcare practitioner before consuming this sugar.
It's usually regarded as safe when used in moderation, although some people may develop digestive difficulties when taking it in very large quantities. This can be due to it not being absorbed by the body and fermenting in the large intestine, causing gas, bloating, and diarrhea, similar to sugar alcohols.
This wonder sugar is still in its early stages, with few studies of its long-term implications for human health. Although regarded as safe to consume by the U.S. FDA, additional research will be needed to completely understand any potential risks.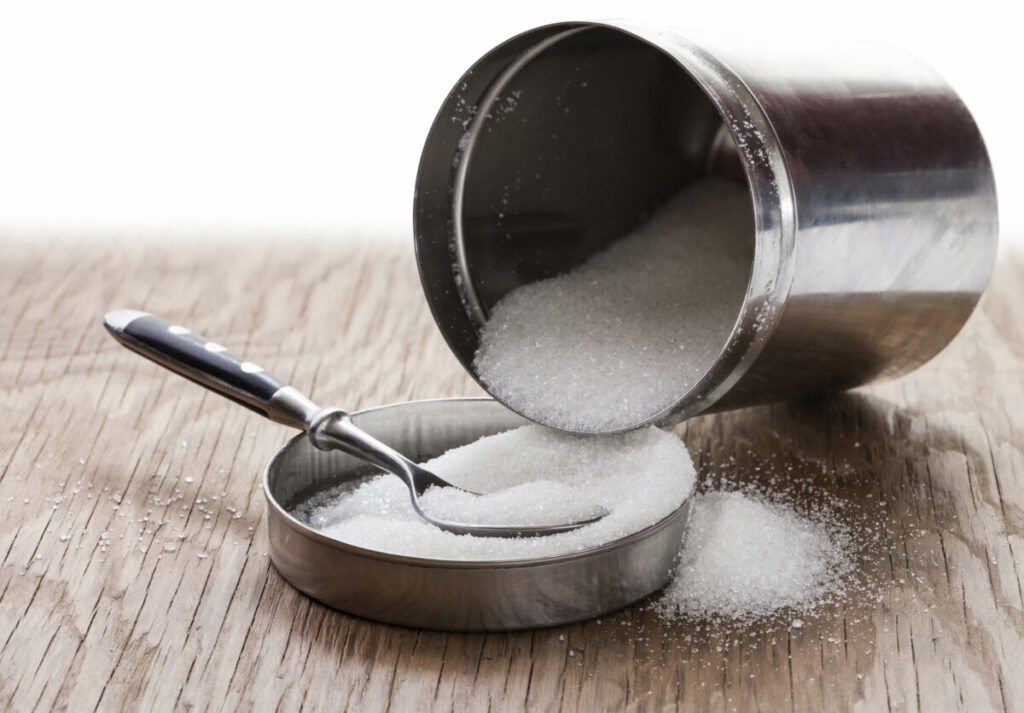 How to Use Allulose (Recipes)
Allulose makes it easier to enjoy your favorite foods while also maintaining your dietary goals. A perfect example would be a burnt basque cheesecake, as it's one of the go-to desserts in keto diet plans and recipes, though some people on a low histamine diet may not be able to tolerate all the ingredients.
However, it's the perfect example recipe because it's baked at a high temperature to get that "burnt" top and super creamy interior. Allulose works especially well in this recipe because it caramelizes at a lower temperature than table sugar.
This food sector newcomer is still not as frequently employed in commercial food and drinks as other sweeteners, mainly due to its high cost. The good news is that it's available as a tabletop sweetener in both crystalline (akin to granulated sugar) and liquid syrup form.
Here are some low histamine, low carb recipes you can try:
Bearing in mind what's been said about how it's less sweet than sugar, you'll have to adjust the sweetness level in your recipes. Another way to remedy this is to combine it with monk fruit or stevia to increase sweetness and create a more balanced flavor profile, but some people may find that it has an aftertaste.
Allulose FAQ
Is allulose good for you?
Yes. One of only 3 sweeteners generally regarded as safe (GRAS) by the US FDA, allulose is a zero-calorie, non-nutritive sweetener. Its physiological impact differs from that of sugar in a good way, and compared to sugar's high calories, it's a way better sweetener overall.
Furthermore, allulose is counted toward the grams of "total carbohydrates" on the Nutrition Facts label rather than "total sugars" or "added sugars," according to the US FDA.
Is allulose absorbed by the body?
No, allulose passes through the body rather quickly without being digested. It doesn't even stay in the mouth to influence cavity production and cause oral damage such as cavities. Some small parts of it may remain in the small intestine, but the majority passes through the GI tract, then rapidly excreted through the large intestine.
What plant Is allulose from?
Allulose is a rare sugar found in the leaves of wheat, in dried fruits such as figs, raisins, and jackfruit, as well as other plant foods like brown sugar, molasses, and maple syrup. It's derived from plants and is considered a monosaccharide.
It's largely manufactured commercially from corn and fructose through an enzymatic procedure that purifies the corn and then extracts its fructose to filter out the pure allulose.
What are the dangers of allulose?
Several studies have shown that allulose is probably safe when used in moderation. Nevertheless, if you're allergic to corn, it's best to stay away from allulose, as commercially-made allulose comes from cornstarch, and cross-contamination may happen at any time.
If consumed in large amounts, it may cause some stomach discomfort, including gassiness, bloating, and queasiness, so more research is needed to learn about all the beneficial and negative impacts of allulose.