Basil is a flavorful and versatile herb that can elevate various dishes with its aromatic freshness and mild licorice undertone. While fresh basil is delightful, you may find yourself with an abundance of it and no desire for pesto, or simply wanting to enjoy it out-of-season.
Luckily there are tons of ways to use up frozen basil, as when basil is properly frozen, it's an excellent ingredient to use year-round. Freezing basil also helps minimize food waste and provides you with a reliable supply for soups, stews, sauces, and many other dishes.
Along with well over a dozen creative ways to use frozen basil, below I cover how frozen basil is different from fresh, how and whether to thaw frozen basil, and the best recipes that use frozen basil.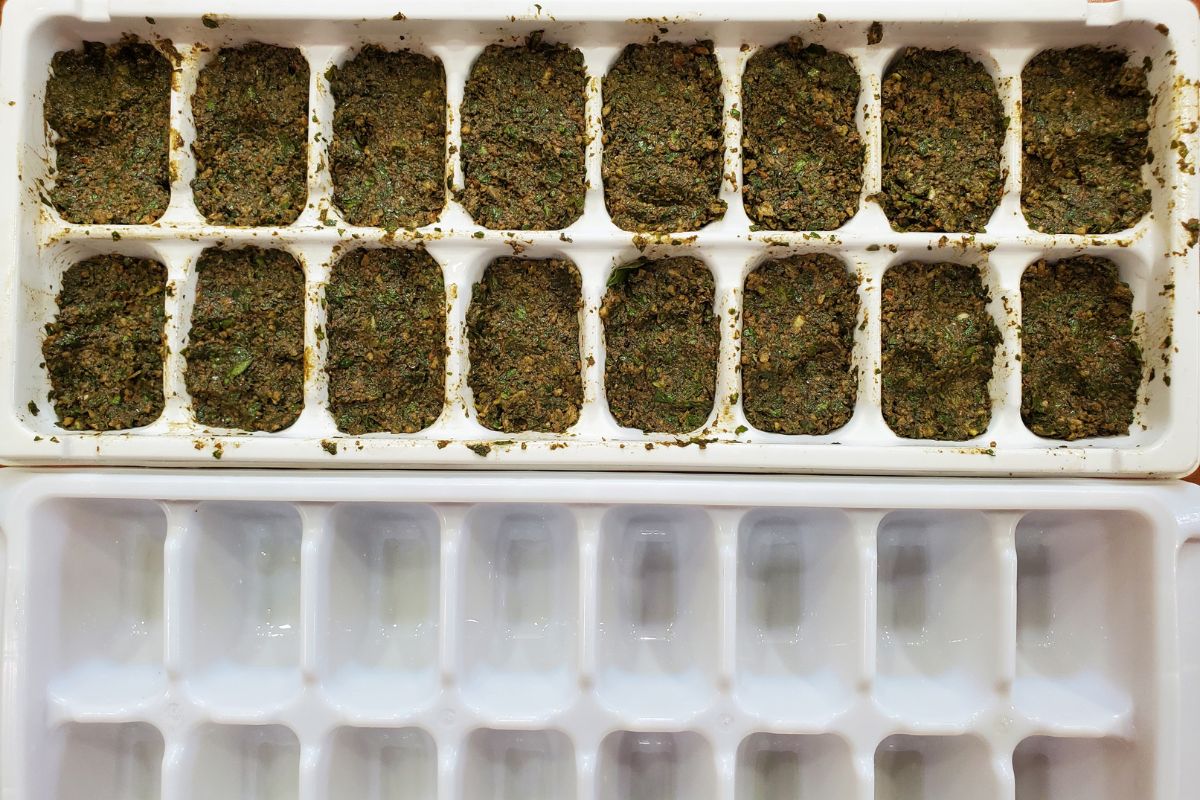 Jump to:
🌿 How Frozen Basil is Different From Fresh Basil
Frozen basil offers a convenient and practical way to preserve this flavorful herb for year-round use. But it's essential to understand how it differs from fresh basil to get the most out of it when it comes to using it in your dishes.
Firstly, the texture of frozen basil is quite different from fresh basil. When you freeze basil, its cell walls break down, making it somewhat limp and less crisp than its fresh counterpart. This doesn't affect the flavor but can change the texture of your dish.
Frozen basil is better suited for cooked dishes like sauces, soups, and stews, where you won't notice the textural difference. Additionally, the taste of frozen basil can be slightly milder than fresh basil.
Freezing slightly alters the basil's aromatic profile, making it less pungent than its fresh counterpart. However, this subtle change in flavor can be a positive thing, especially if you want to add a hint of basil without overpowering your dish.
Finally, storing and using frozen basil differs. When using fresh basil, it's best to add it toward the end of the cooking process to preserve its bright flavor. With frozen basil you can add it earlier in the cooking process, as it releases its flavors more slowly.
Always remember to store your frozen basil in an airtight container or freezer-safe bag to protect it from freezer burn and maintain its quality.
🔪 Thawing and Using Frozen Basil 101
As you may know from using other frozen herbs, not all uses for frozen basil will necessitate defrosting or thawing basil before using it.
🧊 Should You Thaw Frozen Basil?
In most cases, there's no need to thaw frozen basil before using it. Frozen basil can be directly added to almost all recipes in which it can be used, especially in dishes with longer cooking times or recipes requiring high heat.
🥘 Using Frozen Basil in Soups and Stews
When it comes to soups and stews, frozen basil can be an excellent addition. Simply measure out how much you need for your recipe, then drop the frozen basil cubes directly into your pot while cooking. The flavors will blend seamlessly, and there's no need to thaw or chop beforehand, as the frozen herb will meld into the dish perfectly.
🍽️ How to Use Frozen Basil Leaves for Sauces
Frozen basil can also be used in creating flavorful sauces, especially if you have a stronger base you're adding, such as tahini, vinegar, or even cream. If you've stored your basil in ice cube trays, simply remove a cube or two and add them directly into your simmering sauce or food processor (if making pesto).
This method not only saves time but also helps preserve the bright, fresh taste of basil in your recipes. If you prefer the least amount of extra liquid possible, you can also thaw the frozen basil cubes in a bowl, and allow the ice to melt before draining the water and incorporating the thawed basil into your sauce.
🍃 Frozen Basil as a Fresh Herb Substitute
If you're looking to replace fresh herbs with frozen basil, here's how I've always done it. For recipes that call for fresh basil leaves, it's best to use frozen basil by processing the leaves until they're chopped finely.
This method works well for recipes that require cold preparation or just a sprinkle of basil on top, such as salads or pasta dishes. Remember to adjust the amount you use, since the loss of moisture in frozen basil cauces it to have a slightly different potency compared to fresh herbs.
🍽️ Uses for Frozen Basil (Beyond Pesto)
Frozen basil can bring fresh flavor to a variety of dishes, and with its pungent taste, it's an excellent addition to your culinary repertoire. Here are my favorite recipes for using frozen basil in oil, water, or by itself, with stars next to the recipes that use frozen basil in oil.
Though do note that not all of these recipes and options are low histamine, so always cook with your own intolerances in mind.
Savory Recipes Using Frozen Basil
*Creamy Tomato Basil Soup: Elevate your tomato soup with a hint of frozen basil, onions, garlic, and a touch of cream for a delightful, heartwarming dish.
*Minestrone Soup: make this classic dish in the middle of winter by swapping out the fresh basil for the frozen stuff, and it'll taste like a hint of sunshine is in each bite.
*Basil Marinara Sauce: Amp up your marinara sauce with a generous addition of frozen basil for an extra layer of flavor in your next pasta night.
*Basil Salad Dressing: Put a spin on a classic honey viniagrette by combining frozen basil, olive oil, vinegar, and a touch of honey to make a zesty vinaigrette that makes your salads taste like summer at any time of year.
Basil and Ricotta Stuffed Shells: Fill jumbo pasta shells with a ricotta and frozen basil mixture, cover with red sauce, and bake until bubbly and golden.
*Chicken Basil Stir-Fry: Quick and easy, throw together a chicken stir-fry with colorful veggies and frozen basil for a mouthwatering Asian-inspired dish. Try using frozen lemon basil leaves for an even more flavorful twist.
*Basil Pesto Pasta: I had to mention pesto at least once! Cook your favorite pasta and toss it with a delicious basil pesto made from frozen basil leaves, garlic, pine nuts, and olive oil, sprinkling on your cheese of choice as a finishing touch, if desired. Try following one of my favorite pesto recipes.
*Bruschetta with Basil: Top a sliced baguette with a mixture of tomatoes, onion, garlic, and thawed frozen basil for a tasty, gourmet appetizer. This also works well if you've already processed your basil into pesto.
*Thai Basil Fried Rice: Give your fried rice a Thai flair by adding frozen Thai basil, your favorite chilies, and a dash of fish sauce and vinegar, creating a delightful, aromatic dish.
*Garlic Basil Mashed Potatoes: For a tasty spin on classic mashed potatoes, mix in frozen basil and roasted garlic for an extra burst of flavor.
In Casserole or Lasagna: Prepare a comforting baked pasta dish by layering lasagna noodles, red sauce, your favorite squash or root vegetable, and ricotta cheese with smatterings of frozen basil in each layer.
Lemon Basil Chicken: Roast a whole chicken with a frozen basil and lemon herb butter (or simple lemon basil compound butter), ensuring a moist and delicious main course.
Basil Eggplant Parmesan: Bake layers of eggplant, frozen basil, red sauce, and Parmesan cheese for a satisfying, vegetarian-friendly meal.
Basil Butter: or even compound herb butter, swapping the mix of fresh herbs for twice as much frozen basil.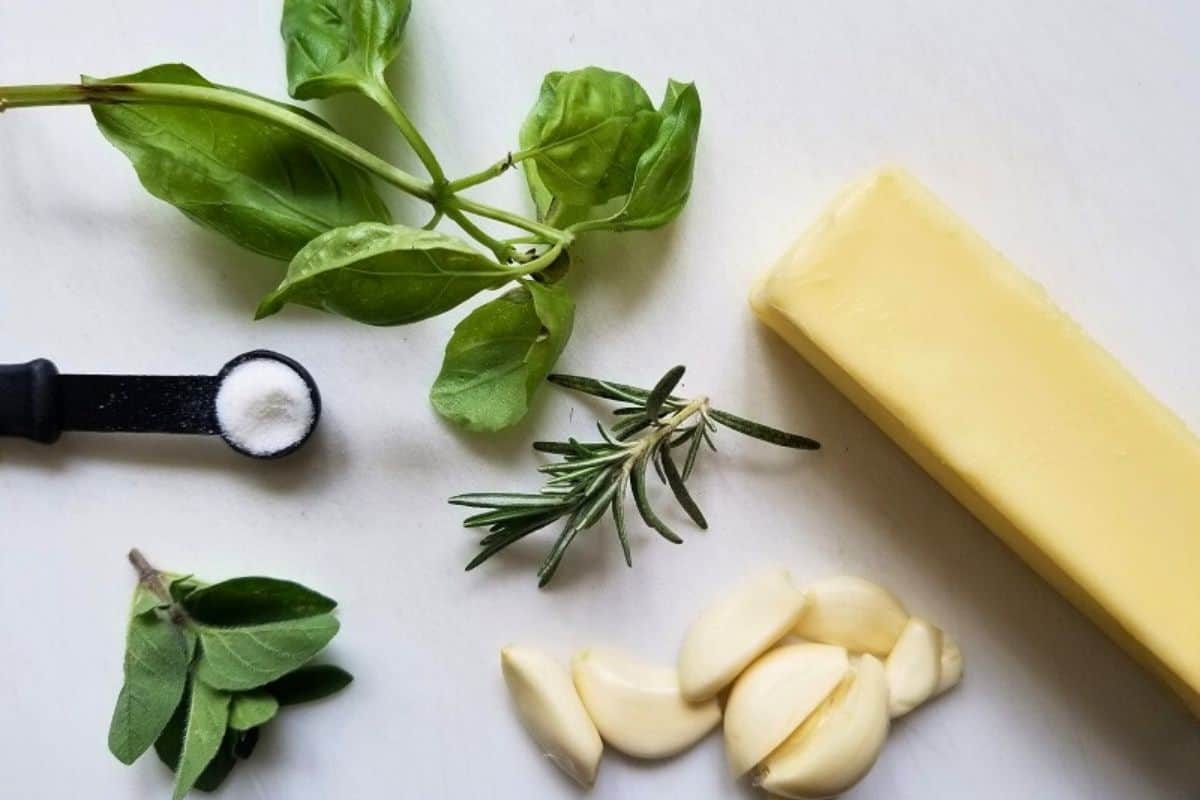 Spaghetti with Basil Meatballs: Mix thawed frozen basil leaves into your favorite meatball recipe, then toss everything in white or red sauce for a hearty pasta dish.
*Basil Gnocchi: Prepare a comforting meal by cooking fresh or store-bought gnocchi and tossing it with a frozen basil-infused butter sauce.
Basil Tomato Grilled Cheese: Upgrade the classic grilled cheese sandwich by adding sliced tomatoes and frozen basil for an extra burst of flavor.
*Bean & Basil Stew: Simmer your favorite type of beans, vegetables, and frozen basil in a savory broth for a delicious, comforting stew - perfect for a chilly day.
Basil Cauliflower Rice: Saute cauliflower rice with garlic, a dash of paprika, and frozen basil in oil for a healthy and tasty side.
*Basil Marinade: while this may work best when using pesto, you can also add terrific flavor to quick marinades by adding in a bit of chopped frozen basil, ideally with a bit of oil, garlic, and lemon juice.
*Sautéed Vegetables: pick any of your favorite vegetables, frozen or fresh, and sautee them with some oil and frozen basil or even basil frozen in oil. Add a pinch of salt and some chopped garlic for extra flavor.
Basil-Infused Vodka: this is a great way to use up a lot of frozen basil, especially any of the more specialty varietals like lemon basil or cinnamon basil, to add a twist to your cocktials. The process works for almost any pure alcohol, and the best part is, once it's as infused as you'd like, you can store your new basil vodka in the freezer.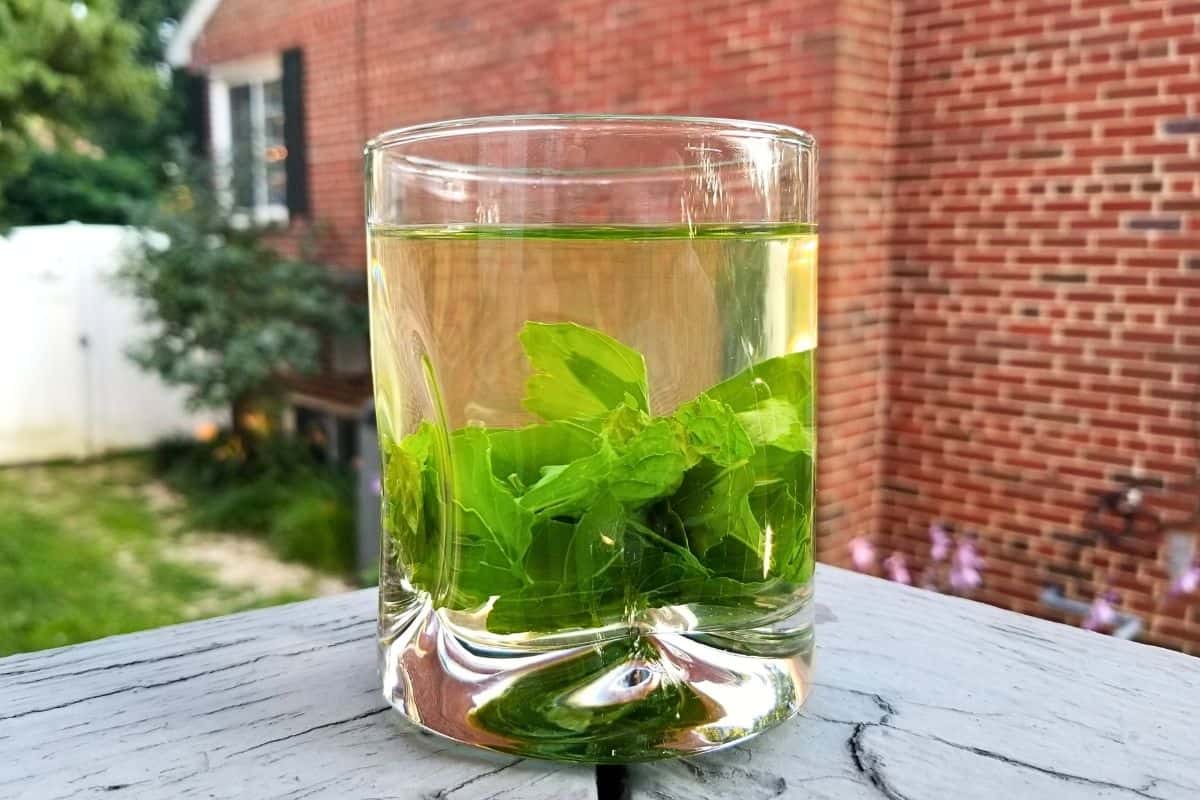 Sweet Recipes Using Frozen Basil
Brewed Basil Tea: to use up chopped basil in water or even whole leaves, you can make basil tea using any varietal you have on hand, though I particularly like making lemon basil tea and serving it with honey.
Basil Lemonade: Refresh your taste buds by adding frozen basil to a pitcher of homemade lemonade for a unique, herbal twist. Be sure to let it sit for at least 15 minutes to fully infuse before serving, or even use a basil simple syrup.
Basil Simple Syrup: making simple syrups is much more simple than they seem, and I even have a basil simple syrup recipe on the site, which you can make with frozen basil as a direct swap for the fresh stuff.
Basil Nice Cream: 'Nice cream' is basically a vegan ice cream with the same creamy flavor as the dairy stuff, but no animal products. Making my blueberry basil nice cream is a great way to use up old frozen basil before your next harvest.
Make Popsicles: fruit popsicles go surprisingly great with basil leaves, with the most popular options being sweet picks like pinepaple, watermelon, and even blueberry basil popsicles.
With these recipes, it's easy to make frozen basil a staple in your everyday cooking. Give these dishes a try, and don't be afraid to experiment with your own basil creations. Frozen basil is much more versatile than it may seem at first glance!
🙋🏻‍♂️ Frequently Asked Questions
What is the best method to freeze basil?
The best way to freeze basil is either as pesto or as whole unblanched basil leaves.
How can I substitute frozen basil for fresh basil in recipes?
You can substitute frozen basil for fresh basil in most recipes, but they won't work for anything which relies upon the whole basil leaves being crisp and intact, like a caprese salad.
How can I substitute frozen basil for fresh basil in recipes?
You can substitute frozen basil for fresh by using the same amount of frozen basil in your dish as the amount of called-for chopped basil. Just make sure to thaw the basil cubes in a bowl and let the ice melt, then drain the water before adding it to your recipe.
How do you make basil pesto with frozen basil cubes?
To make pesto with frozen basil cubes, let them thaw at room temp and drain any excess water. Combine the thawed basil with pine nuts, garlic, olive oil, and salt or cheese in a blender or food processor. Blend until you achieve a smooth consistency. Follow my basil pesto recipe for interesting variations.
📖 Recipe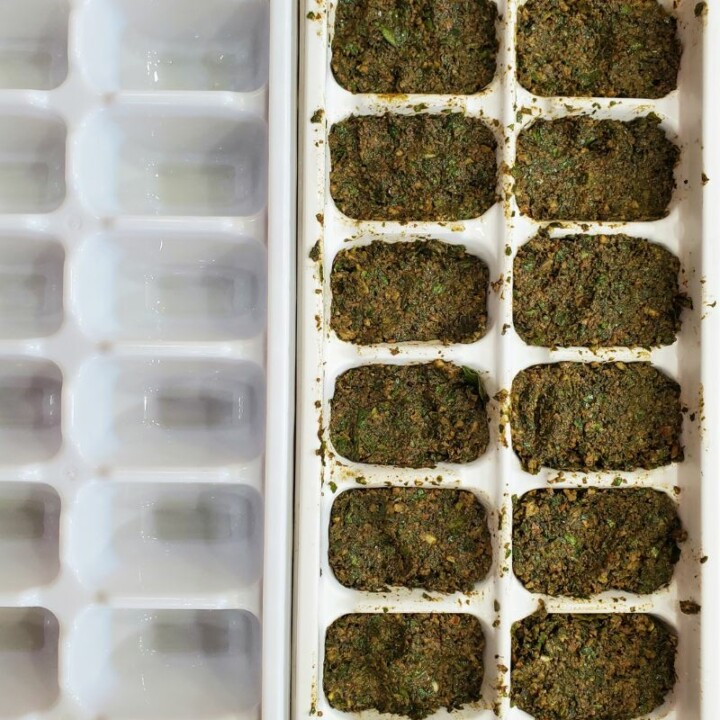 Instructions
Bruschetta with Basil

Creamy Tomato Basil Soup

Minestrone Soup

Basil Marinara Sauce

Basil Salad Dressing

Basil and Ricotta Stuffed Shells

Chicken Basil Stir-Fry

Thai Basil Fried Rice

In Casserole or Lasagna

Lemon Basil Chicken

Spaghetti with Basil Meatballs

Basil Gnocchi

Basil Tomato Grilled Cheese

Bean & Basil Stew

Basil Cauliflower Rice

Basil Marinade

Sautéed Vegetables With Frozen Basil

Basil-Infused Vodka

Basil Lemonade