It's finally springtime here in DC, today has been a good energy day, and I have a low histamine smoothie recipe for you! I've recently developed an ulcer, likely from years of GERD and nighttime reflux (feel free to read more about my health journey here), and so I've started having a smoothie once a day, to keep the pressure off my esophagus. This has necessitated that I find an abundance of low histamine smoothie recipes to keep my taste buds entertained for the month or two I need to heal, and there's a dearth of options out there.
So I'm developing my own. This low histamine green smoothie recipe is my way of sneaking more veggies & nutrients into my diet while still satisfying my sweet tooth. Not only does it feature several antihistamine foods, but it also contains apple and ginger to help soothe the inflammation in my digestive tract, and salt to help replenish electrolytes.
While this smoothie tastes misleadingly light, it has quite a high fiber content, so I've been having it in place of my morning meal and I'm still left feeling full. Once I froze half of it as ice cubes and had it the next morning, but I had to put the ice cubes back into the blender to return it to smoothie consistency. If you give it a try, please let me know what you think in the comments below!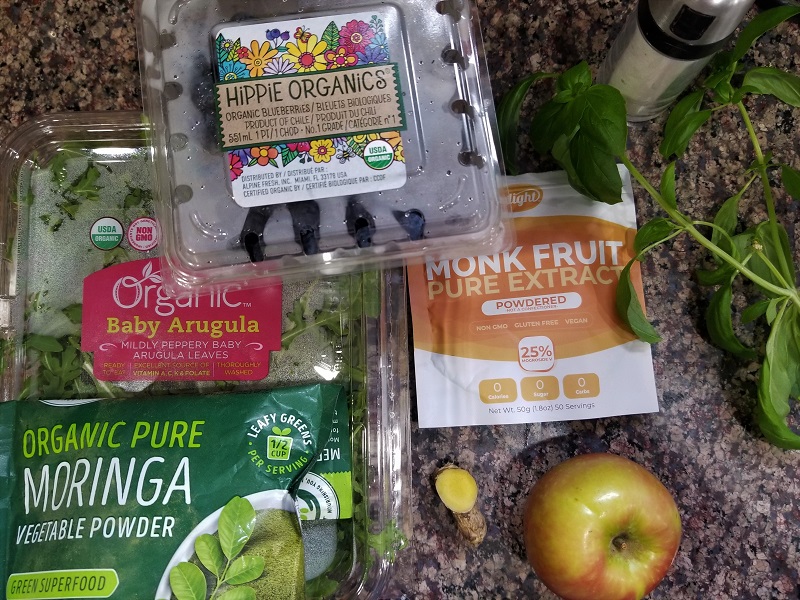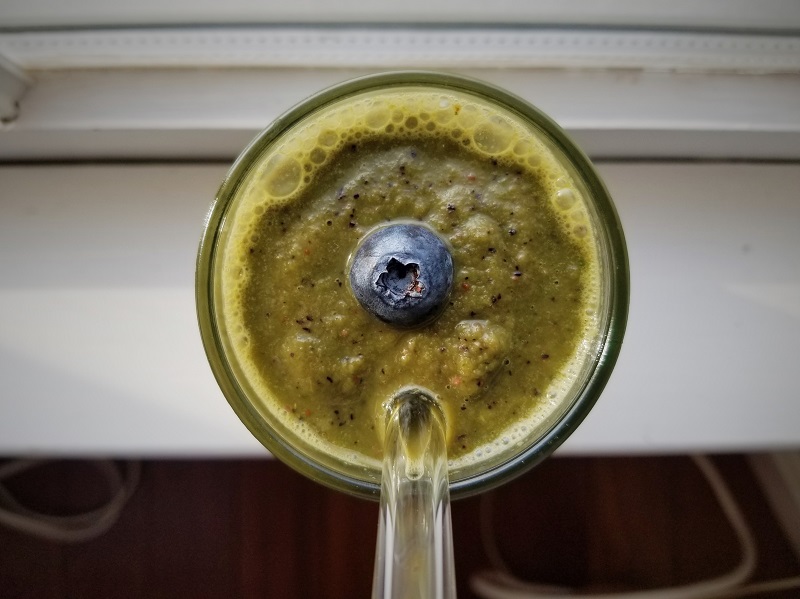 Green Smoothie
A crisp spring smoothie recipe that's full of greens and balanced out by sweet apples & blueberries.
Ingredients
1" fresh ginger, cut into small pieces (~1.5 teaspoons)
1/2 cup oat milk (more as needed)
handful fresh basil
2 teaspoons moringa powder
1/8 teaspoon pure monk fruit powder
pinch of salt
2 small organic apples, cut into pieces skin-on
1/2 cup frozen organic blueberries
1/2 cup baby arugula (packed)
handful pea sprouts (optional)
Instructions
Put the ginger, milk or water, basil, moringa powder, monk fruit, and a pinch of salt into your blender and blend for 30 seconds, until smooth.
Add the arugula & sprouts (if using) to the blender and blend for another 10 seconds.
If you'd like to add a tablespoon of protein powder, now is the time. Then add the apple & blueberries and blend for another 30 seconds.
Serve over ice and enjoy!
Notes
Protein: You can add 1 Tablespoon protein powder to this without changing the flavor much, but anything more and it starts to affect it.
Milks: This goes well with oat milk, almond milk, or water, all of which can be frozen into ice cubes and blended as such in step 1.
Monk Fruit: Can substitute this 1:1 for stevia powder.
Arugula: The same with adding any more arugula, though if you'd like to add more greens, consider swapping out your 1/2 cup of baby arugula for 1 cup of baby kale.