Wondering how to use up extra lemon basil from the garden? Try making some tea with lemon basil and honey! This aromatic combination is strongly antihistamine, compounded by the (optional) addition of another antihistamine herb: ginger root. Figuring out how to make tea with lemon basil, ginger, and honey is as simple as following the proper ratios below.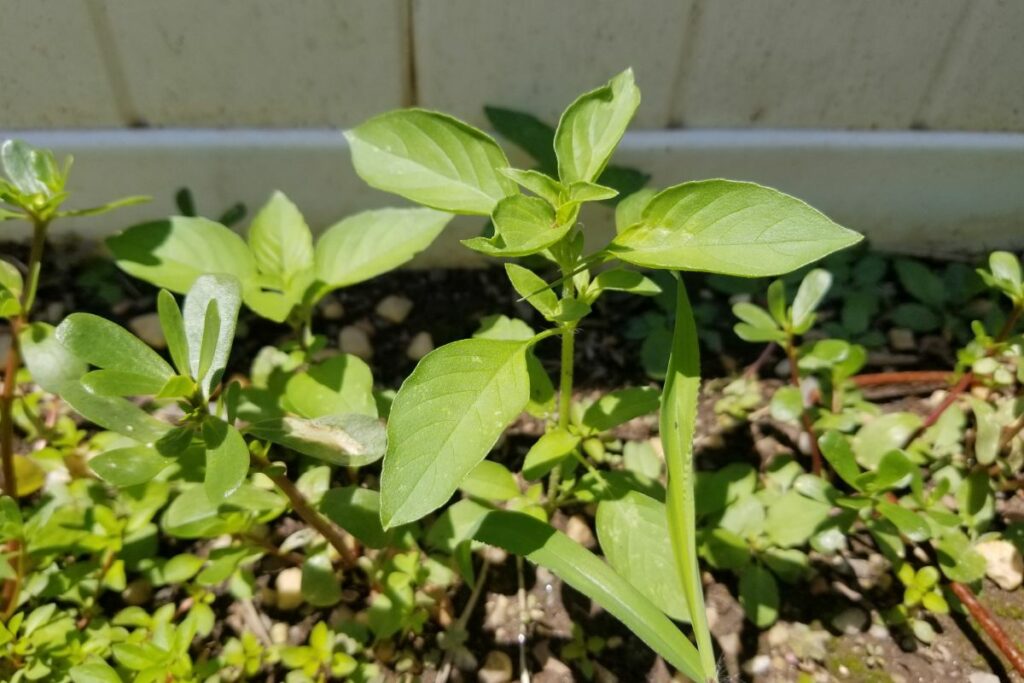 About this recipe
Super simple. Just like with my tulsi tea, it couldn't be easier to make and customize this tea with lemon basil, ginger, and honey. The lemon basil has an inherently mild lemon flavor that blends well with a variety of other herbs.
Natural antihistamine. You can make a huge variety of herbal low histamine teas, but the best ones for you will be those which make use of large amounts of fresh herbs. I even eat the basil leaves once I've finished my tea!
Easy to freeze. I grow lemon basil every year (it even popped back up on its own last year!), and making tea out of it is a great way to use up extra lemon basil. If you use just half the amount of water in the recipe, you can even turn it into ice cubes and enjoy it year-round!
Ingredients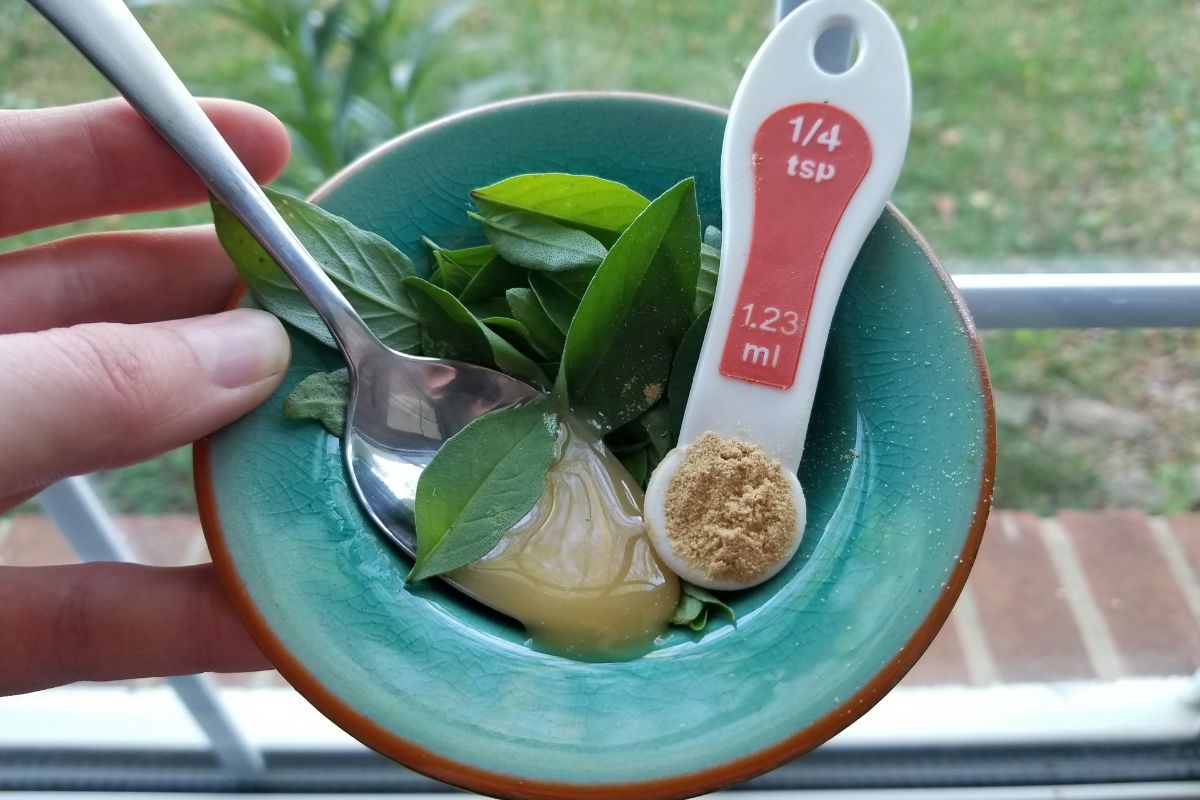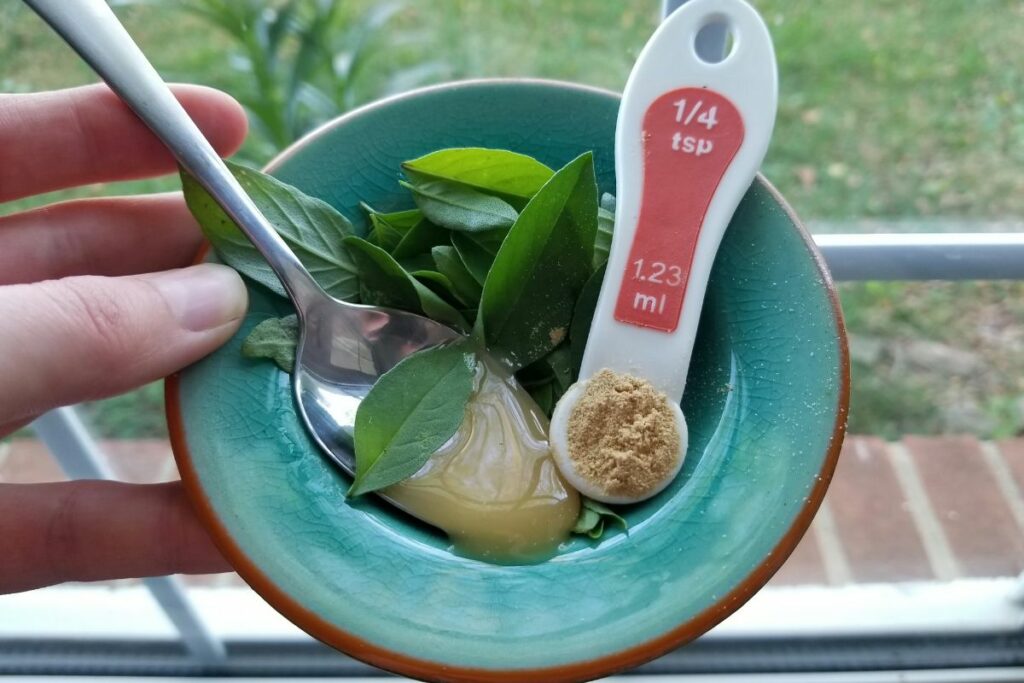 Lemon Basil: this type of basil is much smaller than the common sweet basil, more closely resembling mint leaves than the Italian Sweet Basil we use in pesto. We planted it one year, and it's come back up on its own every year since! I find that it tastes like a citrusy, more mild version of regular basil, the essential oils so potent that it burns the tongue a bit when eaten uncooked.
Ginger (optional): possibly the best-known low histamine spice, ginger is the sharp, mildly sweet root of a flower; it's been used for thousands of years in dishes both sweet and savory. If you don't like ginger, alternatives include mint, chamomile, sage, wild lavender, and galangal.
Manuka Honey (optional): there are a multitude of low histamine sweeteners you can use in tea, but by far my favorite is manuka honey. Not only is it great for the digestive system, but manuka honey has been proven to lessen allergy symptoms, like those of histamine intolerance. For an alternative, try my sugar-free simple syrup.
How to make lemon basil tea: step-by-step instructions
Step 1. Set 1 cup of water to boil on high, then wash your lemon basil and cut & peel your ginger (if using fresh).
Step 2. Once the water is boiling, turn off the heat but leave the pot on the hot burner. Then chop or tear each leaf in half and add them to the pot, stirring them in to make sure they all get wet. Then put the lid on and let the mixture steep for 7-10 minutes; any longer and the tea will start to get bitter, due to the the essential oils in the lemon basil.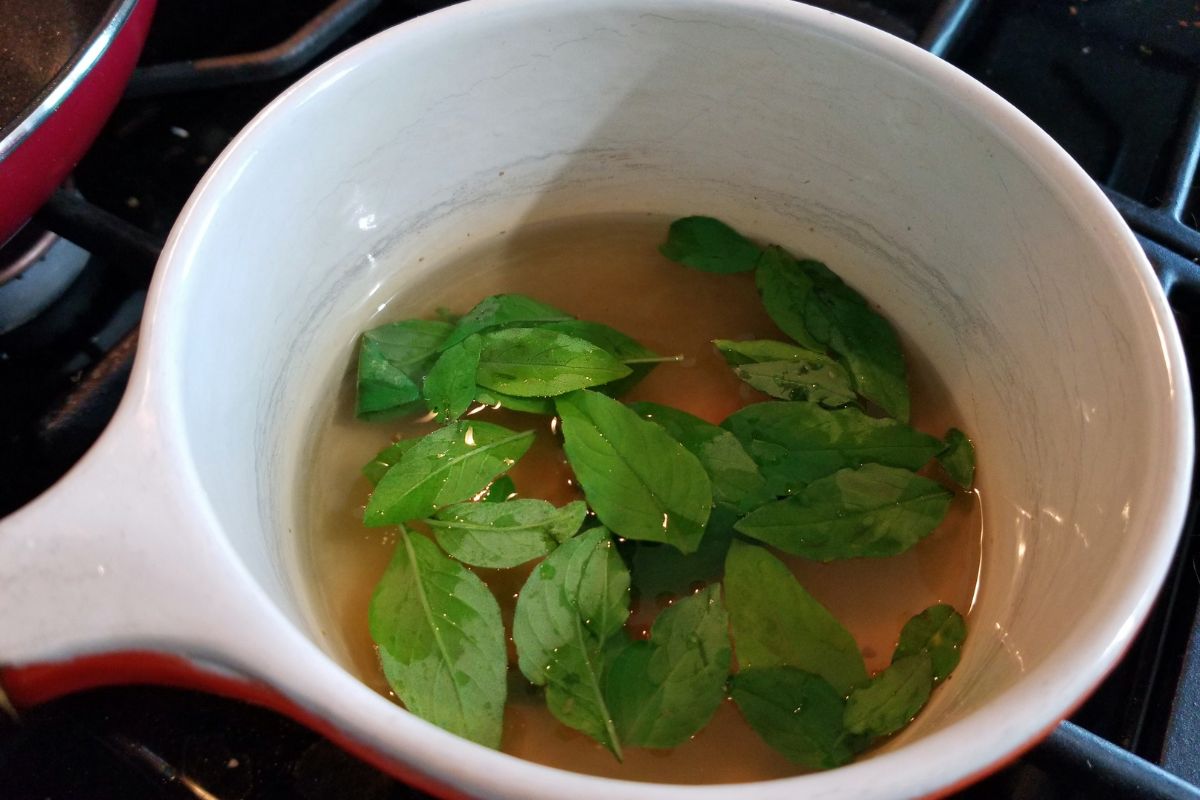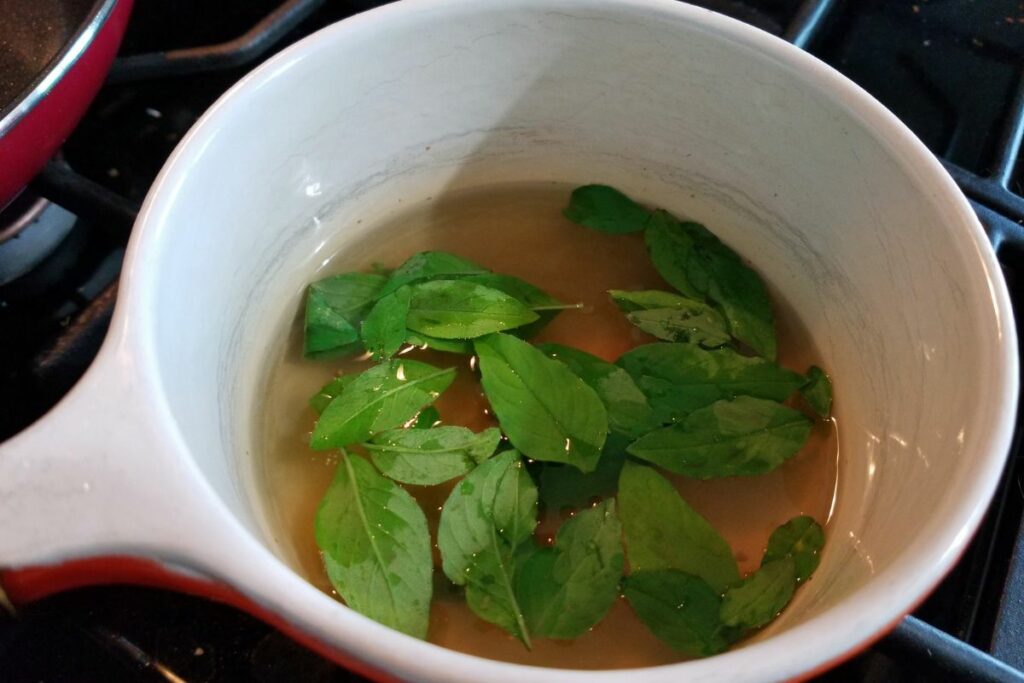 Step 3. Pour the hot mixture into a mug, straining it through a sieve unless you like to eat the leaves and ginger bits afterwards (for more nutrients; they don't taste like much, and they're sweet from the honey you're about to add!). Then stir in ½ to 2 teaspoons of manuka honey, and enjoy.
Recipe notes & tips
What does lemon basil taste like?
Lemon basil tastes lightly of lemon oil with herbal undertones, like a cross between lemongrass and sweet basil. It has a very biting sting when eaten raw, so I'd always recommend consuming it cooked or otherwise added to a warm dish.
How long does lemon basil tea last?
You can make this tea ahead of time and keep it covered on the stove for an afternoon, but any longer and I'd turn it into ice cubes to reheat when I'd like more tea.
Can I skip the ginger, or use a different herb?
Yes! You can make lemon basil tea with just the lemon basil leaves, or you can add any type of complementary herb or sweetener to the brew. I recommend either mint, chamomile, or another member of the Lamiaceae family, particularly rosemary or lavender.
What to do with lemon basil
use it as a base for a quick sauce
throw it into a veggie stir-fry with garlic & ginger
turn it into a simple pesto
chop it up and layer it onto salmon or other tolerated seafood
substitute it for sweet basil in recipes like this nice cream, which benefit from lighter flavors
Homemade Lemon Basil Tea Recipe Card
As always, if you like the recipe, I really appreciate a review or comment!
📖 Recipe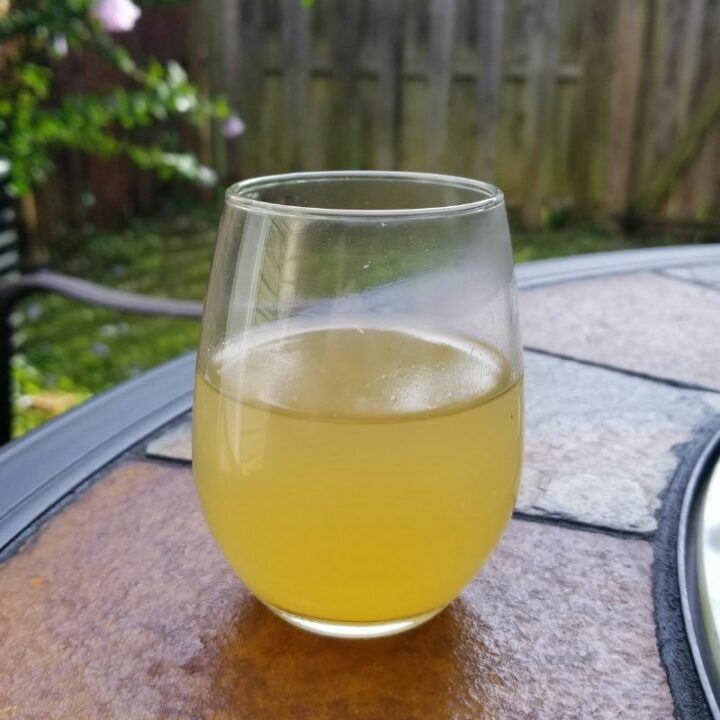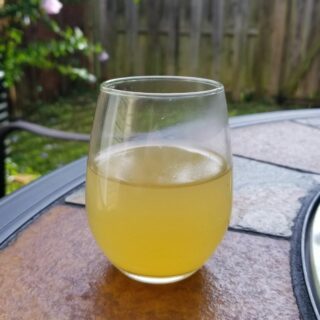 How to Make Tea With Lemon Basil
A customizable recipe for making lemon basil tea at home with ginger, using either fresh basil or dried.
Ingredients
1

Cup

water

small handful lemon basil leaves

~20 leaves

¼

teaspoon

ground ginger or thin slice fresh ginger

1

teaspoon

honey
Instructions
Boil 1 cup of water, then once boiling, turn off the heat and throw in the lemon basil leaves & ginger.

Steep the mixture for 7-10 minutes; any longer and the tea will start to get bitter.

Strain the tea through a tea strainer if you mind the leaves or ginger bits, and then stir in the honey and enjoy!
Notes
LEMON BASIL. If you want to get a sense of what this tea would taste like, but don't have any lemon basil leaves on hand, you can make this tea with regular basil leaves and a squeeze of fresh lemon juice.
GINGER. For those who don't have or don't like ginger, you can sub ~¼ teaspoon of any other herb; I'd highly recommend mint or lavender.
Nutrition
Serving:
1
g
Calories:
25.09
kcal
Carbohydrates:
6.35
g
Protein:
0.38
g
Fat:
0.08
g
Sodium:
5.6
mg
Fiber:
2
g
Sugar:
5.79
g
Save this post for later!