To counteract sugar's growing negative effects, a multitude of different natural and artificial sweeteners have been developed and used as hopeful replacements. Of the many sweeteners developed for the market today, the US FDA only deems three 'non-nutritive sweeteners' as generally safe to use.
These are allulose, monk fruit, and stevia. In this article, we'll compare the first and last of these, allulose and stevia, to find out which sweetener you should choose if you want a sugar substitute that's best suited for your particular needs.
We'll go right through everything from their nature and processing to how they're digested by the body, caloric value, glycemic index score, and any health benefits or drawbacks of each sweetener.
Medical Disclaimer: as with everything on this site, this article is provided for information only. I strongly urge you to speak with your doctor or a licensed medical professional in order to assess whether or not you have histamine issues and/or other medical issues.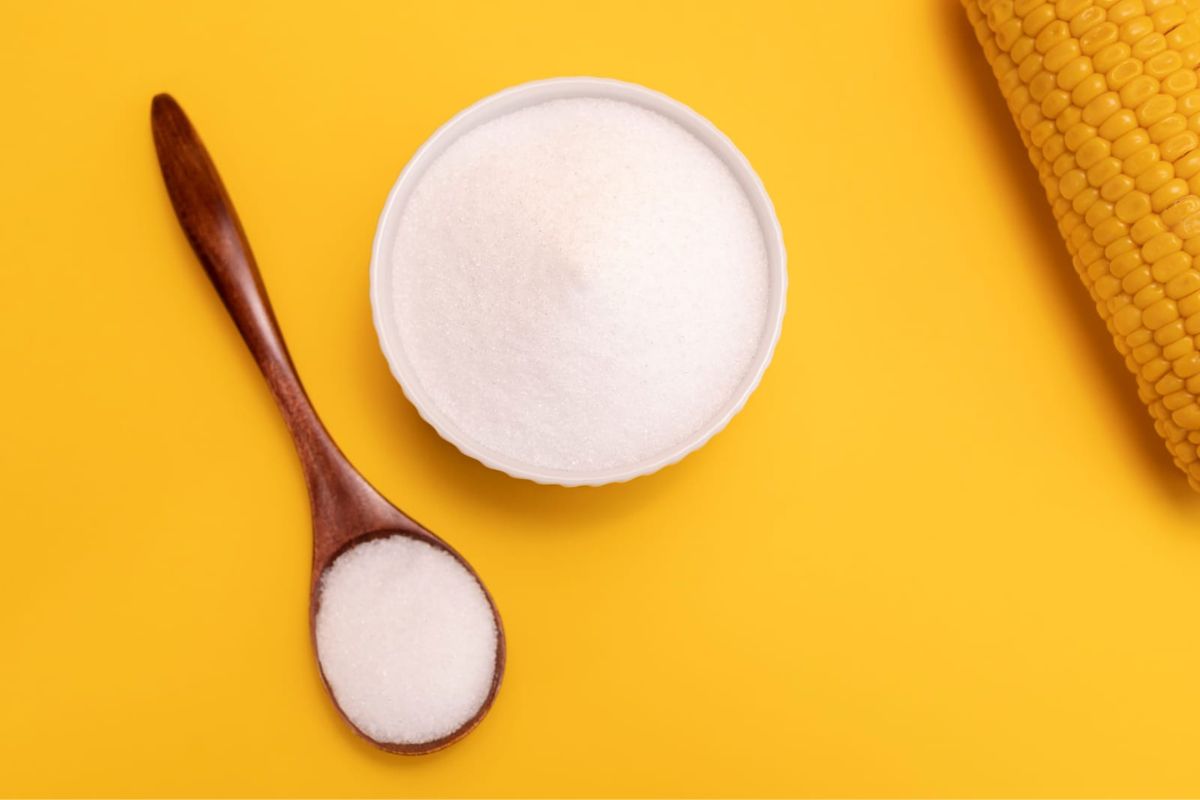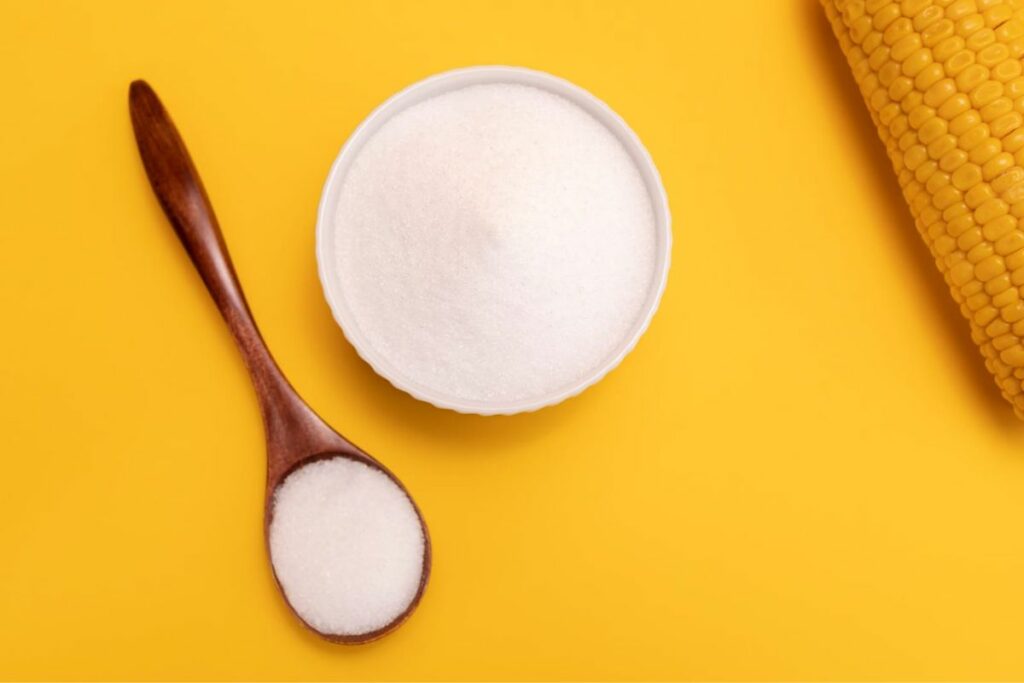 What is Allulose?
Allulose, also known as D-psicose, is a low-calorie monosaccharide that's considered a rare sugar, as it's found in small amounts in wheat and sugarcane leaves, fruits like figs, raisins, jackfruit, and other sweet foods like brown sugar, molasses, and maple syrup.
This rare sugar has a molecular structure identical to fructose but with different characteristics. It tastes quite similar to regular sugar, though it's approximately 70% as sweet with only 10% of the calories.
This sweetener is an almost perfectly-developed swap for sugar as it behaves quite similarly in a dish, providing texture and a distinctive mouthfeel to baked goods and other dishes. Allulose has even received a Generally Recognized as Safe (GRAS) from the United States Food and Drug Administration.
This means the sweetener has been approved for use as a sugar substitute in baked products, chewing gum, snacks, hard candies, frozen dairy desserts, yogurt, cereals, and carbonated and non-carbonated diet drinks.
On a more personal note, this rare sweetener can't technically be considered rare anymore, as it can be commercially manufactured through a process known as enzymatic conversion, which involves deriving fructose from corn.
This process mainly involves transforming corn kernels into starch, which is then processed into syrup. The syrup is then treated with an enzyme, converting some of the glucose into fructose. This fructose is then converted again, and the enzymes are removed, resulting in a highly concentrated extract that we know today as allulose.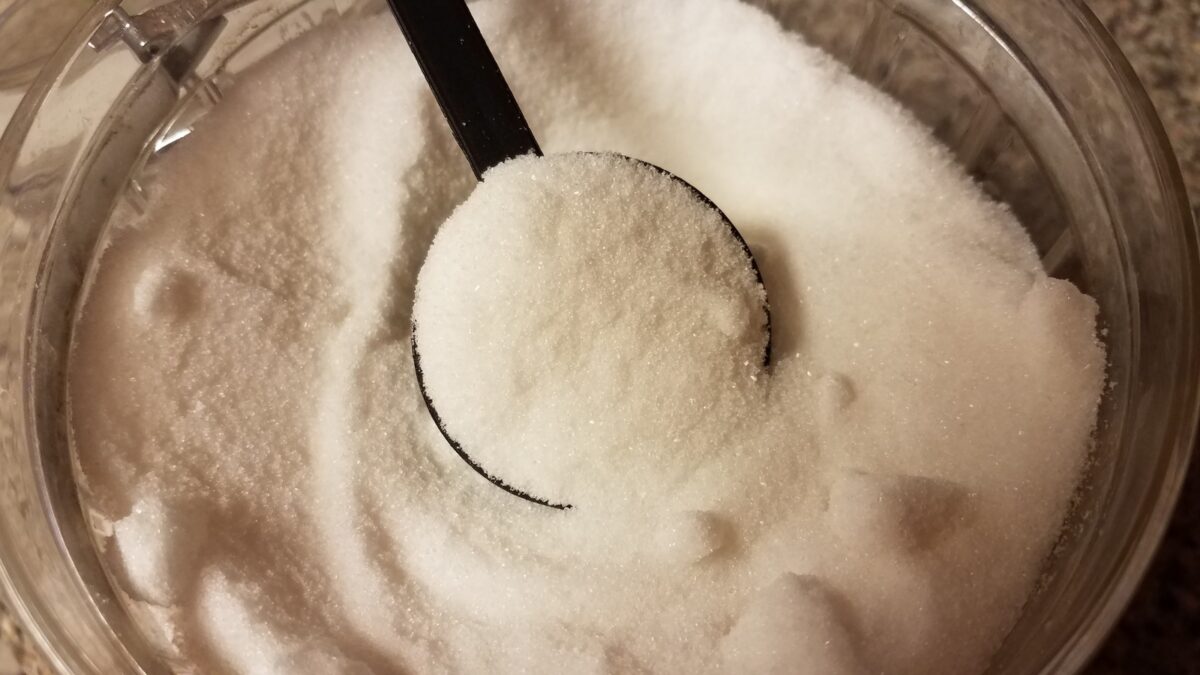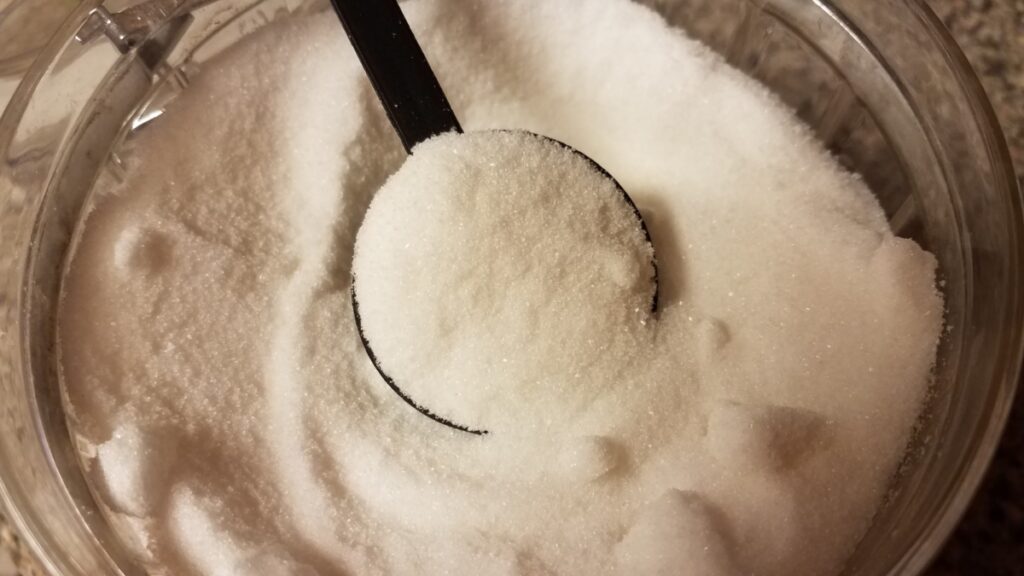 What is Stevia?
Native to South America, stevia is an herbal flowering plant known as Stevia rebaudiana. This plant's unique sweetness is derived from the naturally occurring compounds in its leaves known as steviol glycosides. The most common of these compounds are stevioside and rebaudioside A (or reb-A).
It's also a zero-calorie sweetener with a sweetness 200 to 400 times greater than sugar's, making it a superb swap for the synthetic sweeteners more commonly used in beverages, desserts, and other foods. Stevia is also available in various forms, starting with raw stevia, which can be used dried or as a crude extract.
Another variation is a minimally processed pure stevia leaf extract, which involves boiling it in water or alcohol, and a less common form is highly-processed stevia blended with other sweeteners. This highly processed stevia sweetener, as opposed to pure stevia leaf extract, contains chemicals and additional sugars such as sugar alcohol.
Steviol glycoside extraction, which purifies and removes some of the bitter attributes of the crude extract, is a key step in its production before filtration and, finally, the end product. They can also come in liquid or powdered form, granules, and sugar cubes and are also quite sweet, so only a small amount is required to boost the flavor of foods.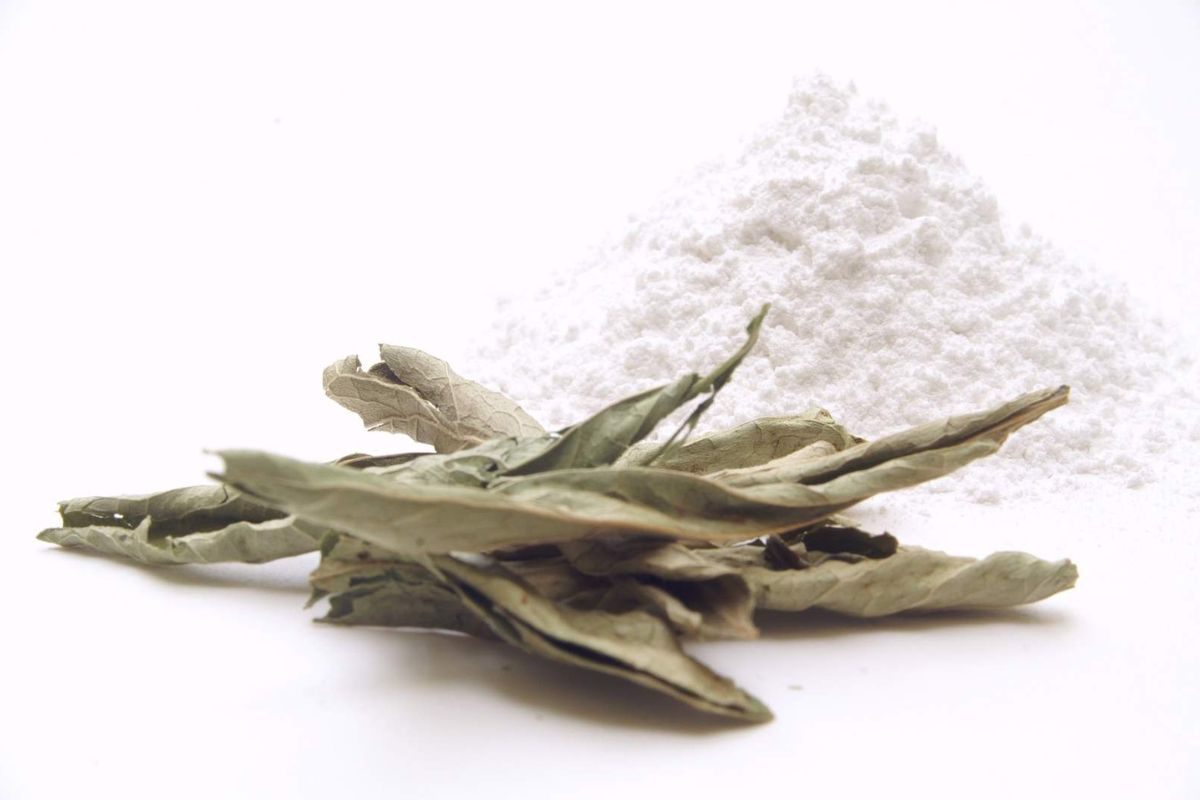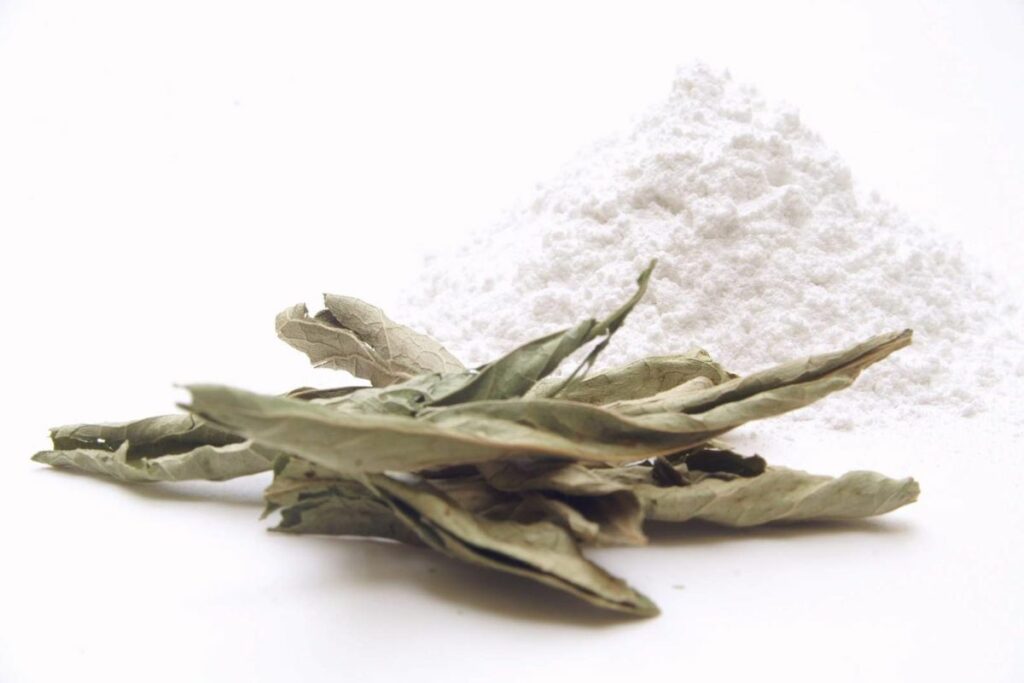 Allulose vs. Stevia: The Main Differences
Two natural sweeteners that have emerged as stars in the domain of guilt-free enjoyment are allulose and stevia. Though they have unique characteristics that make them distinct, it's undeniable that their individuality transformed the world of natural sweeteners. But does anything make one better than the other?
Origin
Allulose is a naturally occurring rare sugar found in small amounts in certain fruits and plant foods, while stevia's sweet flavor is derived from a chemical abundant in the leaves of the Stevia rebaudiana plant.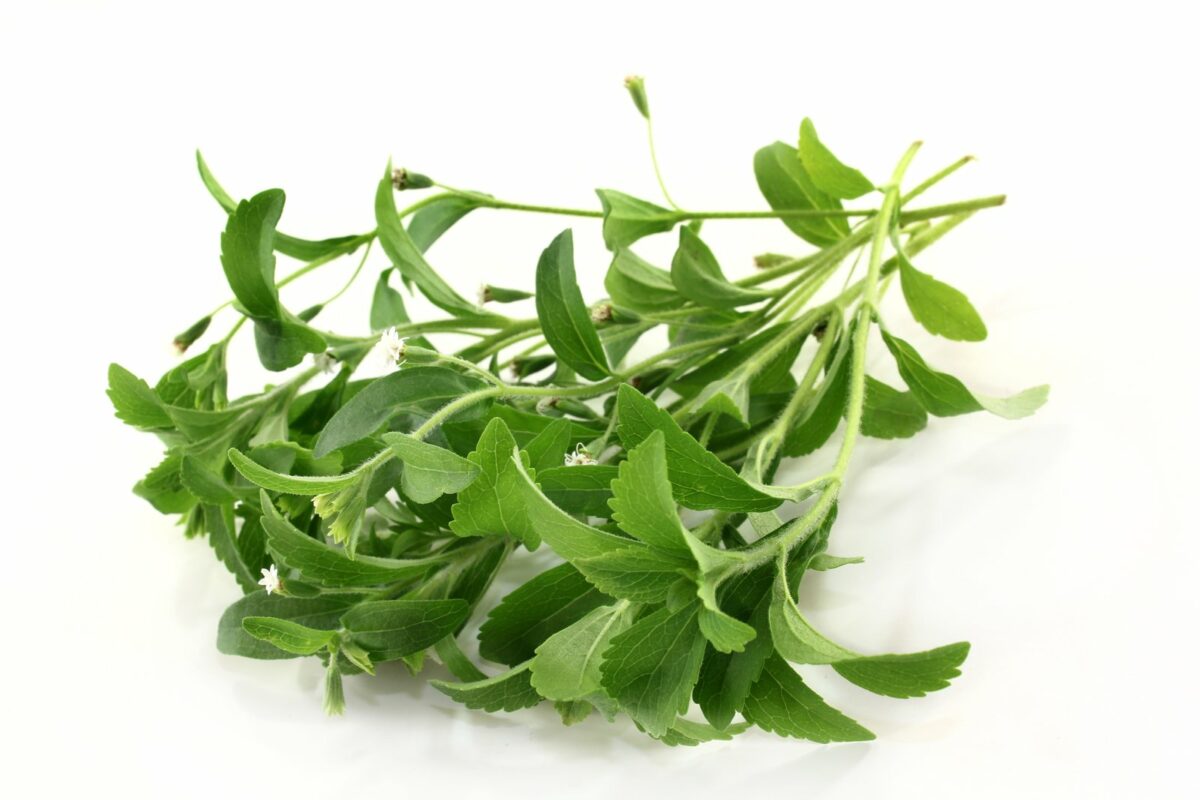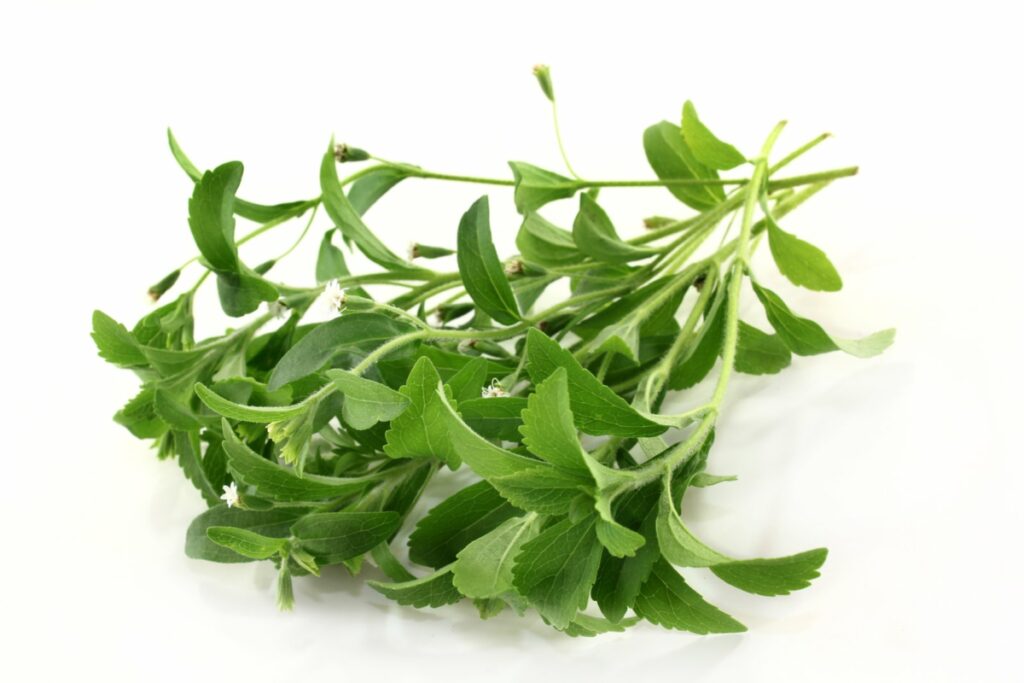 Taste and Sweetness Level
Even though both are sugar replacements, allulose has a closer flavor to sugar, while stevia has a slightly bitter aftertaste for some people. Although allulose also has a slight cooling sensation after consumption, both may take some getting used to.
In terms of sweetness, allulose is roughly 70% as sweet as regular table sugar, whereas stevia is 200 to 400 times sweeter. This puts stevia in a stronger position, as it has a markedly stronger sweetness, which means you can use less of it than you'd typically would with sugar.
Caloric Content
Allulose has 0.2-0.4 calories per gram, which is almost 90% less than ordinary sugar. Stevia, on the other hand, is comparable to water in the sense as it's calorie-free, even if you were to use a very large amount of it, like a tablespoon (equivalent to 6-12 pounds of white sugar).
For most people, this is yet another key selling point for consumers trying to cut calories or regulate their blood sugar levels. This doesn't mean you should disregard allulose, though, as its calorie content is still pretty low, and since it can't be metabolized by the body, it's also functionally calorie-free. Further adding to its perks is its comparable taste to sugar that makes it a perfect natural sugar swap.
GI Score
Allulose has a low glycemic index of 0-1, which means it does not induce jumps in blood sugar levels when consumed. Though compared to stevia, it still falls short, as stevia has a glycemic index of zero, indicating that it has absolutely no effect on blood sugar levels.
Although stevia is the better choice if you compare them one-to-one, the zero to low glycemic index scores still makes both sweeteners a good choice for diabetics or anyone wanting to control their blood sugar levels.
How Are They Digested By The Body?
Allulose and stevia are both low-calorie sweeteners that the body can not fully digest, meaning they pass through the digestive system without being used for energy. Steviol glycosides are not digested by gastrointestinal digestive enzymes and are, therefore, not absorbed through the GI tract.
Both allulose and stevia also have very little influence on blood sugar levels and insulin secretion because they're not digested, making them attractive alternatives for anyone trying to manage blood sugar spikes.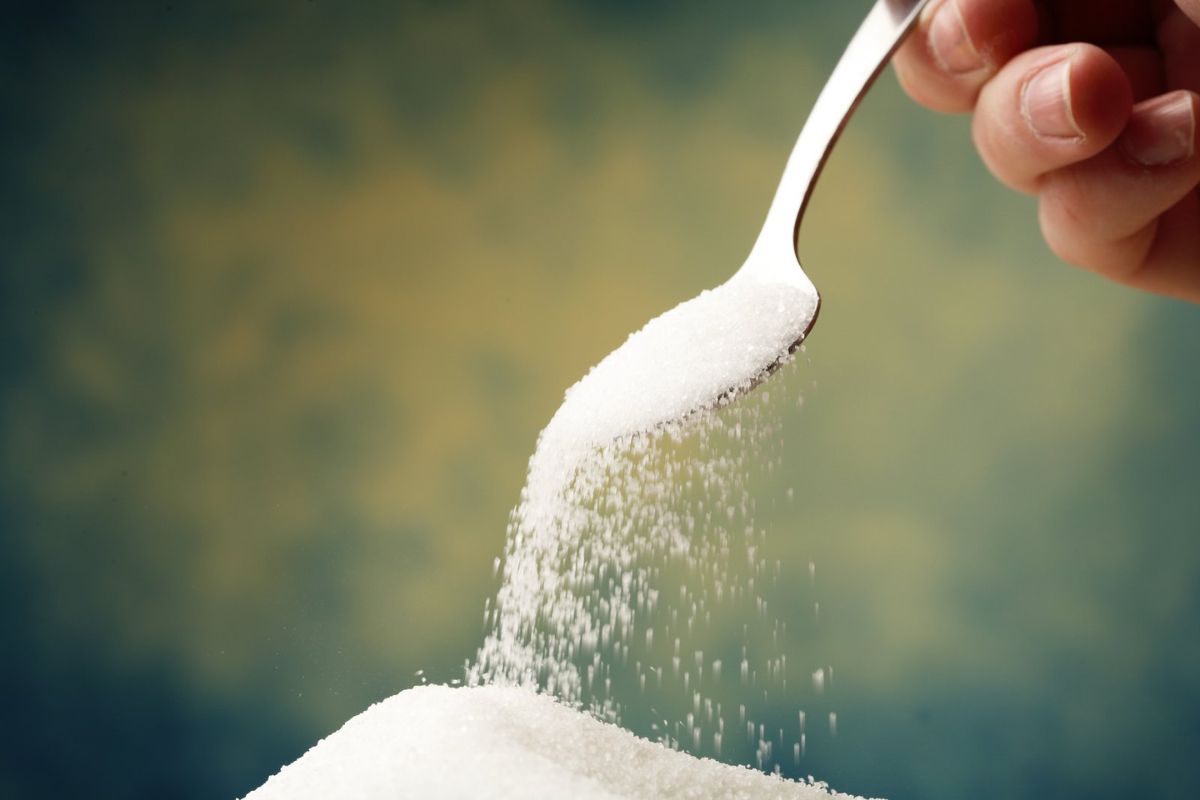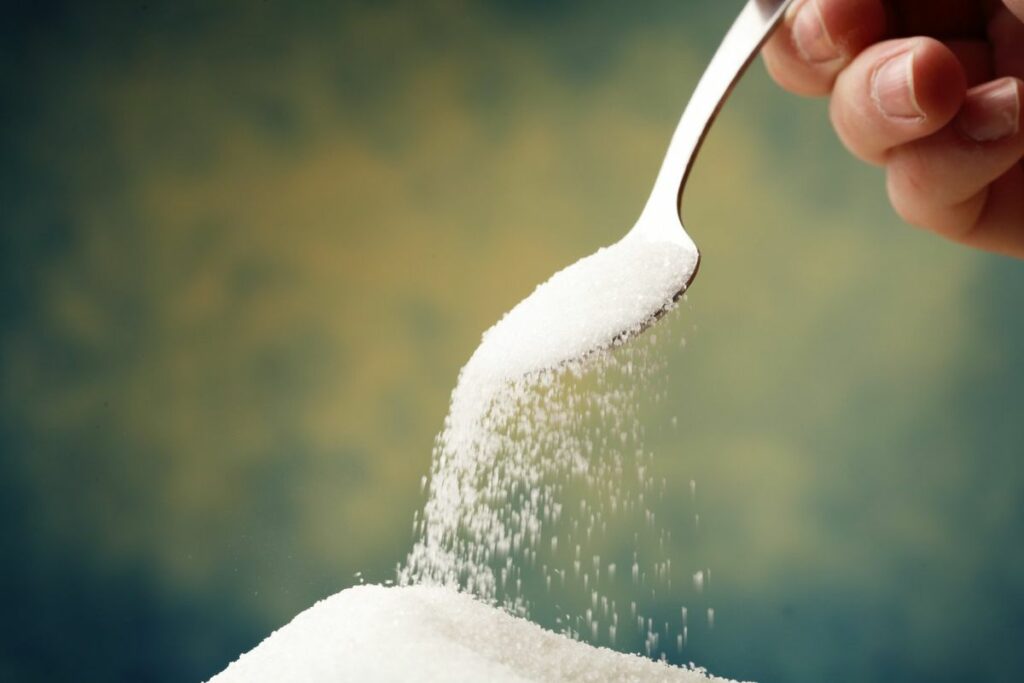 Health Benefits of Allulose
Allulose has several physiological roles, including improved insulin resistance and glucose metabolism and anti-obesity effects. It's also been shown to have prebiotic properties, which means it can support the growth of healthy bacteria in the digestive tract.
According to a recent study, allulose also encouraged the synthesis of short-chain fatty acids, which are good for gut health and inflammation reduction.
As someone with tooth pain, one other little talked-about benefit of allulose is that it isn't metabolized in the mouth, so it doesn't promote the growth of oral bacteria in the mouth that can cause cavities or enamel erosion.
Health Benefits of Stevia
Scientific research has shown that highly purified stevia doesn't cause adverse side effects but rather the opposite. Stevia was found to have anti-diabetic, anti-hypertension, and anti-cancer properties, as well as aiding in combatting obesity and improving metabolic and oxidative functions.
Its other various benefits are that it can help prevent kidney disease and is also not cariogenic, which means it doesn't raise the risk of tooth cavities nor contribute to tooth decay in the same way that normal sugar does.
Stevioside may also be utilized to treat circulatory and hepatic disorders due to its anti-cancer, anti-fungal, and anti-bacterial properties.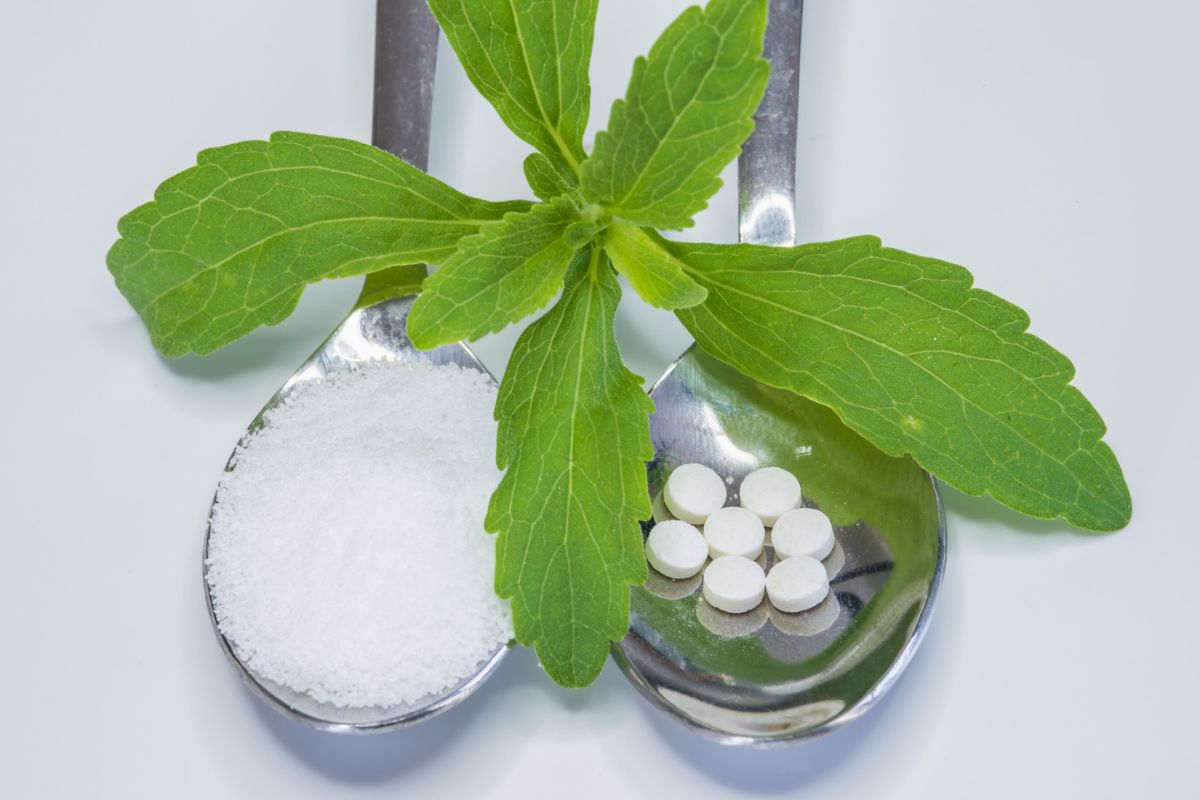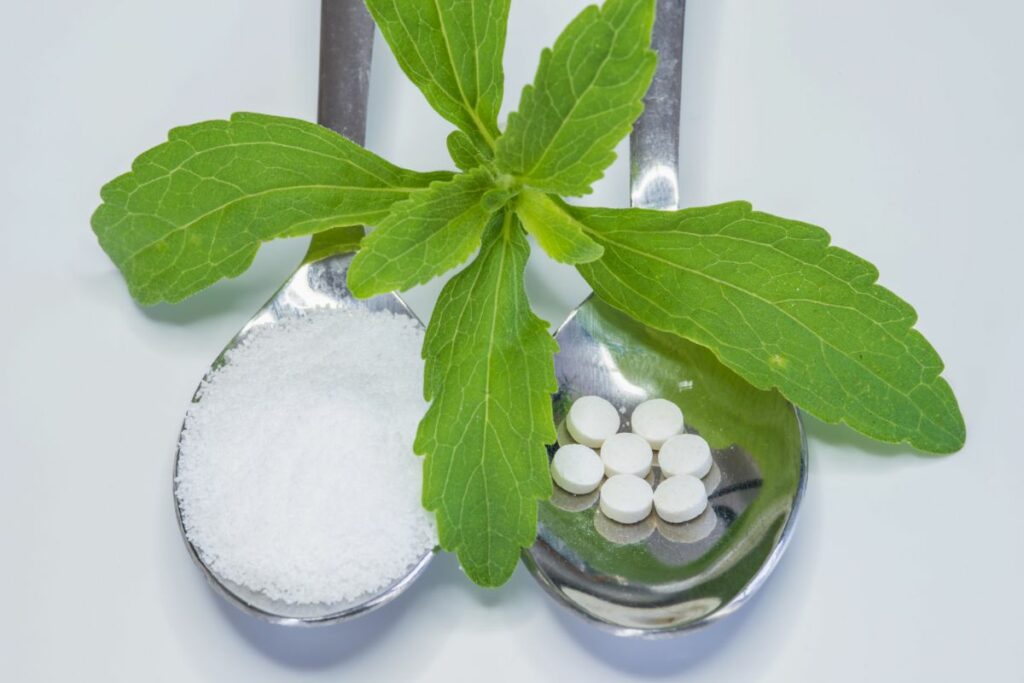 Drawbacks
Allulose is derived from a common allergen, corn, so people with corn allergies should steer clear of this sweetener. Secondly, when taken in large doses, some people have reported experiencing intestinal issues.
This can happen because allulose is not entirely absorbed by the body and may ferment in the large intestine, causing gas, bloating, and diarrhea.
The same rings true for stevia. Stevia sweeteners are commonly mixed with sugar alcohols, including allulose, to mimic the taste and texture of sugar. As such, when consumed in large doses, it may lead to gastrointestinal issues.
Safety
Regulatory organizations and scientific studies both regard stevia and allulose as safe to eat. The U.S. FDA and other countries like Japan, Singapore, Mexico, and the Philippines have also labeled allulose as safe for consumption, while other countries have yet to follow suit, like the European Union and Canada.
The same can also be said for stevia in terms of safety, as it's currently allowed in more than 60 countries, based on the findings of The European Food Safety Authority (EFSA), the Joint Food and Agriculture Organization of the United Nations(FAO), and the World Health Organization Expert Committee on Food Additives (JECFA).
These organizations have concluded that high-purity steviol glycosides are safe for ingestion within the adequate daily intake (ADI) level of 4 milligrams (mg) per kilogram of body weight or 12 mg of stevia extract per kilogram of body weight.
However, the use of stevia leaves and crude stevia leaf extracts in dietary supplements is not subject to FDA food additive regulations. Also, the standards of quality for stevia products and brands do vary, so look for well-known brands and check product labels to ensure there are no additives or fillers.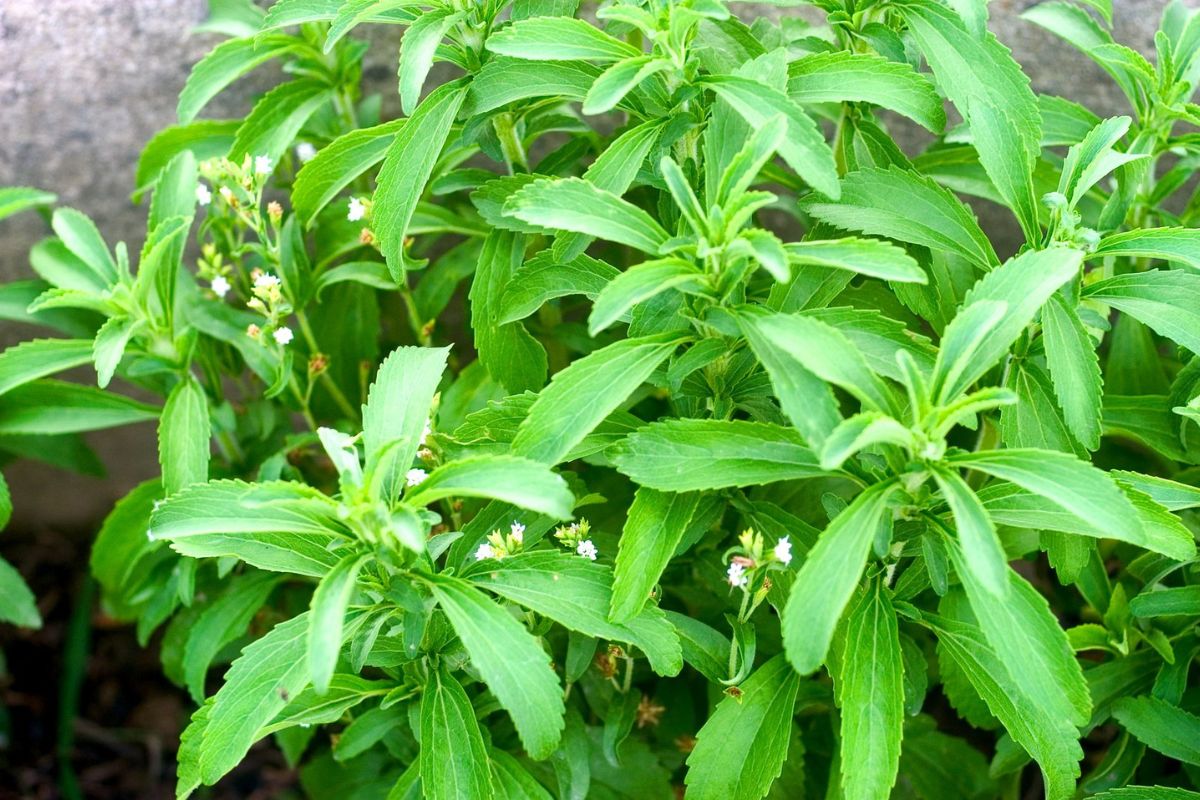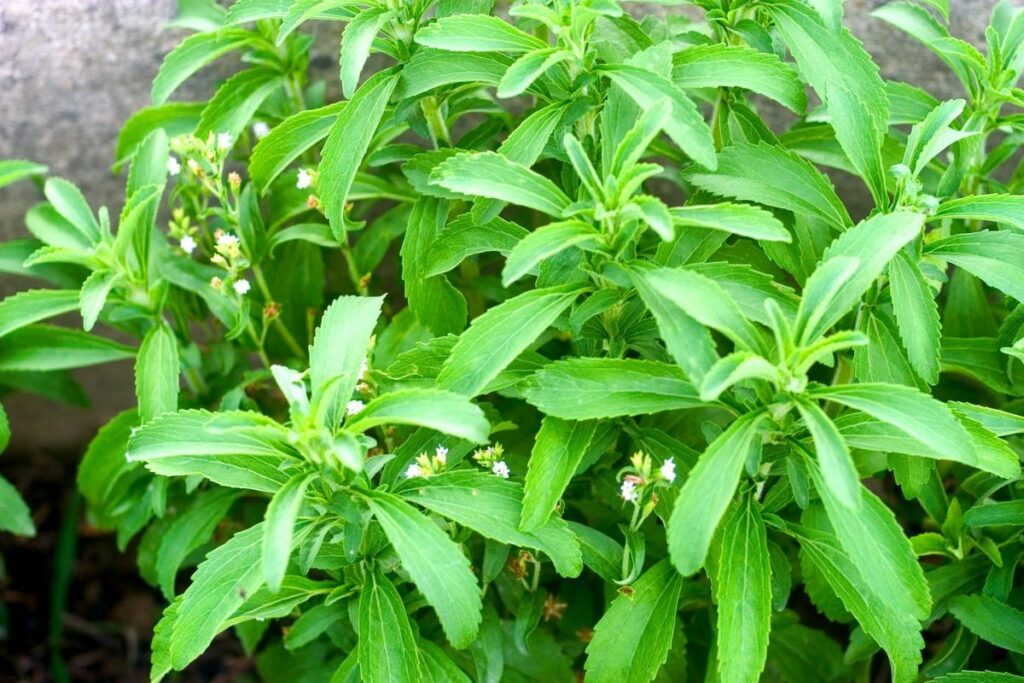 Processing
Since allulose is found scarcely in nature, it's typically synthesized through enzymatic conversion of fructose. This method means treating corn or other plant-based carbohydrates with enzymes that convert glucose into fructose. The converted fructose is then filtered, condensed, and dried to make allulose.
Stevia's production begins by extracting steviol glycoside from the leaves of the stevia plant using water or alcohol to release this compound. This is then filtered and processed in order to remove contaminants and concentrate the sweet chemicals. The end result is a liquid extract or white powder form of a stevia sweetener.
With the two products being similar in many ways, the key in your decision-making process now becomes identifying the most easily accessible, least processed sweetener that can provide the greatest health advantages.
Availability
Even though allulose sweeteners were discovered before stevia sweeteners were, it's still considered relatively new and can be more difficult to locate in stores or in your country. The same can't be said for stevia, though, as it's available in both liquid and powder form in most grocery stores worldwide.
So Which Sweetener To Choose?
Allulose and stevia are low-calorie sweeteners that can be used in place of sugar, though they still have numerous differences, so it's critical to select the one that best meets your needs and interests.
Here's a brief comparison to recap.
Allulose
Stevia
Source
Naturally found in maple syrup, brown sugar, molasses, wheat, fig, jackfruit, and raisins. Also commercially derived from corn
Naturally extracted and commercially derived from the leaves of the stevia rebaudiana plant
Forms
Allulose extract, allulose powder
Raw stevia plant, pure stevia leaf extract, stevia sweeteners
Taste
70% as sweet as sugar
It may have a cooling effect
200-400 times sweeter than sugar
It may have a bitter aftertaste
Texture
Same bulk as sugar
Liquid stevia can't assume the consistency of sugar, but some processed stevia sweeteners can
Calorie Content
.2-.4 calories per gram (not metabolized, so essentially 0)
Zero calories
GI Score
0-1, very low
Zero
Availability
Less available
Widely available
Going through all their benefits, taste, calories, and overall effect on the body, it ultimately comes down to personal preference. Allulose lacks in some areas compared to stevia but certainly makes up for it in terms of use cases and capability as a swap for sugar.
Stevia is the better option on paper in nearly all aspects but can fall behind when it comes to its bitter aftertaste. Though this can be remedied as several types and brands of stevia on the market have been developed to decrease or remove the bitter aftertaste.
It's important to experiment with both allulose and stevia to discover which one you prefer in terms of flavor and sweetness.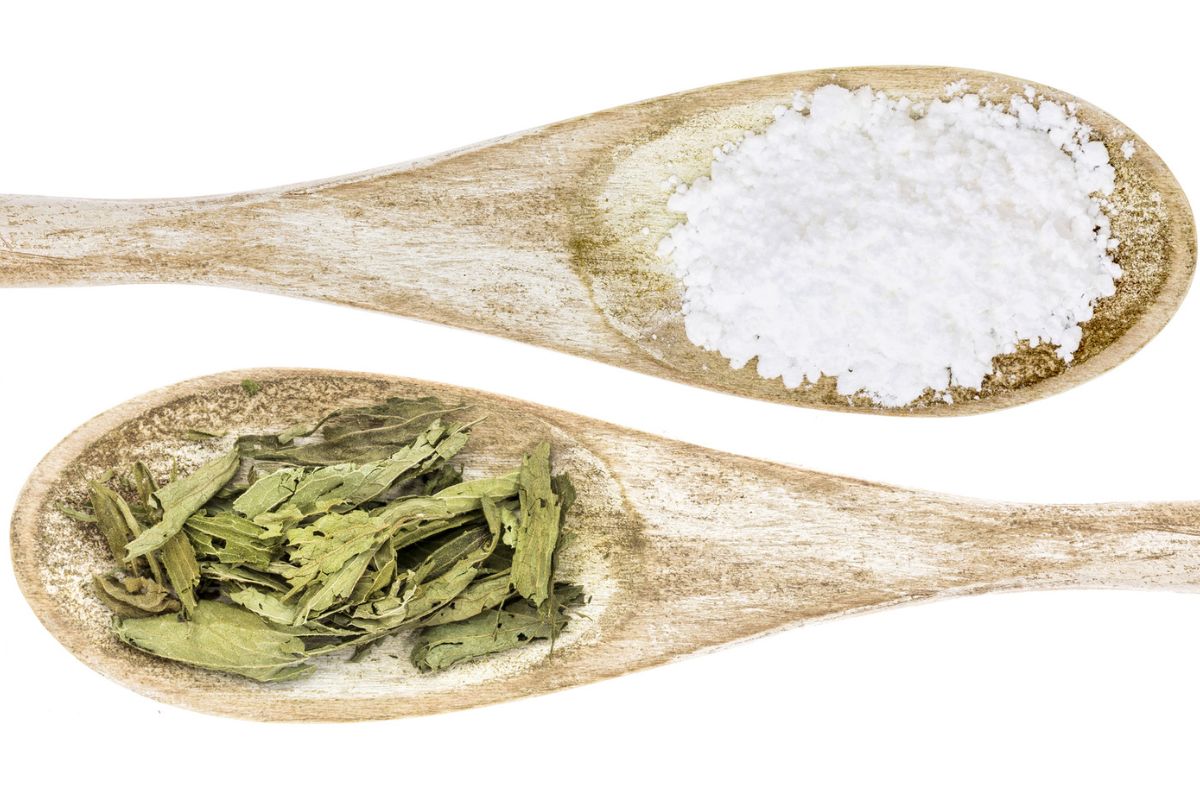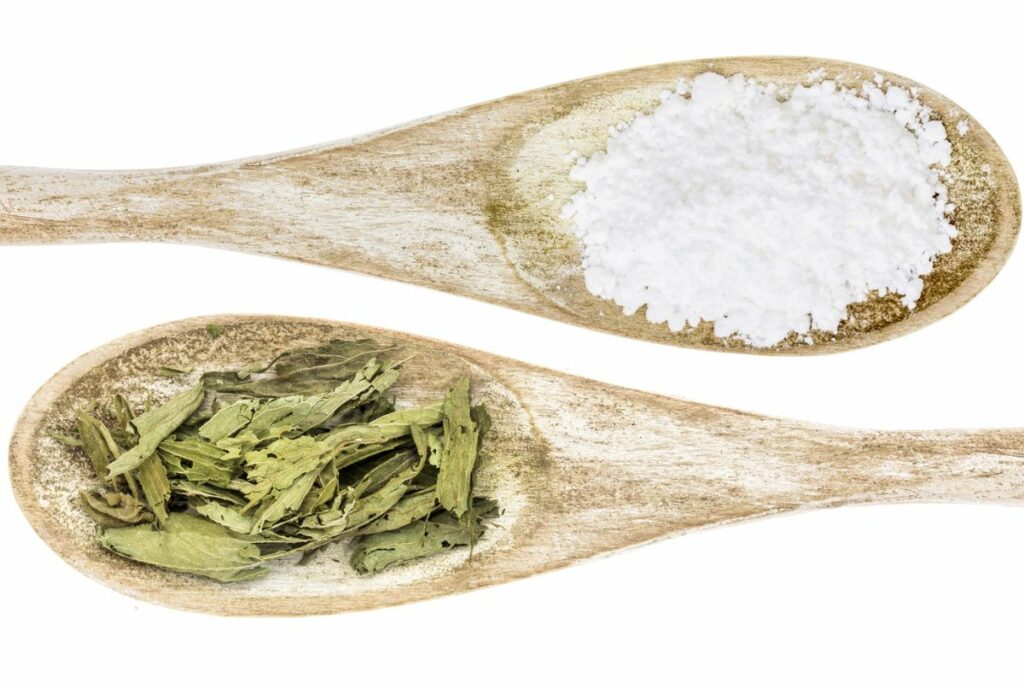 How to Use Allulose and Stevia in Place of Sugar
Allulose and stevia make it easy to enjoy your favorite foods while maintaining your dietary goals. Even if they're not direct sugar substitutes, their pure forms can help to reduce overall sugar intake, among other things. Let's take a look at how each of these sweeteners can replace sugar:
Allulose
Allulose has a similar taste and texture to sugar, making it the ideal sugar substitute. It may be available in crystalline form (similar to granulated sugar), powdered allulose, and as a liquid syrup.
As a Table Sugar Replacement
A small number of recipes can use allulose as a 1:1 ratio for sugar, but not all the time. This is because allulose is 30% less sweet than sugar, so you'll definitely need to increase the amount you use in the recipe that calls for sugar. For a better swap, choose recipes that already include allulose in the ingredient list instead of sugar.
Some brands combine allulose with monk fruit or stevia in order to replicate the sweetness of sugar. Depending on what product you have, check to see if the taste matches the sugar's sweetness.
Allulose will add sweetness in lieu of sugar, though it may also yield a somewhat cooling aftertaste. This is short-lived and should have no effect on the flavor of your recipe.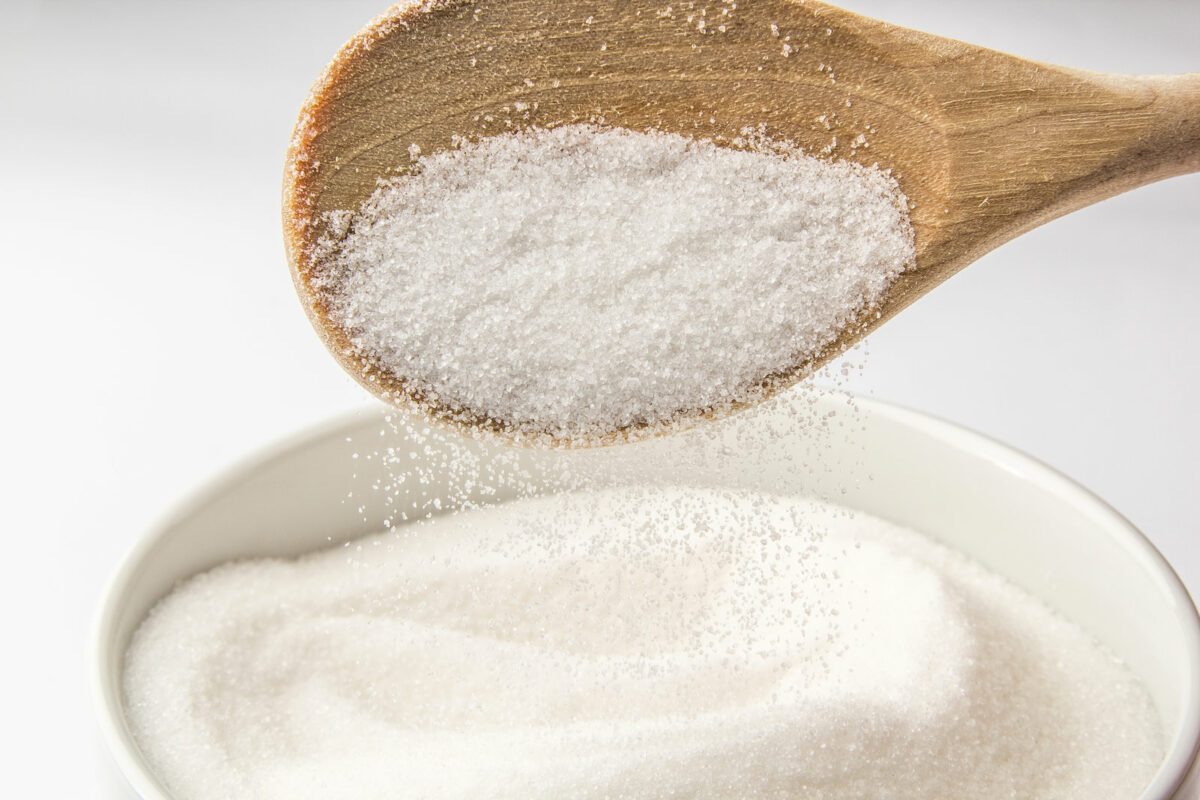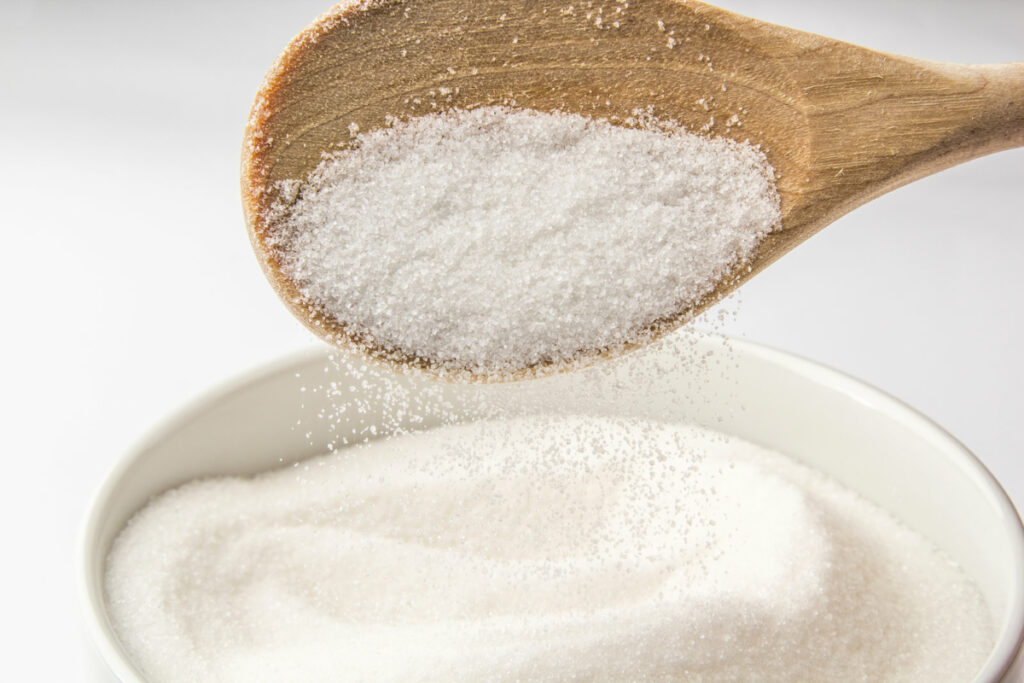 In Baking and Cooking
Depending on what you're making, allulose can be used in culinary and baking applications for its various properties. For example, using allulose in handmade desserts can help reduce total sugar intake while maintaining sweetness.
Though keep in mind that it may not have the same texture and bulking capabilities as sugar, so recipe changes may be necessary.
Allulose is also not as hygroscopic as sugar, which means it doesn't absorb moisture as well. This means it can change the texture of your baked items, so you'll need to tweak the recipe slightly to compensate for this.
You can fix this by increasing the liquid in your recipe, adding a binder like coconut flour or tapioca starch, or baking it longer to cook it through. Though this all depends on how the allulose affects your baked goods.
Some allulose brands are manufactured to have the same taste and texture as sugar, so their browning ability and caramelization are all vastly similar. Baking it at a high temperature in order to get that "burnt" top can also easily be achieved through its similar properties.
Stevia
Stevia comes in liquid and powder forms and can be used to sweeten beverages, baked goods, and other dishes. The first and most important thing I'll mention about using stevia as a sugar replacement is to look for pure stevia leaf extract. This will allow you to reap the most healthful benefits out of all stevia forms.
Though note that some stevia brands may have that slightly bitter taste that's common to other artificial sweeteners. So be mindful of the aftertaste and only use the correct amount to avoid this somewhat unpleasant flavor.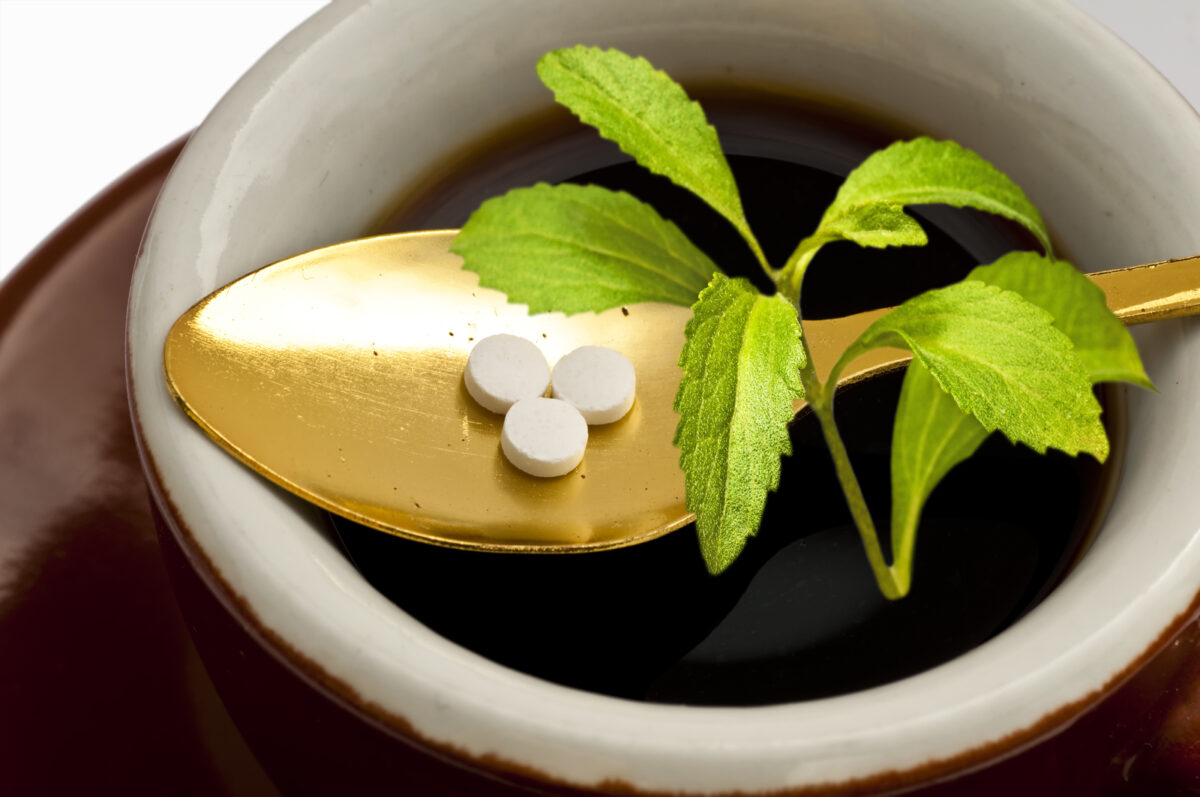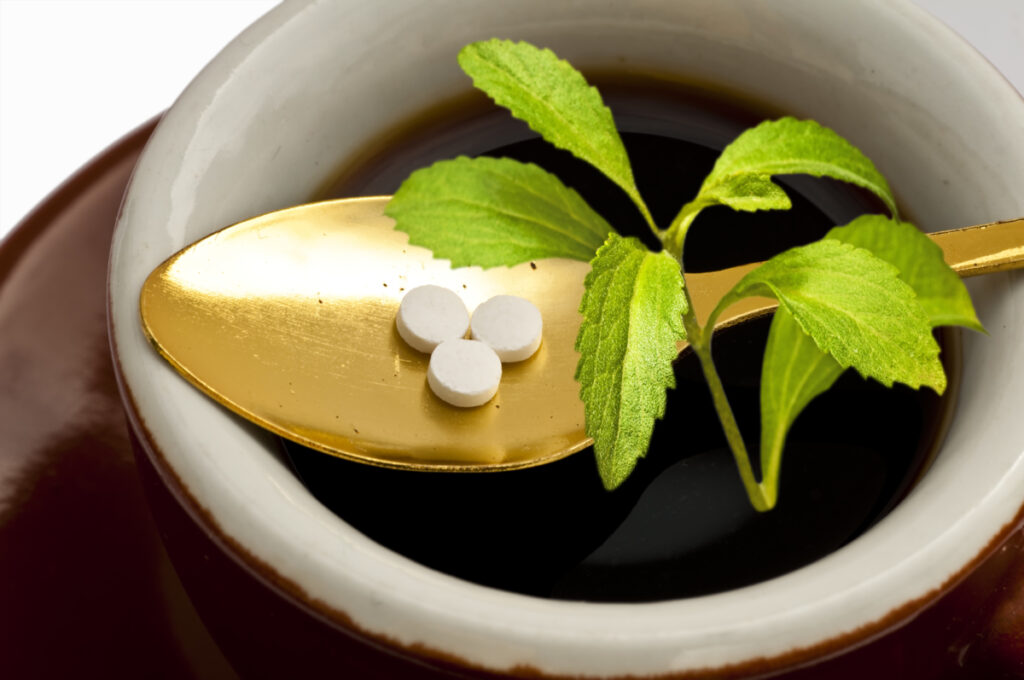 In Baked Goods and Cooked Dishes
You can use stevia in baking and cooking recipes by replacing some of the sugar since they're quite similar in their properties. Cakes, cookies, bars, muffins, and bread can all be made using stevia.
A good rule of thumb is to swap out a ¼ teaspoon of liquid stevia or ½ teaspoon of powdered stevia for a cup of sugar in baking. While for savory dishes like sauces, salad dressings, and marinades, you can swap a few drops of liquid stevia or ⅛ teaspoon of powdered stevia for a teaspoon of sugar.
You should note, though, that stevia extract doesn't have the bulk that sugar does, so your recipe will turn out slightly different if you do plan on using it.
As a Calorie-Free Replacement for Table Sugar
Similarly, a few drops of liquid stevia added to liquids such as tea or coffee can offer the sweetness of table sugar without adding calories. Stevia can also go in cereal, yogurt, smoothie bowls, or just plain fruits.
So, if you're looking to sweeten your usual breakfast or snack foods, you can sprinkle stevia powder or add a few drops of liquid sweetener as a guilt-free topping. You should also consider looking for a product that combines allulose and stevia or mix it yourself.
Using allulose and stevia together can be a powerful method for developing sugar-free sweeteners with better flavor and functioning. Because allulose and stevia have distinct sweetness characteristics, combining them can help balance flavors and create a more well-rounded sweetness.
Blending both sweeteners also reduces the need for larger amounts of either, resulting in a more cost-effective option.